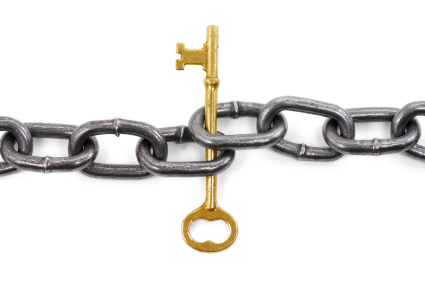 As a professional Domme with a background in linguistic anthropology, I am frequently asked for advice on communication within BDSM relationships.  Although clear communication is critical to any healthy partnership, I believe relationships involving dominance and submission require partners to take things a step further.  Below, I outline five rules which may help you build healthier D/s relationships.
1. We are both real people and we will both make mistakes.
Often the only way to learn is to err. If you do something wrong, admit it. Be prepared to learn from it, accept your punishment, and move proudly forward with the knowledge that you have grown in your submission. If your mistake is the result of direct disobedience, be prepared for a substantial punishment, and take it with dignity.
Consider why you disobeyed. Discuss with me whether the mistake was an innocent oversight or part of a larger behavioral pattern. Try not to make the same mistakes twice, in D/s or in the other areas of your life. Be reasonable about whether a particular rule I have set for you is something you can realistically follow. Be aware that some rules are easier for some slaves to follow than others.
Dominants are people too, and we also make mistakes. We break our own rules, we disappoint ourselves, and we disappoint our servants. It is my obligation to acknowledge my mistakes, to apologize for them in an appropriate manner, and to learn from them also. Over the years I have learned from many serious errors: I've said hurtful things to slaves I care about, I have held on to attachments when they weren't ideal for me or for my partners, and I've misplaced my priorities in terms of time/energy/attention. I've learned from my mistakes, yet I will continue to make them, as we all do.
2. Real life comes first.
I hesitate to even use the term "real life", because for those of us who engage in BDSM in our daily lives, kink IS a huge component of our real lives. To clarify, by real life I mean the other vanilla aspects of our lives that are necessary for our basic functioning and general health. This can mean different things to different people, so the specifics should always be part of your individual negotiation, but there are some basics that apply in most relationships, D/s or otherwise:
Health. Your physical health always comes first, as does mine. If I am asking you to do something that might damage your health, either directly or indirectly, we need to reassess.
Family. If you have children, elderly parents, pets, or any other living beings that depend on you for care, you are obligated to provide for their needs before concerning yourself with mine. I can feed, bathe, and clothe myself. Your charges may not be capable of the same.
Financial stability. I don't want someone sending me gifts when he can't buy groceries. If a slave is in financial distress, it is that slave's responsibility to establish a sustainable budget and be honest with me about his limitations. I'm happy to help and offer guidance, but I can't give advice if I don't know there's a problem.
3. Be transparent about your intentions and your desires.
I am not a mind reader. I can only know what I know. This sounds silly, but it's actually quite straightforward. I can only know information that I have learned through my own experiences. If you find yourself upset because I haven't met an expectation you have of me, ask yourself this question: did you ever tell me you had this expectation? If you have a hidden desire you are ashamed to admit, I respect your silence and your privacy, but being upfront about your needs will better help me understand them. The worst thing I can do is say no.
4. There is no universal D/s handbook, and no "One Size Fits All" form of Dominance.
Dog trainers often say that there are no bad dogs, only bad owners. I think the same can be said about the slaves in my training as well. Granted, there are some genuinely awful human beings on this planet (and I believe there are some lousy dogs too) but most failed relationships come down to a lack of clear communication or a poor partner fit. These two areas of failure are often interrelated.
In the BDSM world, we talk a lot about scene negotiation and discussions of risk and consent. As a community, we are experts at meta-communication (loosely defined as "talk about talking", and the subject of some of my academic work). When I see a prospective slave, they virtually always can discuss their physical limits, their fetish interests, and their erotic fantasies. Finding those forms of compatibility is fairly easy. I consider this to be the left-brained half of BDSM negotiation. What's more elusive is finding chemistry, comfort, and personality compatibility. These areas make up the more nebulous right-brained component to Dominant-submissive relationships. Often, the right-brain match is overlooked, thus it is often what fails. We like to joke about the "One Twue Way" to enlightenment through BDSM. Obviously there's no such thing.
5. Have a sense of humor.
A sense of humor is crucial in all aspects of this kinky stuff that we do. Humor goes beyond the occasional humiliation scene, latex wardrobe blowout, or party practical joke. Although many slaves are used to being the target of laughter, some Dominants have a difficult time being the object of a joke. Authenticity and humor are two of the sexiest characteristics a person can possess. The best Dominants I've known are quite comfortable laughing at themselves. Those Dominants are the ones who are willing to be real, and we expect the same realness from our submissive partners.
____________________
Guest Blog Post
Biography:
Lady Elizabeth has been involved in BDSM her entire adult life, both as a passion and a topic for academic research.  She holds a PhD in linguistic anthropology from an Ivy League university, specializing in gender and sexuality.  A professional dominant since 2000, she particularly enjoys teaching novices about the diverse world of BDSM.
Lady Elizabeth, PhD
Central Connecticut
Save