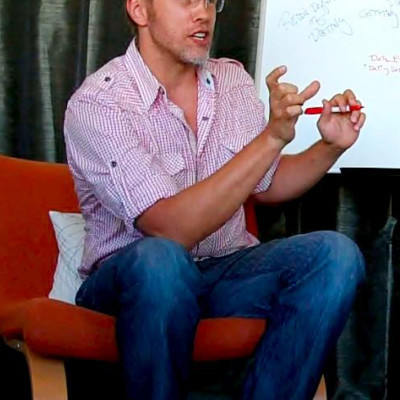 About:
Sex and relationship expert Reid Mihalko of www.ReidAboutSex.com helps adults create more self-esteem, self-confidence and greater health in their relationships and sex lives, no matter what their self-expression of those happen to be.
From his rated-PG/PG-13 workshops (Cuddle Party, Speed-Flirting) to the rated-R (Iron Slut Sex Educator Showdown) to his explicit, NC-17 rated, Show-N-Tell sex education workshops (where audiences get to watch, take notes, and ask questions), Reid's workshops have been attended by close to 30,000 individuals from myriad walks of life, orientations, relationship styles, countries and religions. Known for his charisma, wit and emphasis on integrity, Reid travels the country teaching, coaching, consulting and collaborating on fulfilling his mission: Create more self-esteem, self-confidence and sexual health for adults in and out of the bedroom.
Reid has been a featured speaker at dozens of conferences on relationships and sexuality and is a sought-after presenter and teacher at colleges and sex positive stores across the country.
Reid has been a writer and producer on a number of films and television projects about sex and relationships, and appears regularly in the media. He has also appeared on the Emmy award-winning talk show Montel, Fox News, VH1's Scott Baio is 45 and Single, Showtime's Penn & Teller's Bulls**t!, Canada's The Sex Files and SexTV, and the short-lived Life & Style, on NPR, Sirius' Maxim Radio and Cosmo Radio, and in Marie Claire, GQ, Details, People, Newsweek, Seventeen Magazine, and The National Enquirer, as well as media across the globe in thirteen countries and at least seven languages.
Specialties:
Putting the sex-appeal back into sex education; using humor and amazing analogies to help adults increase their sexual self-confidence and relationship communication; communication techniques and skill sets for better relating; tools for asking for what you want in the bedroom; polyamory; group sex dynamics; safer sex protocols; casual sex, dating and long term relationships; teaching sex educators how to be better at the business of pleasure
Experience:
To date, Reid Mihalko has had over 30,000 men and women attend the workshops he's created. His unique communication workshop on touch and social affection, Cuddle Party, which became one of the top human interest stories of 2004 and has appeared in Newsweek as well as been made fun on on Saturday Night Live and The Colbert Report, now exists in six countries across five continets. Since 1990, Reid has had over 150,000 conversations with adults from all over the world about their sex and relationship lives, and has taught at premiere sex-positive events like Dark Odyssey and Tantra-Palooza. Reid continues to coach men and women 1-on-1, in couples and in moresomes on sex and relationship skill sets and emotional well-being in intimate relationships.