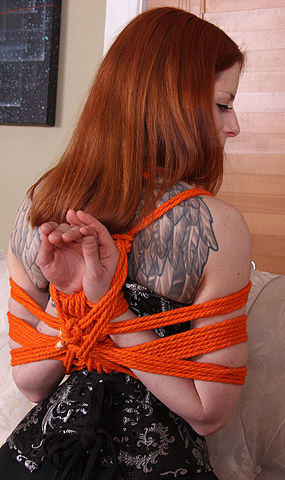 Graydancer's series on "Rope: Connection and Flow" has been a popular video on Kink Academy. Recently, though, he completely revised the class – to the point where almost none of the original content is still there. Why would he do that? Is there something wrong with the original video?
"Not at all," he replied when asked about it. "It's a great series, full of lots of great tricks for hot rope scenes. It's just that the words 'connection' and 'flow' mean something different to the kink scene now." In the years since the creation of the video there have been a lot of advances in the idea of "flow states" and interpersonal connection. Collectively, these kinds of methods and phenomena are often referred to as "woo" – as in "I'm not sure I'm woo enough for him!" Skeptics will even downplay it as being un-scientific and therefore just a sort of illusion, a product of wishful thinking.
Whatever side of the "woo" spectrum you fall on, though, the fact is that there are definite benefits to cultivating "mindfulness" in your kink. Whether that's a blessed union of souls or just a better orgasm, it's worth taking a look at just a little woo on the off chance it can make your kink even better.
Julian Wolf takes you into the deep end with a four-part series on "Spirit and Meaning". This is the deliberate use of tools like ritual, meditation, and intention to create a transcendent experience through your kink. It's especially important to negotiate well and choose the right partners for this kind of play, because not everyone is going to be prepared to accept or deal with what can happen during the scene.
An example of "unexpected woo" comes from Graydancer's videos on cigar play and ash. While most people think of cigar play as being rough and even degrading, ash and smoke are also primary components in a lot of religious rituals. Gray talks about a particular cigar and rope scene with fellow sex educator Koe Create that went far differently than expected, becoming a cleansing and purifying and very sexy ritual.
Another common meditative tool used in ritual is flagellation – or, as kinksters like to call it, flogging. Stormmy from Seattle integrates his flogging into a more mindful experience by having a pre-scene ritual with his partner. This helps set the intention for the scene and deepens her ability to trust and surrender to the sensation of the leather hitting her body. It also helps Stormmy focus on the scene and leave the stresses of everyday life behind.
One of the main reasons people will come into the exploration of spirituality and kink is because they find themselves "stuck" in one way or another. Amy Jo Goddard has a great series on "Getting Unstuck" that has both mental exercises (making a "pleasure list") and physical ones designed to open your chakras (to use a term from yoga) or, for the skeptics, to simply loosen up your body and get the neurochemicals like oxytocin flowing more freely. Amy Jo's video on creating ritual for your sex life also differentiates between the idea of ceremonies for solo, partner, and even group and community connection.
That's one of the great things about all of these practices – you don't have to believe in them. Just the simple act of going through the motions can improve things. Savannah Sly has several videos on stretching designed for a variety of activities – bondage, domination, submission, even jaw exercises for oral play. You don't have be meditating or anything like that when you're doing the stretching – it will still help you become more mindful of the sensations, the range of motion, and how you're feeling in general.
That's what it's all about, after all – sensation. Whether it's group meditation before a gang bang or just stretching your fingers before you tie someone up, it's worth checking out some of these "woo" practices. The results may be surprisingly pleasurable. Let us know in the comments if you try something new, and how it goes!
Save
Save