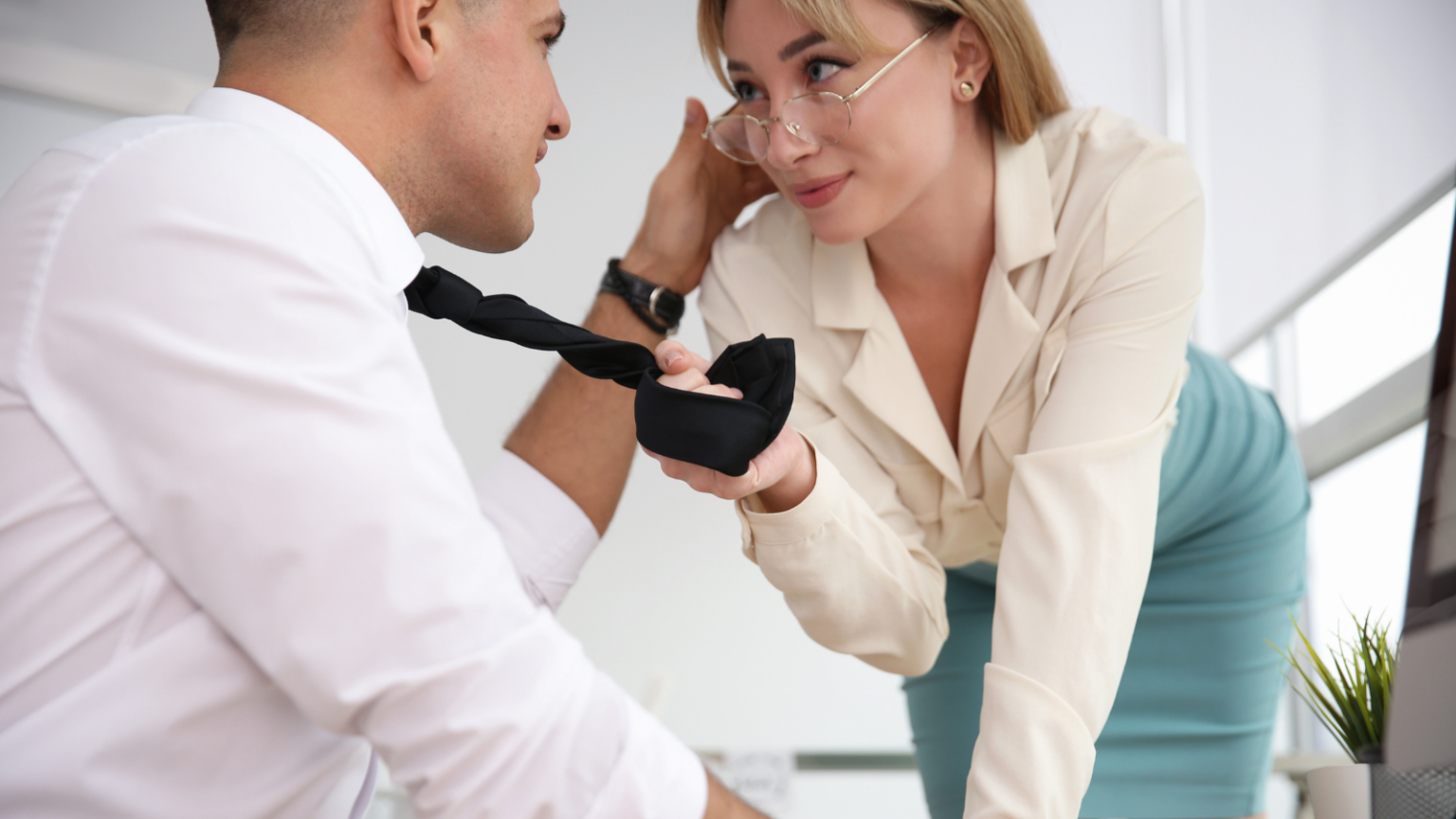 Secretary came out long before 50 Shades, but the thought of hot BDSM action in the workplace goes back much further than that. Many a submissive still shivers with pleasure watching His Girl Friday or fantasizes about being a manservant to the lord of a Victorian manor straight out of Jane Austen. How can you let your kink stretch into "Office Dominance"? Here are a few ideas that go beyond the movies and fantasies into reality.
Safety First.
Let's be clear: not all workplaces are good for kink. We don't recommend you actually try to seduce a pilot while she is flying a plane, no matter how sexy your flight-attendant costume is. On the other hand, you could set up a flight simulator video game and use your flirting arsenal to get things heated up ("In case of depressurization, strap on your face mask…"). While it's a nice fantasy to have naked slaves deliver coffee to your desk, the reality is that you need to be considerate of the people with whom you work. Also, it's important to remember that multitasking is a myth – if you deliberately let your kink distract from your work, it's likely that both won't be quite as effective as they would be alone.
But with that warning in place…let's talk about some fun ways you can make your day at the office just that much kinkier:
Dirty Talk

: Your cell phone is the obvious way to do this, with texting, emailing, or surreptitious conversations. You can often include visuals with apps like SnapChat, but many workplaces have become more strict about cell phones during the day. Why not use an old-fashioned note-in-the-lunch-bag with a dirty thought or two? Or just keep a special notebook with you to write down your kinky thoughts during the day, and share it with your partner when you get home.

Hidden Harness

: This is a more visceral way to bring your kink everywhere you go: have a

rope body harness

on under your clothes. You can limit it to

below-the-waist

if you like, but with some soft, thin rope you can be in bondage all day long with no one but you (and your lover) the wiser.

Insertables: There's a lot of ways to put things in places, and it can be as simple as an NJoy anal plug or a set of ben-wa balls or as complex as a fully-locked chastity belt. Some of these require some care when it comes to things like using the bathroom, but many people use them as a way to stay in their kinky mindset even while in the "mundane" world.
The Kinky Office in the Bedroom
It's much easier to live out your Mad Men fantasies in the comfort of your own home, and doesn't take much. You can borrow some of the techniques Julian Wolf describes in their Fantasy Role Playing video to work out just what kind of "office" you're in. With little more than a button-down shirt, a pencil, notebook, cell-phone headset, and maybe a pair of "fuck-me heels," you can get the feel of the office combined with all the convenience of your home kinky toys.
You could even simply pull up your favorite e-commerce site and engage in a little financial domination. The key is to figure out just what kind of archetypes turn you on – and there can be many different ways for you to be dominant or submissive, regardless of your gender.
Is it two competing interns? A CEO and her sexy secretary? Perhaps one of you really needs to land a client with this presentation – whatever it takes. Or maybe it's time to offer a raise… there are all sorts of power exchanges that take place naturally in the office environment. So go ahead – take a memo.
But take it hard.