It's a great time to be kinky! We've gotten past the shame, the hidden box of toys under the bed (unless you're into that!), and movies, books, podcasts, websites, and articles about "how to be kinky" are everywhere.
That means it's time for a revolution in sexual negotiation! We've grown beyond muttering shyly about things we like to our partners, hoping they won't think we're disgusting (again, unless you're into that). And we've gotten beyond a simple list or spreadsheet where we rate our kinks on some surface level like some kind of perverted Yelp.
The YesNoMaybe workbook digs deep. It goes way beyond the simple yes, no, maybe checklists and gives you room to write about the deeper nuances of your erotic desires, limits, and fantasies. By the time you're done going through all the pages and topics and chapters, you'll have what amounts to your own personal erotic wikipedia.
Your Comprehensive Guide to Creating Kinky and Sexual Pleasure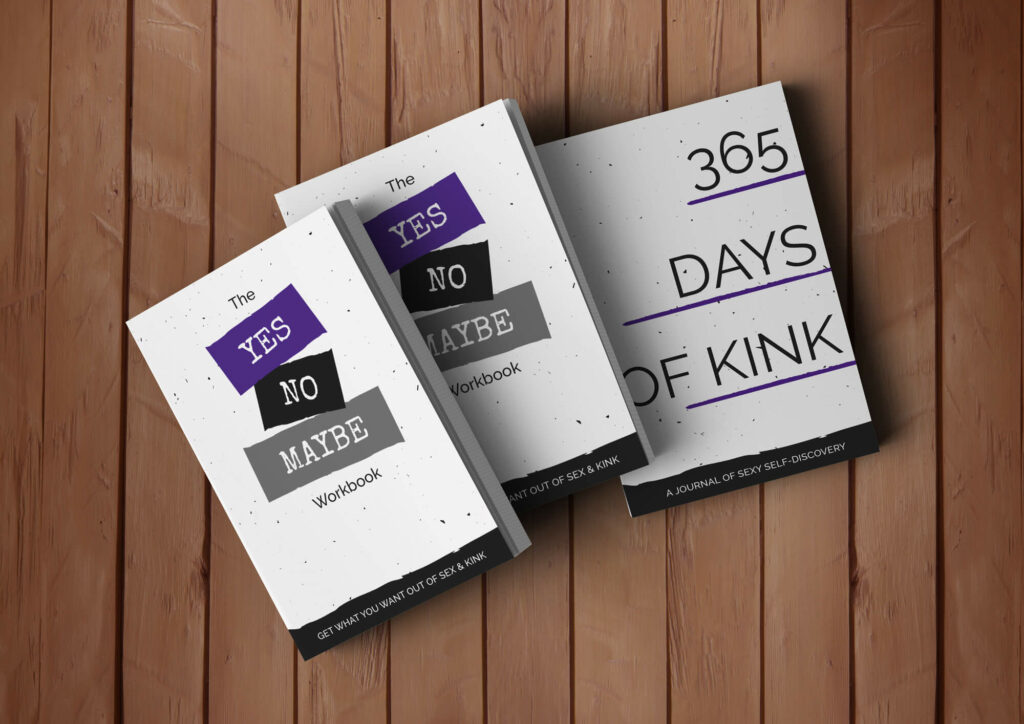 Princess Kali revolutionized online BDSM and adult sex education with KinkAcademy.com, and daily journaling practice with "365 Days of Kink". Now she has created another innovative way to get more authentically in touch with your kink. The YesNoMaybe workbook is a visual workspace, filled with prompts, questions, and annotated lists of a wide spectrum of kinky activities. It's a unique and intimate journey into your own desires, experiences, and fantasies.
It's more than just a list; Princess Kali starts with the basics of consent, outlining the various ways people safeguard their kinky lives to make sure everyone is informed and enjoying whatever they're doing. Then she takes you through several areas of interest ranging from the relatively simple (blindfolds, spanking) to more edgy areas such as role playing, consensual non-consent, and her particular specialty, erotic humiliation.
Best of all, this is not a "one twu way" book; there are examples and ideas, but only put forth as suggestions, with plenty of spaces for you to write down your own thoughts. There are also plenty of places to add in your own particular ideas, because the best part of exploring your own sexual pleasure is finding new ways to be kinky.
An Example Kink: Impact & Sensation Play
When you get to one of the main sections of the workbook, it starts with an inspirational list of various BDSM activities that are common to that theme. For Impact and Sensation Play, that would obviously include things like "spanking" and "flogging", but also goes into ideas like "hair pulling" or even "genital torment." You then have areas to go as deep or as shallow as you like into them – simple numerical ratings for interest level, sure, but also spaces for previous experience, thoughts on whether you want to give, receive, or both, and what the goal or feeling that you want to get from this activity is.
This is where the workbook really levels up your kinky negotiations. Yes, it's important at a base level to simply say what you do or do not want to do in a scene. "Spank me there. Don't touch there." But imagine how much better your scenes can be when you have the ability to articulate how you want to feel as you anticipate the scene, while you're in the thick of it, and how you imagine the happy afterglow will be. After you've gone deep into the questions in this workbook you'll have that power.
Making Kink and BDSM Negotiation a Collaborative Effort
When you start working in the YesNoMaybe Workbook, it's almost like sitting down with Princess Kali at your side, going through the whole world of kink to see what you think about it. By the time you're done you have a reference guide full of your thoughts organized in ways that let you understand them more deeply.
This also gives you a tool to help you express your desires to your partners more clearly. It might just give you the ability to use specific words or ask specific questions that will get you what you want…or you could just give them the book and say "So…here's where we start." It's a communication tool for understanding yourself and helping others understand you. Imagine how close you could become to a partner if you went through the whole Yes, No, Maybe Workbook together!
Check out the website at YesNoMaybeWorkbook.com for more information about what's in the book as well as screenshots of the beautiful layout. You'll see how it invites you in to fill in your own kinky blanks and and get more of what you want out of sex and kink!
Or you can order it directly from Amazon, the basic black and white edition or the full color special edition!