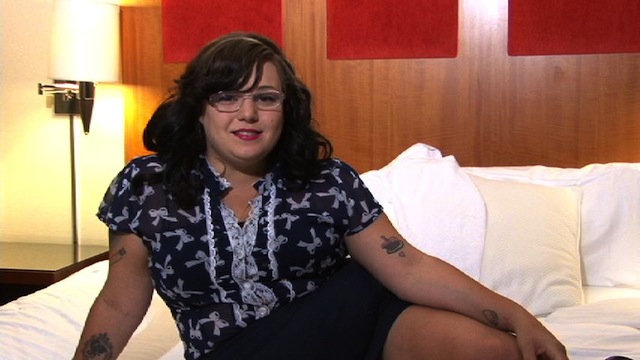 Queer Porn Icon
Business/Group
TROUBLEfilms, NoFauxxx.Com, QueerPorn.TV
Courtney Trouble is a film-maker, published and celebrated photographer, queer rights activist, DIY genius, and an award-winning feminist pornographer. Courtney is the founder of NoFauxxx.Com and QueerPorn.TV, as well of the director of 12 full-length films.
Queer Porn Icon Courtney Trouble has been producing, directing, and performing in Queer Porn since 2002, and is responsible for coining the term "Queer Porn" as a genre in the mainstream industry. Nominated for 3 AVN Awards, and winner of 4 Feminist Porn Awards, Courtney Trouble's ?lms speak to an extremely ?uid, authentic, and hardcore version of graphic sexual imagery.
Courtney Trouble's films, like Seven Minutes In Heaven: Coming Out!, Billy Castro Does The Mission, and the Roulette series, have become the new standard in queer porn. They feature performers that run the gamut of fame, gender, and sexual orientation, such as Jiz Lee, Wolf Hudson, Dylan Ryan, Lorelei Lee, Syd Blakovich and Madison Young.
No Fauxxx
NoFauxxx.Com was created in 2002 as a space to explore sex beyond straight, gay, lesbian, and gender binaries. This site led to the creation of the "Queer Porn" genre, with it's all-inclusive casting and production standards. By all means an obscure, self-funded under-dog, No Fauxxx remains the longest-running porn site of it's kind. No Fauxxx's genre and gender -less navigation structure encourages the audience to think outside their own boxes and find something new and exciting to get off to
In 2002, Trouble created NoFauxxx.Com, the largest and longest-running queer porn site in history. It features the "No Fauxxx Foxes" – performers and models both amateur, professional, and famous – of all genders and sexual orientations.
NoFauxxx.Com and Courtney Trouble are major players in the expansion of the FTM (female-to-male) porn niche from 2002 forward, introducing many new FTM models and performers to the industry. "I wanted to do things that the mainstream adult industry wouldn't do, and one of those things was working with trans men and expanding the near-non-existent genre. In a way, we have collaboratively been able to create a niche of pornography that is far, far less stereotyping or generalising by building it from nearly nothing, and inviting trans men to come into the niche and define it themselves."
She has successfully mixed her lo-fi "do-it-yourself" indie-art aesthetic with an accessible, understandable, yet female-forward porn formula that the average porn consumer (whoever that is!) as well as the subversive, political, and inquisitive crowd can enjoy.
She started NoFauxxx.Com as a 19 year old photographer and web designer, with the purpose of creating an indie porn site that was authentic, empowering, and all-inclusive. She wanted it to break stereotypes in the adult industry, and act as a tool for ladies, queers, and artists, to explore the erotic and sexual side of creativity. She soon found herself as one of the founders of the queer porn movement, setting the stage for all that was to come.
Queer Porn TV
Launched in November 2010 with co-director Tina Horn, Courtney Trouble's second porn site QueerPorn.TV features exclusive hard core content available for direct download, VOD, or from within the VIP Lounge (member's area.) Stars on the site include Jiz Lee, Wolf Hudson, Dylan Ryan, Madison Young, Billy Castro, James Darling, Maggie Mayhem, Sophia St. James, and many more.
There is an incredible amount of free content on QueerPorn.TV – including in-depth video interviews with Queer Porn Stars already adored by QueerPorn.TV's early fans. These intimate interviews delve into topics ranging from performing in porn, exhibitionism, kink, gender ?uidity, and sexual appetite, allowing the user to access the stars of their favorite porn in a whole new way.
The freedom with which our stars express their own sexuality and appetites has resulted in content that can only be called genre de?ning.
QueerPornTV teamed up with woman-owned, woman-run sex toy boutique Smitten Kitten to produce sex educational videos on topics such as strap on sex, dildos, rope bondage, rough sex, female ejaculation, watching porn as a couple, and sex with vibrators.
Live Sex Show
Courtney Trouble's 12th film, entitled Live Sex Show, was shot in front of a live audience of 200 people at 2010's San Francisco's Masturbate-a-Thon. Starring Nina Hartley and Jiz Lee in an educational yet filthy finger-fucking scene, April Flores and the Matador in a dramatically-lit, cock-slurping, pussy-pounding love story, and Courtney herself in a climactic surprise 5-on-1 porn-star-on-director gang bang! This film marks her very first independent release under her new company TROUBLEfilms, which will umbrella all of her films, video projects, and porn web sites. Live Sex Show was filmed with major help from Carol Queen and Robert from the Center for Sex and Culture, and will partially benefit their Center financially through DVD sales and screenings.
Reel Queer Productions
Courtney Trouble has directed and edited 11 films for Reel Queer Productions, a video house she helped build with Good Releasing that documents authentic, edgy, queer sex and culture with relevant, intelligent films inclusive of the many sexualities that identify as queer. Amoung these titles are 4 plot-based hardcore films and the award-winning Roulette and Seven Minute In Heaven series. These films are available for sale and streaming VOD around the world, most notable from Courtney Trouble herself at her website CourtneyTrouble.Com.
Performances
Courtney Trouble is a fearless, feisty, and lust-worthy hardcore porn star. She's fucked on film for Shine Louise Houston, Carlos Batts, Madison Young, PaddedKink, Kink.Com, Crash Pad Series, QueerPorn.TV, Cocksexual, Good Dyke Porn, and much much more.
"Being on both ends of the camera is important to me," says Trouble. "Having sex on film is an extremely intimate act, and it's something that I take seriously for many reasons. First of all, I find it insanely arousing fucking friends and sometimes strangers on film, it's a high I can't find anywhere else. Also, It's a political act for me – my body deserves to be seen and publicly acknowledged as insanely sexy – and the way I fuck as a queer femme switch is enlightening and inspirational to people of all sexualities. And, logistically, it tremendously helps me direct. I think knowing what it's like in front of the lights and the crew makes me a better director, I'm more prepared for the emotional, technical, and social aspects of shooting a hardcore scene."
Photographer
The recipient of a Polaroid instant camera at age 8, Courtney Trouble's life has been dedicated to photography. She spent high school and college in a dark room, and began shoot intimate, erotic portraits of her friends and lovers at 18 years old. She is known for her bright, high saturation, bold, and abusively honest straight-forward compositions, and has been published everywhere from On Our Backs to Bend Over magazine.
QueerPornTube.Com
QueerPornTube.Com is the very ?rst user-generated, amateur and professional adult Tube Site catered directly towards the queer and sex-positive community, and of course their friends, lovers, and fans. This project was born from a desire to create a truly accessibly porn community, something entirely free so that adults of all class categories could participate in the queer porn movement. The clips on the site are uploaded by amateurs as well as indie porn companies, and comments, community building, and embedding videos is welcome. QueerPornTube is a free, universal porn site created by the community. This site is anti-piracy and does not allow the uploading of copyrighted videos.
Film Shorts, Music Videos
Courtney Trouble most recently directed Chapter One of Michelle Tea's "Valencia: The Movie/s," a film that consists of 21 director's unique takes on each chapter of the legendary queer memoir. Her chapter, the introduction to the film, features a lifelike fisting scene and boasts a soundtrack of Bikini Kill!
Courtney has also directed music videos for pop star Jenna Riot and indie rock band French Quarter.