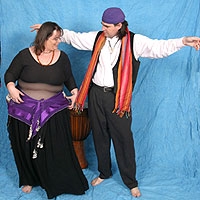 Business/Group
Erotic Awakening Podcast
Dan and dawn bring a diverse background to each presentation and workshop they lead. They blend their experience in sacred sexuality, BDSM, D/s, energy work, and spirituality to offer a unique perspective to their audiences. Their workshops are based on education and experience and, blended with a sense of humor, are not only informative but genuinely entertaining.
Dan and dawn consistently receive excellent reviews for their workshops, demos, and presentations. As they move between clear and simple presentation of facts and information to personal stories of their fascinating experiences together, they energize their audiences with? "the ease and grace of people that enjoy what they are doing".
As the co-leaders of the Path of the Qadishti sacred sexuality path, Dan and dawn have guided and worked with dozens of people, both individually and in groups, in this modern sacred sexuality modality. They were featured in an article on Sacred Sexuality in the Examiner for the work they do
Dan and dawn also host the Erotic Awakening weekly internet radio show (podcast), taking the listeners around the nation with them as they visit sacred sexuality events, bdsm gathers, Ds munches, poly retreats, and more!
Specialties
Sacred Sexuality and Sensual BDSM. Beyond presentations, we also extend the additional services of running the popular Scarlet Sanctuary (hosted sacred touch space), an Open 12 Step Meeting, a Leather Sangha (Buddhism sitting group), non-denominational Sunday services, and even commitment ceremonies and legal weddings*!
Experience
Dan and dawn have been presenting around the nation for 10 years, running workshops and discussions on a variety of topics. In the last year, they have taken fans "on the road" with them as they host the popular Erotic Awakening podcast