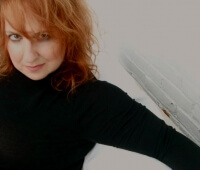 Sex Writer/Blogger, Sexuality Coach & Educator
Business/Group
Lady Cheeky: Smut For Smarties
Writer, speaker, integrative sensuality coach and sexuality educator Elle Chase (Lady Cheeky), curates popular, sex-positive, feminist and erotic images blog www.LadyCheeky.com, which focuses on depicting real desire and passion with a strong emphasis toward positive body image and sensuality. Lady Cheeky has been included in many top sex blogs lists including Salon.com's 'Best of Tumblr Porn', Get Lusty's Top 10 and Top 30 Sex Blogs and has been awarded a Jane's Guide 'Quality and Original' listing. On her sister site, www.SmutForSmarties.com, readers can enjoy a wide breadth of educational articles and original erotica with a feminist, sex, age and body positive perspective.
As a writer, Elle (Lady Cheeky) is a regular contributor to the online magazine www.EvolvedWorld.com and has been featured on; The Frisky, Fleshbot, DomiDollz, Love Boudoir, Corset Magazine, Kinkly and most recently, Rachel Kramer Bussel's erotica anthology The Big Book of Orgasms: 69 Sexy Stories (Clies Press, 10/13).
Specialties
As an educator, Elle is committed to guiding and empowering women, especially women over age 35 and women with body image issues, to seek out and un-tether their natural, sensual desire within … without shame. She hopes to enable women, who have disconnected from their sexual selves, to have confidence, that owning their own passion can free them to be the powerful and whole women they meant to be.
Elle coaches women on the particular challenges of living a sensually liberated life after 35, positive body image and sex, as well as integrative sensuality and how to have better sex at any age.
Experience
Elle Chase has appeared on various sexuality-based web series, podcasts, radio shows and speaking at CatalystCon East and West "Does This Panel Make Me Look Fat? Body Image and Sexuality' and the upcoming Woodhull Sexual Freedom Alliance in Washington DC, on the panel 'Where Sex Meets "Isms": From Shame to Self-Expression.' Most recently, Elle has been profiled on TheRumpus, Gram Ponante's "Porn Valley Observed and was interviewed for Sheona McDonald's and Dimestore Productions/CBC documentary on women, pornography and technology slated for a 2014 release and is excited to appear with sex educator extraordinaire, Sunny Megatron on her X360 web-series, 'Outside The Box'.