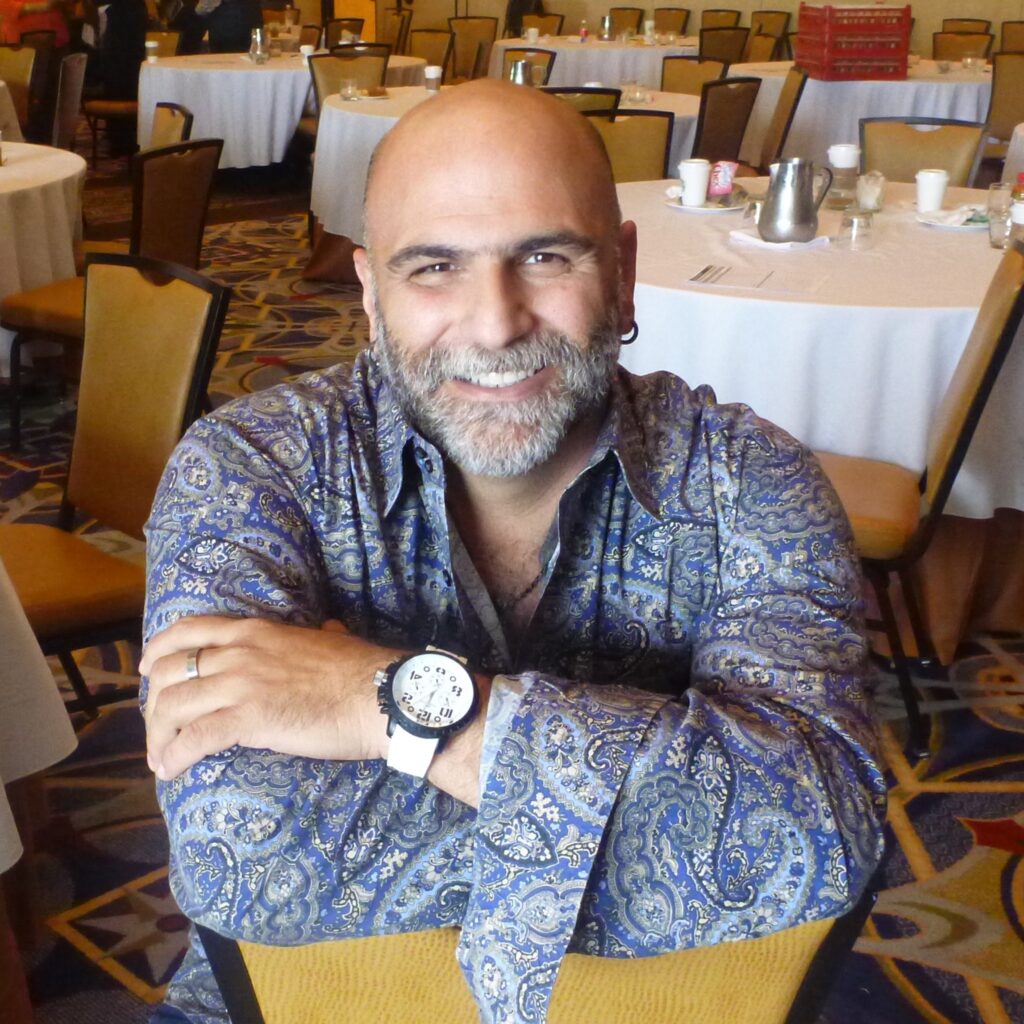 Sexual Health Advocate, Speaker, Coach, Trainer & Educator
Frank Strona's vast experience in the BDSM and leather realm coupled with his public health, new media technologies, and education backgrounds offers a unique skill set and background few other passion/kink/sex educators likely possess. Frank's tireless efforts include being a widely published writer as well as a much sought after international BDSM and health educator, trainer and mentor. Frank is deeply committed to improving sexual expression in all forms and he leverages his professional and educational backgrounds along with his extensive experience as a leatherman to provide a rich and safe experience for people to grow and engage in life as an engaged participant.
Frank has been working around sex issues both in print and in person for almost 30 years. Specializing in groups often overlooked by mainstream and federally funded programs, he aims at education and growth for all, regardless of how one likes sex. Frank's past achievements include stints as a columnist and blogger for www.Daddyhunt.com, Frontiers, Bear Party and Instigator Magazines; Coordinating Editor for Boston's Gay Community News; former Associate Publisher for Bear and Powerplay magazines; former Director of Marketing for Drummer Magazine and Desmodus Publications; and as a Sex Educator for the Harvey Milk Institute and the Learning Annex.
You can follow Frank's professional interests on digital technology, public health and distance-based education via twitter @FVStrona, seek out his coaching and professional side at MentorSF.com or follow his musings on life outside of work on BiteTheRoad.com.
Specialties
Frank specializes in customized themes dealing with the unique dialogues that everyone of us often have, especially in today's growing internet-based meeting pool; with casual sex and BDSM relationships, theory, and techniques for negotiating one-on-one, in couples, and in groups, shedding light on topics like intimacy, breaking taboos and fear, boundaries, communication, fetishes, dating, sex parties, and bridging the monogamy/nonmonogamy debate. He has hosted, developed and presented workshops on a wide range of topics including from sexual health prevention, understanding the pleasure of partnering with those who differ from you, BDSM/Fetish Burnout, and Substance Use and Recovery to more creative themed presentations including Anal play, Watersports, Body Modification and Scarification. For many years Frank worked under his flagship program Scarlet Letter Services before rebranding as MentorSF in 2001
Certifications & Degrees
Frank holds a Masters in Public Health, is currently finished with his academic content for a PHD and working the drafting of his data for publications. He continues to work professionally as an advisor and coach as well as being a content specialist in alternative business coaching.
Frank has presented internationally and nationally on a variety of topics and often bridges multiple worlds in order to bring his message of "a healthy person, is a sexually satisfied person" to audiences.
Experience
Frank Strona represents the best we can hope for in among an ever-changing set of community standards; a voice for diversity, inclusion, acceptance, and health who understands the assets that being at the table as an out gay sexually progressive person has and how to leverage that power to make change. A long-time local Bay Area sexual health specialist, Frank's been in active pursuit to improve, educate and promote sexual health and sex that incorporates more than the classic "cultural competencies." Instead, Frank reinforces that "we" each have a part to play in supporting a healthy active sexual menu as agents of change