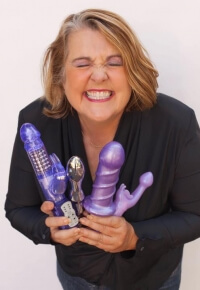 Sexuality Specialist and Proprietrix of GrandOpening.com
Business/Group
GrandOpening.com
Location
After 26 years in Boston, Kim Airs now lives in Los Angeles
Kim Airs has proudly been around the block and played the field, giving her unparalleled knowledge about all things sex, all spiced up with her special brand of humor and wisdom. Kim Airs became a sex toy connoisseur in 1987 and there's been no looking back. In 1993, frustrated by the lack of comfortable places to buy sex toys in Boston, she decided to leave her high ranking job at Harvard to sell rubber dicks to girls. She founded the award winning sexuality boutique, Grand Opening! in 1993 and has been been selling high quality sex toys on line since 1995. Her passion and specialty are her beloved sex toys – there isn't a sex toy out there she hasn't seen, felt, or experienced and is happy to be sharing all of her 20 plus years of knowledge with you with a delightful enthusiasm you'll find no where else!
Specialties
My specialty is sex toy functionality. How to put batteries in them, how to make them work, how to clean them, and many other things you may take for granted. Sex toys can be pretty complex little gizmos - you just have to look at 'em a little differently than what it says on the box.
I also know a lot about a lot of aspects of sex and I've taught these workshops to thousands of people: How to orgasm without using your hands (proven during an fMRI of my BRAIN!), Yikes! Intro to SM, Bisexuality for the Bi-Curious Woman, You Go Girl! - Sex tips for Girls, Score! - Sex tips for Guys, What the Hell is the G Spot and the Female Ejaculation Thing?, Ifs, Ands, and Butts Anal Sex Workshop, Strap it on and Ride til Dawn! and many others you'll see here on PassionateU.