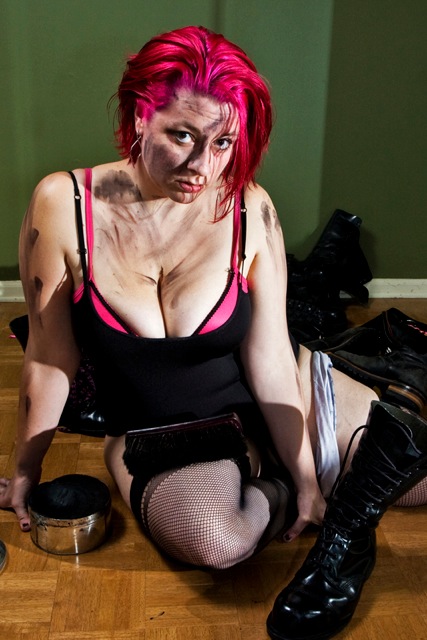 A creative soul who is a dancer and writer she is constantly trying to think outside the box as far as how to express her heart and soul. Branching out her ideas of art, creativity, passion and expression that she has learned from her travels and living in the big city.
She has been a part of the Kink/Leather/BDSM community for the last 19+ years s as a volunteer, board member, educator, 'cheerleader', producer and organizer. A BDSM educator for 9 years Miss Luna has taught on a variety of subjects, helped create and maintain organizations and help build events. She sees this as a wonderful opportunity to share with people the things she loves in a fun and safe environment.
As a lover of boots her first lesson came from her father 18 years ago, but started training as a bootblack in the leather community 8+ years ago thanks to NYC Bootblack Roundtable and Florida's Dungeon 901 Bootblack Track. Her training is steeped in gay leather thanks to her mentors and teachers and has a flair that is all femme and all her own. She has been a fixture of events such as Folsom Street East and has been honored to share the stand with her fellow bootblacks at events like TES FEST, Floating World, M/s Conference and GMSMAs Leatherfest.
She currently holds no official club/patch affiliations but has taken to seeing the community as her club thanks to all the people who she has met across the country through her past travels. She is currently active with NYC Fetish Tribe where she is consider the house bootblack for their parties and helps them with sponsorships for the organizations larger events and has been a proud volunteer with Leather Pride Night in NYC for the last 9 years. As an educator over the last 9 years she has taught at events and for organizations on topics of bootblacking, rope bottoming, ageplay and dance.
After taking Runner-Up in the International Ms. Bootblacking Competition in 2010 She co-created and co-produced the event Femme Boot Pride and created Femme Boot Pride (dot) Org. An organization that is a resource and home for Femme Bootblacks and their supporters. A place to come to for people who want to learn about femme bootblacking, find mentors or teachers in the skill of bootblacking, and can learn about our past and our growing history and a place to foster pride and strength.
Her current artistic project has been to start sharing her love of bellydancing and fire performance to the leather community. Building dances that are still based in the training and traditions of her teachers, mentors and idols the creative spark is slightly darker and more deeper serving of her soul. She is also creating classes to teach women the sensual aspects of dance and using it to empower, and teach women of all sizes that they can be and are sexy.
Her passion includes: Music, Boots, Fire Dancing, Bondage and all things that spark her imagination.
Specialties
Bootblacking, Bellydancing, ageplay. Rope bottom, protocols and discipline
Experience
9 years teaching experience at events such as Floating World, TES FEST, Twisted Tryst, New England Fetish Flea. Shibaricon, Leather Retreat, Ohio Leatherfest, and COPE.
Bootblack for NYC Fetish Tribe, Folsom Street East, Leatherfest, Floating World, Dark Odyssey: Winter Fire & Leather Retreat