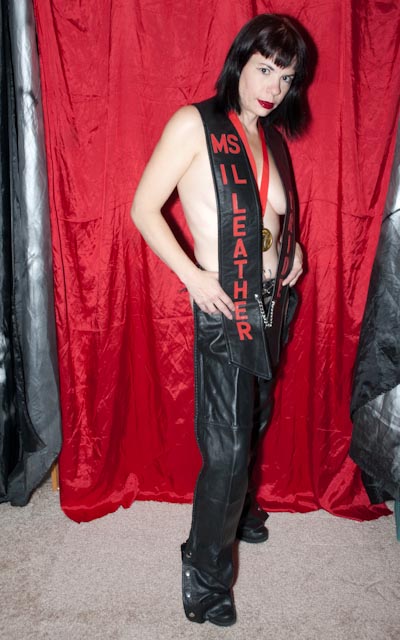 Ms IL Leather Pride 2012
Ms. CherriesJubalie identifies as a Switch, a Professional Domme, and has been active in the Chicago Leather Community for over five years and is the current reigning Ms IL Leather Pride for 2012. She presents at local and national lifestyle educational events such as Atlanta Bound, Shibaricon, Madtown KinkFest, Twisted Tryst, and GLLA. A sex positive enigma, she is also a unique Burlesque performer-recently seen on America's Got Talent and officially designated by the NBC censor as having an 'ass too dangerous for prime time tv.' She is an internationally known fetish model currently seen in Bondage Magazine and on the Cover of Lee Harrington's Sacred Kink. Her article 'Behold the Power of Shoes' is soon to be published in Power Exchange Magazine. An avid supporter and educator of BDSM and alternative lifestyles she volunteers for the Leather Archives & Museum.
Specialties
I am a rope enthusiast, rigger, and a very sensual sadist. I love turning people into objects for my pleasure and being objectified. I am into heavy corporal; rough body play and other extreme forms of play. I own currently 224 pairs of shoes and boots and love foot and show worship as well as trampling and other sports. I am a toilet goddess and quite frankly I will try just about anything. A further list of my favorites is on my yesmsc website. And finally: I love dolls, Cosplay and pets, and having laughter in BDSM. Cause if we aren't enjoying ourselves why do it.
Experience
Oh good gods I can't remember all the events I have travelled and taught at. I have been at this officially for more than 6 years. Prior to that I was tying up my dolls and hanging the from the dream house chandelier. Kind of everything I did was kinky I just didn't know there was a name for it. If you want specific information please feel free to contact me.