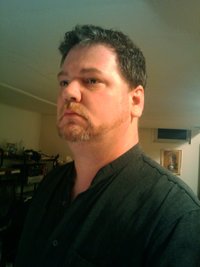 Business/Group
The SadoMasoCast Podcast, Baltimore Education and Social Society, The Crucible, Black Rose, The Floating World (Staff)
NCD is a BDSM enthusiast and educator with nearly 15 years of experience in the public scene and his wanderings have taken him through such places and groups as APEX (AZ), CAPEX, BR, The Crucible and, most recently, BESS. Despite having held several positions of responsibility within scene organizations he still refuses to take himself too seriously and so, with that being the case, the odds that he will take you or anyone else too seriously are somewhere between nil and zero.
Remember: "Don't sweat the petty things, pet the sweaty things."
As an educator he strives to ensure that those who learn from him are able to go on to apply the things that they learn in their own play through a mix of hands on training and presentations that stress the importance of truly understanding how each action can affect what a person feels within themselves. He feels very strongly that we don't do these things to look cool but, instead, we do them because of the way that they help us to feel and what we feel is at the very heart of any great experience or wonderful memory.
A firm believer that each scene can be magical in it's own way, and so become a great memory, he stresses the importance of helplessness, trepidation, arousal, erotic violation, intimacy, personal attention and careful management / manipulation of endorphin levels and head space. In his own play, he prefers to get very personal in ways that are highly erotic, taking advantage (in a good way) of the most intimate parts of a person's body while they are helpless and gradually working them more and more deeply into an erotic head space n a way that is extremely sexual, really hot and completely unrepentant.
Specialties
Group and private instruction on a wide range of BDSM topics ranging from understanding our own emotions and why we crave the things we do; excellence in aftercare and why it's really needed; dealing with guilt issues due to religious and societal conditioning plus helping guide newer people who get overwhelmed to other things... such as skills training for implements like floggers, canes, clips & clamps, hot wax and much, much more.
Experience
'95 - Founding board member: Playing in Tucson (PIT).
'96 to '01 – Arizona Power Exchange (APEX) including space setup and logistics chair ('98-'99), general presenting / teaching plus helping to develop the APEX Dungeon Master's Training Manual (Nov '97) and Whipmaster Bob's"HOTS" (Hands On Training Sessions).
'01 to '03 – Charlotte Area Power Exchange (CAPEX): Flogging workshops / presentations and general troublemaking.
'03 to '08 – Volunteer Staff at The Crucible in Washington DC... more general troublemaking.
Volunteer staff for TFW'08, Black Rose '04 and '08 events.
'09: Board of Directors, Baltimore Education and Social Society and Director of Security, Charm City Fetish Fair. Started the SadoMasoCast Podcast.
Places taught: PIT, APEX, CAPEX, TAAG, Black Rose (Tuesday weekly classes), BESS, Friends of Playhouse (Baltimore) plus the Winter Solstice event at Black Phoenix (Philadelphia), Charm City Fetish Fair '09 (Baltimore) and TFW'09 (The Floating World, Edison NJ).