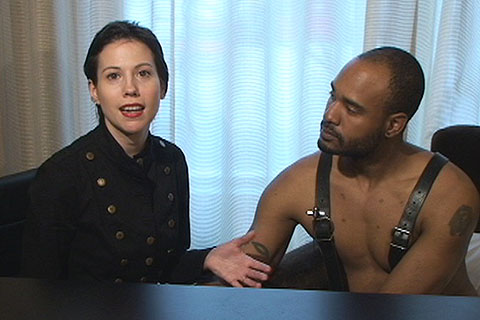 rhiannon identifies as a poly queer submissive with occasional switch tendencies when the mood strikes. She became active in the MD/DC/VA scene in 2007, and began serving Darian shortly thereafter, receiving his collar in December 2007. rhiannon is also a Steering committee member of TNG Baltimore, Secretary of Sacred Marks Sanctuary, and a member of MAsT Baltimore. She enjoys receiving impact play, knife play, hair pulling, rope bondage, and many other things. Outside of kink she enjoys science, gardening, and spending time with her Boston Terrier.
Specialties
rhiannon: Being at the other end of Darian's whips, floggers, etc., processing heavy or cathartic scenes, developing communication during scenes.
Experience
rhiannon has assisted Darian and served as his demo for the classes he has presented, as well as demo-ing for classes by British Lucky Paul. She has presented with TNG Baltimore and has participated in performances with Sacred Marks Sanctuary at the Baltimore Erotic Arts Festival and Diabolique.