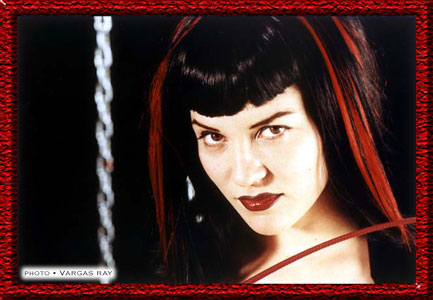 Goddess, Mistress, Lady
Business/Group
Minx Productions
Mistress Selina Minx started down the path of Female Domination in her High School years, as she soon learned that the majority of people were easily controlled once you knew what motivated them. Her own motivation was kinky new experiences… and being lucky enough to be born an attractive female, Selina found what she was looking for.
Her college days initiated her into the BDSM scene of Hollywood California through it's many bondage parties and clubs. She was enthralled by this world of costumes, pageantry and stylized encounters with the darker and more powerful archetypes. Mistress Minx began by performing as a submissive, all the while relishing the power she had over the captivated crowd, who were entranced by her uninhibited arousal and complete surrender. Eagerly she soon progressed to doing scenes as a top, craving the experience of creating dramatic encounters for people. She was also deeply fascinated by how far people would go to please her, hoping to gain access to her desire, passion, and her body.
Her first major public foray was at 18 on HBO's Sex Bytes, which showcased her feet for the entire world to see on a segment about foot eroticism. Since then she has made many appearances as a sex educator and performance artist on shows such as Channel 2 News, HBO's Real Sex, Susan Block's Radio Sex TV, and in such magazines as Leg Show, Skin 2, Footlovers, Bootlovers, Reason Magazine, in literary works 'The Transformations of Gwen' by Eric Kroll, 'Trapped and Trained' by longtime slave Charles Forbin, 'The Diaries of A'yesha' online novel series by Charles Forbin, and on websites wiredpussy.com, whippedass.com, bootlovers.com,harmonyvideo.com, susanblockshow.com. She has also taught classes on alternate sexuality at Chaffey College, Cal Poly Pomona and Hart High. She has done erotic performance art at CalArts, Club Sinamatic, Club Submission, Hell, and is a regular performer at the decadent fetish burlesque event 'Club Discipline'.
Mistress Minx has recently started expressing her exhibitionistic side through video production. She has created her own online membership site with streaming and downloadable video clips and photo sets. She is also releasing a series of dvds of her kinky exploits. Selina has always loved being on camera, but has shied away from creating content that she wasn't in control of. Now that technology has progressed she is eagerly perfecting her video production skills in anticipation of creating her own unique brand of surrealistic kink-erotica.
Specialties
Initiation Rites, BDSM, Training of all types, Sex Education and Bliss Instruction
Experience
I have been involved in the Los Angeles BDSM scene since 1994. I've been lecturing and teaching workshops since 1997. I have been a professional domina since 2002 and a Priestess since 1992.