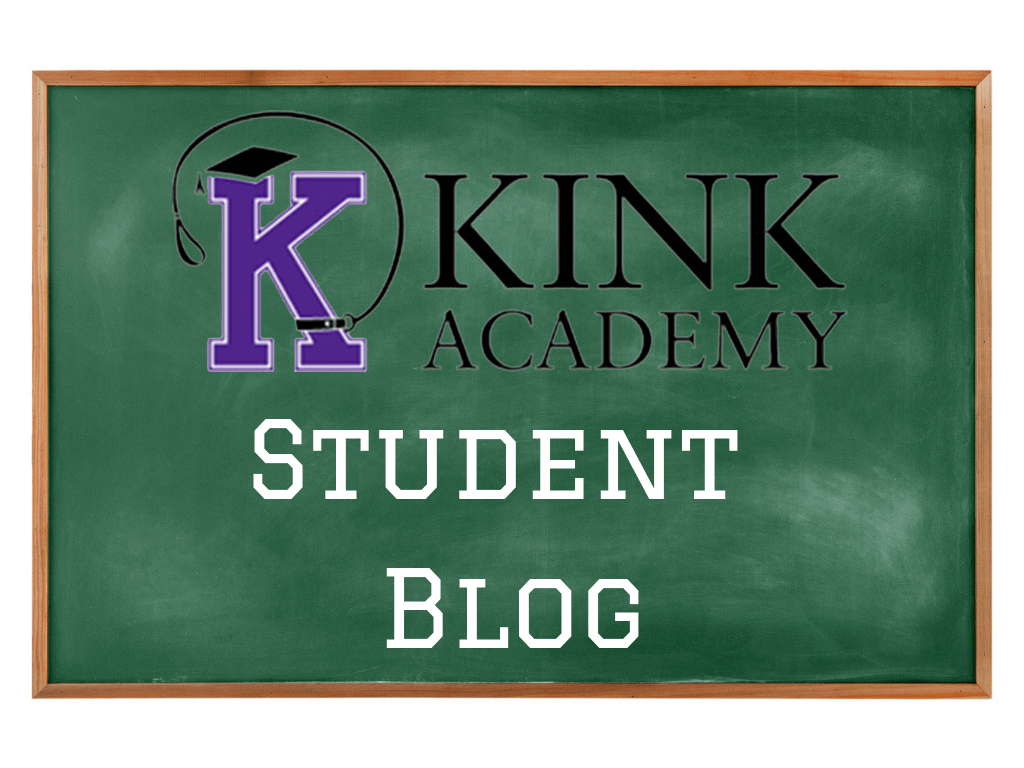 Some of the funniest things happen when a bunch of kinky people get together.
I enjoy lots of craft type things. I scrapbook, make jewelry, and paint. I'd wanted to learn how to knit and tweeted in the hope that I'd have at least one kinky friend on my tweetstream that could help me out. I don't like to sew because I don't have the patience or the ability to cut straight lines. Even with a ruler. A character defect that I can live with. Similar to getting lost even with a map.
I'd also tweeted about my intention to make a flogger based on the videos at the Kink Academy. I'm a little behind posting (although not watching) videos because I spent the last week decompressing from Momentumcon. I'd been trying to get my thoughts ordered enough to write a blog post or two about that, when I realized that I'd just wanted to do something creative that didn't involve typing, writing, or the internet.
A sort of impromptu craft party grew out of those tweets. Toristorii put together (completely at the last minute) a Kinky Potluck and Craft night. It turned out so well that I'm hoping that she makes this a regular thing. This wasn't a play party, this was just a bunch of friends bringing whatever craft they were working on, and a pot-luck item, and showing and talking about what they enjoyed. I like that. Seeing what my friends enjoy other than kink. One-dimensional relationship are not my thing and I like spending time with people doing ordinary things- but not having to watch our reference points when talking. The crafts ranged from a cane maker, knitters, pillow makers, a mixed media artist, a ropester who just wanted to whip the ends of her rope, and someone who was designing a collar design for his submissive. What piqued my interest was Subwonder who had made a joke about "blinging" her Hitachi and who was actually doing it.

I'd watched the flogger making videos by GoddessNyxx earlier in the week, but when I woke up yesterday morning, I quickly viewed them again trying to decide what to make, and getting a list of what I'd needed. I thought I'd try to make two different kinds: a fabric one and a corded one. I got my shopping list together and hit the stores. I had to go to two stores (fabric stores apparently don't sell wire or electrical tape), but I got everything I needed in two stops. I got enough to make two floggers for about $14.00, with enough leftover of everything except the wire and rings for a couple more. (note to self- Florentine floggers?)
For the first flogger, I bought faux leather. I wanted something easy to handle for a first time and although I had intended to cut up an old leather jacket originally, I wasn't keen on trying to fool around with sleeves and zippers trying to get a flat piece of fabric. I'd also thought that I'd wanted to use something pink. I have a pink and black leather and fur flogger that I love and finding pink toys is not always easy. I love the idea of walking into a dungeon with pink girly toys that look all cute and adorable but make boys do nice ouchy noises. I had a hard time finding pink electrical tape and wire- so if you know anywhere that I can get those things, let me know okay?


I made my potluck item (Italian meatballs in sauce, if you want to know), and gathered up my supplies and my computer and went to the party.
I put the first video (How to Make a Fabric Flogger) on and began.
I started right in on making the first flogger. The faux leather I bought was easy to cut. Although I had a hard time cutting a straight line, I managed to get the cuts straight enough that it didn't look too bad. Toristorii make a crack about people complaining that my flogger tails were crooked to which I replied that that sort of thing would earn them an extra smack or two. She twinkled at me and I just know the next time I'm at a play party with my floggers, I'm gonna be on the shit end of a bunch of jokes about that :)
I really found the best value in the Kink Academy videos with this series. I was able to stop, restart, fast forward, and move around the video when I'd needed to. Trying to copy what GoddessNyxx was doing, going back and forth to see the steps involved, and starting it again to make sure I'd gotten it right made things extremely easy to follow along with. I could stop where the steps took longer, and restart when I'd completed them.
The first flogger came together in about an hour. I had a little difficulty wrapping the wire around the handle because my hands got tired holding the wire tightly and made a joke about "this was why I sucked at hand jobs". My friend Kaminaru_02 laughed and said that that was one thing she'd NEVER heard at her vanilla knitting circles. One of the benefits of being with kinky people doing vanilla–ish things.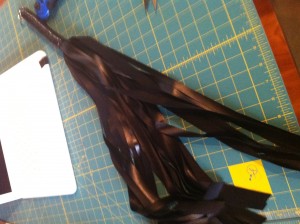 When I was done, I tried it out. I realized that I'd made the tails too long, so I cut them down a bit and tried it again. It was a light weight flogger. Good for sensation, but not impact. But the handle was wonderful for my hand. Small enough that I could hold it without difficulty. I said that the next time I'd make one with more tails and heavier fabric. I realized that I am hooked on making floggers.
For the second one, I had picked up several kinds of cords, strings and rope. Mostly in pink colors. I wasn't sure what I'd use, but I liked the colors and textures of the cords. I decided to use them all.
The second flogger was made a little differently from the first. It went together much more quickly. I also added a flair to the handle (as suggested by GoddessNyxx). When I finished, I tried this one out as well. The reaction it received was more than well worth the effort! The consensus was that while the first one was "nice", the second was "ouchy".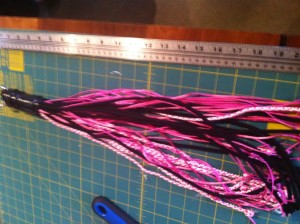 People had watched me make the floggers with a lot of interest. I think now that they see how easy they were to make, there will probably be a lot more people trying this out. We'd started joking about other things that we could make floggers from when Toristorii handed me three rather LARGE and heavy lengths of chain with a smile and giggle. I might actually try that one as my next project. After all, GoddessNyxx DID say that I should use my devious and creative mind. I'll never look at tubing, chain, strings, wires and fabric the same way again.
Oh, and I did get my knitting lesson. So even more win!
Silver