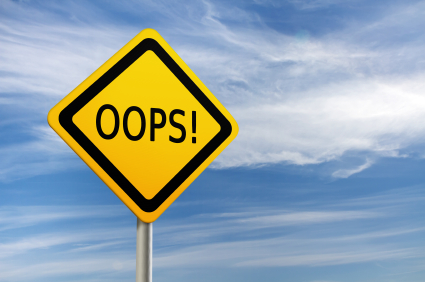 There's an old joke in the BDSM community: "What's the worst thing you'll ever hear a dominant say?"
"Oops!"
Chuckles aside, there is a myth in the kink world of the "all-powerful" dominant, who is completely in control of the environment, their body, their bottom's body, supremely aware of all the many factors involved in a scene and completely prepared to handle anything that comes up.
This fantasy of "domniscience" (if you'll pardon the pun) is unfortunately harmful for those who don't realize it's a fantasy. It keeps them from being flexible enough to handle mistakes when they happen, and it can shatter the trust that is essential between a dominant and a submissive.
That's not due to any actual betrayal on the part of the dominant – it's more that the submissive may not have been aware that mistakes were possible.
You never know when an accident is going to happen – that's why they're called accidents, after all – and a dominant who's never made a mistake is much like the motorcyclist who has never had an accident: it's not so much a matter of "if" but rather "when." Whether or not you make a mistake is not nearly as important as how you react when you make a mistake. Here are some things to remember.
1. Calm. Cool. Collected. While you are not actually domniscient, giving the impression of being in control at least of yourself is going to help. Swearing is fine – as long as it's in a reasonable tone. If you're angry, let it only show in the determined expression on your face as you deal with the issue. Do not shout (unless it's something like "Call 911!"), do not throw things, above all do not leave. Stay there and control the parts of the situation that need controlling. You are not the first dom to screw up, you won't be the last.
2. Don't play the blame game. One of the unfortunate consequences of being a dominant is that you tend to automatically blame yourself when something goes wrong. Don't do that. You don't have time for that kind of self-indulgence. Instead, take care of the situation in front of you – at the very least getting your bottom and yourself to safety, checking the extent of any damage to persons or property, and finally evaluating whether or not the scene should continue. There will be a lot of different kinds of blame trying to lodge into your brain: the urge to blame equipment, yourself, the people around you, the phase of the moon, even the urge to blame the bottom. Do not do any of those things. Blame is worthless; the only thing worth figuring out is what contributed to the mistake, and how to avoid having those contributions in the future.
3. Realize your bottom may not behave. You've got this whole article dedicated to helping you get through this mistake; guess what? The bottom may not have that kind of coping strategy. They may come after you, blame you for everything, demand to know: how could you? Whatever made you think? Why the hell are you there in the first place? They may even enlist allies like dungeon monitors or significant others or any number of people to help them cast the blame on you.
Do not take it personally. Realize what that is: it's fear. They were in a place where they felt safe, safe enough to risk whatever scene the two of you were attempting…and suddenly things went wrong. The adrenaline will be pumping, and you are a prime and easy target.
That's ok. Refer to rule one and rule two: Let them yell, as long as it doesn't keep you from getting them to a safer space. Don't argue right then, even though you'll want to. Being defensive about blame isn't constructive; it just feeds the stress.
4. Be responsible. If you know that you're the one who contributed to a mistake, then say so. "I'm sorry. I aimed that badly. Are you alright? Great – I'm going to try very hard to make sure that doesn't happen again." Simple, direct, and with integrity. Very different than "Quit moving! I can't aim!" or even worse "I meant to do that." Most experienced bottoms will tell you: they know when that's bull. And if you still keep on making that mistake, then it's possible that you need to re-evaluate whether you're ready for that kind of play. There's no shame in that; everyone's a beginner at some point.
Mollena Williams is one of the greatest advocates of submissive play, and she talks a lot about both evaluating dominants based on their integrity and also on the importance of good communication when things go wrong. In conversations with dominants Princess Kali and Graydancer they all agreed that perfection in a dominant is not the goal – rather, the kind of strength that comes from being able to be vulnerable is far more attractive.
In the end, we are all human, dominant or submissive. It's important to remember that, to make allowances, and enjoy the opportunities for growth and intimacy that the occasional mistake can provide.
Save