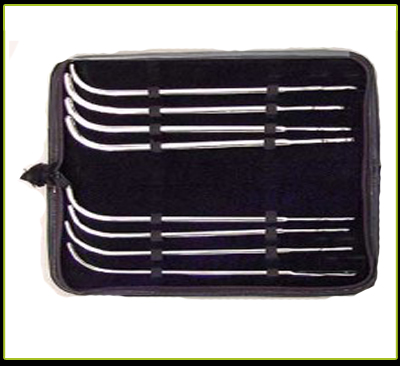 Burning in your pee hole doesn't have to come from the 'clap'
by Dr. Brian
Torturing your pee hole can be fun, but you there are some precautions that you should take to avoid permanent damage. Damaging your urethra can result in infection and strictures and ultimately make it harder for urine to get from your bladder into the toilet bowl. That's bad.
Just last month in the journal Urology there was an article that dealt with urethral play. Some individuals inserted liquids into the urethra. The vast majority of those that engaged in urethral play inserted solid objects into the urethra. The most common form of solid object played with was sounds.
Solids inserted into the urethra for play are usually sounds and catheters. Sounds were around before urologists had cameras and lasers they could stick up your pee hole to break up bladder stones. They were so named because they were inserted through the urethra into the bladder and when they contacted a stone they made a noise. They also served to dilate the urethra to allow the stones to more easily pass. Sounds are still used today to gradually dilate urethral strictures, or area of narrowing in the urethra, that are due to scarring or inflammation. Sounds come in many shapes and sizes and are usually in a graduated set. The most common ones that I've seen people use are the straight Dittel Sounds and the curved Van Buren Sounds. Both types are named for famous dead doctors. Sounds are more solid and less forgiving than catheters.
When it comes to complications the two main types are infectious complications and trauma related complications. Simple urinary tract infections (cystitis) can rapidly progress to kidney infections (pyelonephritis) and from there bacteria can readily cross into the blood stream causing sepsis. That's bad. The CDC classifies equipment as critical, semi-critical and noncritical based on their ability to infect a patient if they are contaminated with microorganisms. This classification will then dictate how they should be cleaned between uses. Critical items confer a high risk for infection if they are contaminated. This category includes surgical instruments and urinary catheters. Most of the items in this category should be purchased as sterile or be sterilized with steam if possible. An acceptable alternative is germicides categorized as chemical sterilants. Chemical sterilants are only reliable if proper guidelines are followed regarding concentration, contact time, temperature, and pH. The bottom line is that when using sounds a responsible Dom/me is going to use a sterile technique and properly sterilized equipment when playing in the urethra. Alcohol alone isn't going to be sufficient. Alcohol will only kill about 70% of the microorganisms on a surface and doesn't inactivate spores.
Physical trauma is always a concern when engaging in urethral play. Sounds should be used as a set starting small and working up to larger sizes. Starting large may not allow the smooth muscle surrounding the urethral mucosa to accommodate to the size of the sound and could result in tearing. Similarly, a sound should never be forced. If you meet resistance applying too much pressure could result in the creation of a false passage. This could result in urine passing into spaces parallel to the urethra and increases the risk of infection, abscess formation and bleeding. When playing with sounds a forced passage is a false passage. One of the major dangers of causing physical trauma to the urethra is that it can result in scarring and the creation of a urethral stricture, which ironically is what sounds are designed to treat. Sounds can be a lot of fun, but you have to take precautions and play safe.
This article was originally published on FearlessPress.com on September 5, 2010
Photo from KinkyMedical.com.