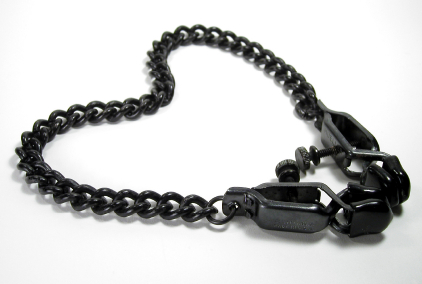 Nipples are like fingerprints: everybody's are different. Playing with them can get you a wide variety of reactions from partners, and there's no guarantee that what one finds stimulating will be even remotely arousing for another. Some people hate having their nipples touched, some don't care either way, and some enjoy it so much that they can actually reach orgasm through nipple stimulation alone.
And that's why God invented nipple clamps. Or, if not God, whoever it was certainly deserves sainthood. Like other toys such as vibrators, dildos, and cock rings, nipple clamps serve to provide sensation in a way that the human body can't. Yes, you can certainly pinch nipples with your fingers, but eventually they're either going to get tired or they're going to have other things to do. A well-placed nipple clamp or two can make all the difference.
Not only that, but nipple clamps are non-gendered. Whoever said "there's nothing more useless than nipples on a man" has never played with Princess Kali, that's for sure. In one of the earliest videos for Kink Academy she shows just how delightful the right clamps with the right nipples can be. The stereotype is that nipple clamps are all about pain, but she shows how warming up the nipples, adjusting the tightness of the clamps, and what you do with them after all have a lot to do with the experience. The grin on her face as well as the bottom's when she tinkles the little bells on his nipples teach more about how fun nipples clamps can be than any book.
That particular bottom was lucky, though, in that he not only had sensitive nipples but also was sexually aroused by them. Other people may be annoyed by that kind of attention, or even find it painful to have even the slightest amount of pressure. If that's the case, then there are two ways for the negotiation to go: either the nipples are off limits, or else the pain and annoyance of nipple clamps is offered to the top as a masochistic sacrifice to satisfy their sadism. Enduring nipple clamps for a top can be a profound and deep experience of submission for a bottom, if it is framed that way.
With such a wide variety of sensitivities, it's a good thing that there are a huge variety of nipple clamps to choose from. There's no need to go to fancy lengths to get to the "ow" stage, as Dante Posh puts in in her video on "Nipple Torture Play." You can do amazing things with simple clothespins. For that matter, clothespins themselves come in a wide variety of styles – wood, plastic, large, small – and you can have an entire play kit or scene just devoted to using them in various ways. Domina Snow demonstrates this quite thoroughly on Kelle Martina for Kink Academy.
Kelle is one of the bottoms who feels the pain as pain, but also finds that submitting to Domina Snow also turns her on a lot. She especially feels it as the clips come off the nipples, which is something that often surprises people when they first try out clamps and clips. There is the initial sensation, followed by a period where the nipples might actually go numb as the blood is cut off from the area. The sensation of blood rushing back into the nipples as the clamps come off can be even more painful than the first pinch – but then again, sometimes that's exactly what people are looking for!
If you want to see what a completely eroticized nipple play scene looks like, check out the videos that Scotty has done with Annie. Her nipples are amazingly sensitive, and he uses a huge variety of toys on them to great effect. Strangely, a lot of nipple clamps weren't originally designed for that purpose. Clothespins, after all, were invented to hang up clothes, not hang on pretty nipples! Chopsticks and rubber bands are often used by Asian bondage enthusiasts, and Scotty uses both a snakebite kit (providing suction) and "clover clamps" to really intensify Annie's sensation in the videos.
Clover clamps are often considered to be the most evil simply because the more you pull on them, the tighter they grip. This makes them absolutely perfect for all kinds of predicament play, much like the specialized nipple clamps Princess Kali demonstrates on her bottom. What's not usually known is that those evil clover clamps were actually created for one of the most innocuous pastimes ever: quilting. That particular kind of toy was made to help hold pieces of cloth together – but at some point someone decide to try it on a pretty piece of flesh, and the rest is history.
Whether it's for pleasure, for pain, or just for decoration, there are a lot of ways that you can get joy from playing with nipple clamps, and here on Kink Academy we've got the videos to help inspire you whether that's to "ow!" or "ooh!".
Save