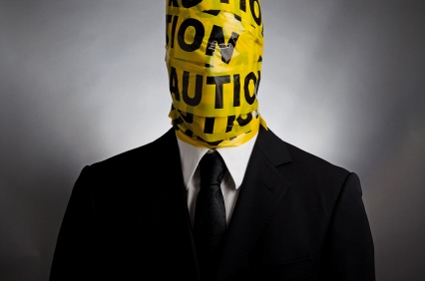 The term "edge play" can mean a lot of things in the kink community. For some, it simply means that they like the kinds of things that Orpheus Black does with blades. Knives are great tools for sensation play, for removing wax, for all kinds of things.
However, there's another understanding of "edge play" that has more to do with fear. It could still be knives, especially if you use them the way Barak & Sheba do. In that kind of play, you might not even have to touch your partner to get a reaction – the sight of the blade or the sound of it clicking open can be enough to make them tremble.
That's because for some people knives are moving out of their comfort zone. That can be a good thing to do – Mollena Williams has a whole series about pushing the edge of your boundaries in ways that are constructive. The first part of edge play, Mollena counsels, happens inside your own head, even before you start discussing with your partner how you can both explore along that edge. It's figuring out exactly where your boundaries are and then why they are there.
Part of what makes edge play so attractive is that it brings partners to a place of vulnerability where real intimacy can happen. For example, Mollena has had scenes where she deliberately told her top to push her to the point of using a safeword using impact play, verbal humiliation, stress positions and more. She wanted to see what it was like to be pushed beyond her breaking point. It meant trusting her top implicitly, not just during the scene but also after. It also meant that she could face her fears head-on and discover that she could survive them. Often times "edge players" do that kind of scene because they feel it makes them stronger.
That idea of trusting your partner includes communicating a lot before hand. Edge play often can drive you to tears, Sarah Sloane (a Chicago-based sex educator) explains. Of course, in kinky play tears aren't always a bad thing, but it helps to understand what causes them. Is it fear? Joy? Catharsis? How can your partner know the difference? How will they know when the tears mean "stop" and when they mean "push harder!"? Sarah explains in her video series how to figure these kinds of things out before you dive in the deep end.
Thrash and Princess Kali also give some concrete things to consider as they discuss the kinds of edge play they've enjoyed. It primarily has to do with humiliation, but in the discussion you get to see both sides of the equation. It's important to remember that when you're playing on the edge it may be edgy for both top and bottom.
There is no particular definition of what is or isn't edgy except for how it is perceived by the people involved. For example, Princess Kali is an expert at face slapping techniques. If she is dominating someone it's not likely that slapping their face is edgy for her – it's more likely to just be fun! On the other hand, if the person she's slapping is submitting for the first time to that kind of impact play, it might only take one slap to reduce them to tears. Is that because of the hardness of the slap? Or is it because a harsh domina is raising her hand? Would Roughinamorato's face slapping techniques get the same reaction? Only the person being slapped can really answer that.
That's why edge play so complex: there are many, many variables that can go into where exactly that "edge" is, and it can be different for everyone. If someone says they are an "edge player" that doesn't really tell you anything about the actual activities they enjoy – what it tells you is that they are looking to get a certain reaction either out of themselves or out of their partner.
That doesn't mean that there isn't the need to learn actual physical skills when you're playing on the edge. Specific techniques can make the difference between a good scene and a trip to the emergency room, depending on what you're trying to do. For example, one of the edgier things to play with in cigar play was created by a Leatherman named "Edge". Graydancer shows how the "Cigar Spectacle" works in the final episode of his series, including some of the lessons learned while practicing the technique. If the edge you're looking for has some complex elements – rope suspension, blood play, intense degradation – you need to take the time to practice in a low-pressure situation before you add in the hot sexiness of an actual scene.
Most of all it's important to remember that there's no prize for "edgiest kinkster." How could there be, when the edge is different for everyone? What's important is to enjoy your kink and make it a positive part of your life and your relationships, whether you're on the edge or not.
Save