The sex drive is one of the most powerful motivations a person can have. Orgasm is, almost by definition, an overwhelming experience. It makes sense, then, that controlling that impulse would be an amazing expression of dominance. Surrendering the control of your sexuality to another person is a profound act of submission, whether it's done out of masochism or trust.
In Eve Minax's introductory video to her series on male chastity she explores several different ways partners can play with this concept. She's an expert in orgasm control, whether that means forcing an orgasm through prostate stimulation or, more commonly, denying a submissive man permission to cum or even to masturbate. She explains how the fact that he can't touch himself is often the very thing that sexually arouses a man the most. It also becomes exciting to have some kind of locking mechanism that allows for urination but prevents erection. Knowing that someone else literally has the key to their sexual satisfaction is one of the ways chastity plays on both the psychological and physical levels.
In some cases this can be almost comical – one professional dominatrix talked about a particular difficulty using one of the devices that Eve mentions. It was a multi-part plastic sleeve that fit over the cock to keep it from becoming erect. The problem was that every time she'd try to put it on the man he would get so excited that he would get hard – and then it wouldn't fit! Amidst a lot of laughter and the strategic application of ice cubes they finally go it on him, but she was astonished at the way the mere sight of the pieces could get him excited.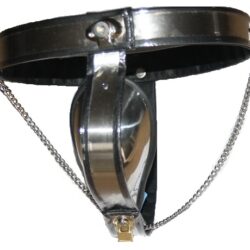 While plastic is certainly convenient, there's something to be said for shiny metal. Locked in Steel is a company that specializes in custom-fitted chastity devices for both men and women. Jillian explains that if you're trying out chastity play at a long distance it's important to understand safety considerations such as hygiene and even social events. What happens if you are locked in a chastity device and you need to go through airport security? She has many suggestions for people to both satisfy their need for control and balance it with living in everyday life. She also demonstrates several additions to a chastity device such as butt plugs and ball stretchers that can make it even more fun.
Of course, you don't have to get quite that complicated. Other forms of genital bondage, especially for male bodies, take very little equipment. In her cock-and-ball bondage (CBB) videos the Leather Yenta shows how to create ball stretchers, ball separators, and other creative cock harnesses with nothing more than paracord. At the other extreme you have people like Shay and Stefanos who play with medical stapling of skin– a very common, easy, and safe procedure. But what happens if it's used to close the labia? Or tuck the flaccid cock into the stretched skin of a scrotum for a "Ken Doll" effect? Shay will be the first to admit that these are extreme forms of chastity play, but she has taken the time to learn safe technique so that the risks are minimal and established trust with the partners who enjoy that kind of edgy play.
For some dominant people, though, it's more exciting to simply control their partner through force of will. Sabrina Morgan is an expert at long-distance tease-and-denial play, a form of chastity that often includes a different kind of "edge". When she orders someone to "edge" for her, it means they need to get aroused right up to the point where they're about to have an orgasm. This could be as simple as masturbation, but more often it's her sexy voice talking to them that turns them on. Then, when the moment of release is just about to happen – she says "No." She gives them the satisfaction of denying them satisfaction
This might seem counter-intuitive, until you realize that the thing that is arousing is not the orgasm itself but rather the exchange of power between two people. It doesn't always have to be denial, either. Paul Rulof is one of many dominant people who enjoys orgasm play of another kind. While the edging and orgasm denial is part of his play, he also enjoys conditioning his partner to cum multiple times whether through stimulation or, sometimes, simply at his command.
This kind of mental play is both quite powerful and also takes a lot of time. Regardless of the kind of chastity or orgasm control you're wanting to explore, a great way to start is by thoroughly understanding exactly what's going on in the body when the orgasm cycle happens. Maggie Mayhem is an expert researcher both in the field and using the PSI-gasm device she and her partner created, and she walks you through each stage from initial arousal all the way through the "money shot" and then the refractory period ("afterglow"). Knowing how an orgasm works is the first step to controlling it in exactly the way you and your partner want. Chastity play and orgasm control is one of the many erotic ways people enjoy building power exchange, intimacy, and their kink.
Save