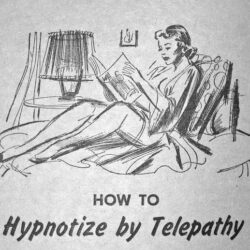 You are getting very…sleepy…
There's a lot of myths and urban legends around hypnosis. From mind-control scenarios like The Manchurian Candidate to simple goofy tricks by stage hypnotists, there is a lot of fascination with the idea of either surrendering or taking control of someone's mind. It's no surprise that changing the phrase to "You are getting very…horny…" seems like a pretty hot and sexy idea.
Welcome to the world of erotic hypnosis!
It's important to understanding the ideas around hypnosis if you're going to give it a try. Penny Barber is both an adult film actress and professional "Mommy" who uses hypnosis with her play partners in a variety of ways. She explains one of the most important ideas that dispels a whole lot of the fears people have around hypnosis: you can't be hypnotized into doing anything you don't want to.
A hypnotic trance is not like taking over someone's brain. In fact, we find ourselves in trance states all the time – for example, while driving a car, or cleaning, or exercising, or any other activity where we find ourselves "zoning out." It's a skill that can be learned, and also something that comes more naturally to some people than others.
All a hypnotist does is help you get into that trance state using various methods such as the body induction demonstrated by Lee Harrington as part of his extensive series on erotic hypnosis here on Kink Academy. The body induction is what people think of usually when they picture hypnosis – a long, gradual relaxation by focusing on various parts of the body. There are many other types of inductions, though, using methods such as sudden physical distraction or overloading the brain with confusing words.
In fact, several activities common to kink can be used to draw someone into a trance. The ritual before a flogging scene Stormmy and his slave demonstrate can become the start of an induction, with the close touch and narrowed focus on each other. Combine that with the rhythmic sensation of thuddy impacts and you have all the elements to draw someone into a trance.
Repetition and focus are two of the key elements that can help set up a trance, and even the pragmatic steps of lighting a cigar (as demonstrated by Sarah Sloane) can be turned into an induction with the proper framework. Usually that means drawing someone into a trance using more conventional methods first and then creating a post-hypnotic suggestion that the act will put them back into a trance. Bringing someone out of a trance and then putting them back under more deeply is another common technique for hypnotists.
Where's the Erotic?
Once someone is in a trance state, what happens then to bring on the sexy? This goes back to the original idea that the only thing that can happen in trance is something that you already want to have happen. If someone doesn't like an act, hypnotizing them won't make them like it. However, they may be able to change their own proclivities if they want to. A man might not have a lot of erotic sensation in his nipples, for example, but an erotic hypnotist could ask him, under trance, if he thinks it would be a good thing if they were intensely sexual. If his subconscious agrees, then it's possible that they can become a major erogenous zone both under trance and (through post-hypnotic "triggers") even when conscious.
For some people this can become a way to deepen their spiritual connection with their kink. Julian Wolf 's series on the subject includes the suggestion of meditative practices which function as a kind of self-hypnosis to increase your awareness of your own kinky desires. It doesn't all have to be that noble, of course; Sabrina Morgan can use the simple sound of her voice to create tease and denial scenarios that can be immensely augmented through hypnosis. The point of erotic hypnosis is to increase the sexuality of acts you already enjoy, as well as making it easier to accomplish them. Someone with a fantasy of being tied up near an active volcano should probably not try that in real life – but with erotic hypnosis they can experience all the sensations both emotional and physical.
Erotic hypnosis is a richly varied activity, but like all kinks it does have some dangers. In his video on hypnosis concerns Lee Harrington talks about his experience with a dominant partner who gave a post-hypnotic trigger that caused Lee to call out that particular lover's name whenever he had an orgasm. That was nice and hot, but became a bit awkward when the two of them parted ways and Lee had other lovers. It took a long time and some additional hypnotherapy before things went back to normal. It's best to stick to playful and temporary hypnotic triggers when starting with erotic hypnosis.
Once you get the basics worked out, though, there are many things to experiment with in the realm of sensation, fantasy, and control. Best of all, hypnosis is the kinky toy you always have with you, in or out of the dungeon.
You are getting very…KINKY…