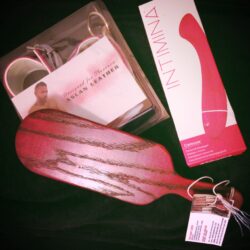 In the last couple of years a lot of new people have been exposed to kink via the hugely successful and highly controversial best seller "Fifty Shades of Grey"
This month we're celebrating all of the kink newbies who have found us recently and are eager to learn more!
Enter to win "Three Shades of Pink Kink Kit" This prize includes a set of lovely Aslan Cuffs, Intima Vibrator, and a gorgeous handmade Wooden Paddle by The Kinky Geek
This work of fiction may provide some food for thought or a bit of inspiration, but it should not be seen as instructional. By no means does it provide the knowledge needed to play safely, sanely, and consensually. Thankfully you've come to the right place to learn about BDSM from the real experts!
The truth is Fifty Shades of Grey has been a sensation… first the book, then the sex toys, not to mention the wine and the makeup/nail polish, really!?) and now the major motion picture. Kink has gone more mainstream than ever before. If you've come here ready to learn more Kinky Academy offers a wide variety of videos and informational materials to help you learn new tricks and inspire you to play.
Winner must be from Continental United States & will be announced by March 3rd. No purchase necessary to win.