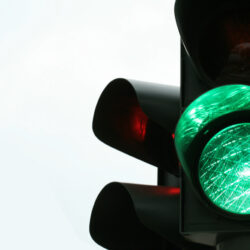 There's a particular moment of terror that a lot of dominant types don't talk about. It's that moment when someone you are attracted to, someone you care about, someone that you may really want to be with, starts a sentence with three particular words:
"Can we try -"
Sometimes what follows those words is no big deal – it's something the dominant person already knows, already does, already is proficient and skilled at. That's not the moment of terror, that's the moment of smiling and saying in a sultry voice "Why, certainly, that sounds lovely…" and maybe throwing in an evil laugh.
No, the moment of terror is when it's something the dominant person has never tried. Or something they've tried but that didn't go well. It might even be something that they've never heard of! What do you do when the person you want to play with wants to play in some way you've never tried? How do you get started?
Fear not! Every dominant person has been in a place where they are starting something for the first time, and expert instructors such as Cleor Dubois have entire classes on it. In her video on "Starting BDSM Exploration" Cleo Dubois models the kind of negotiation that can get a scene moving exactly the kinds of places it needs to go for both the top an the bottom. Best of all, she shows exactly how to do it in a way that keeps things hot and sexy the whole way through.
In fact, in another clip she takes it a step further, showing how that initial conversation can roll into an entire collaring ritual to get things started. One of the best parts about using a ritual is that once you create it you always know what to do next – in other words, it puts you both into a headspace where you're ready for play.
Headspace is one of the essential parts of being dominant, as Scotty explains at the beginning of his Sensual Domination series. But what if you're not feeling it? Scotty recommends that you use the tried-and-true technique of "fake it 'til you make it." He uses things like body language, tone of voice, and even tools such as blindfolds so that the feeling of being dominant comes across even when you're not sure what to do next. In some ways setting the tone of being dominant is as simple as asking yourself "what would a dominant person do next?" and then doing that thing.
That's not to say you can fake your way through anything – there are some skills that do require some training and learning from teachers just like the ones here on the Kink Academy. However, it's not a hard to learn as you think. For example, if your partner is into bondage, you don't have to go out and get fancy rope or expensive leather cuffs; Shay and Stefanos have an entire series on "binding without twine" that can take you into kinky hot bondage without needing to tie anything.
As you get into more dangerous play such as caning or more complicated scenes such as chastity play it's a good idea to do your homework first, watching videos from experts like the Leather Yenta or Eve Minax. One thing you'll notice, though, is that regardless of the kind of scene you're planning negotiation and communication is key. It's a simple idea: you can't get what you want unless you know what you want, and that goes for both the dominant and submissive sides of a scene. Unfortunately the crucial step of figuring that out is often skipped as people just expect everything to fall into place like a romantic novel.
If you're more of a "jump in and try it" kind of person, you may want to try the techniques that Domina Alexandra of Wicked Eden teache in her videos. She's a big fan of using role play to start scenes out – sort of an advanced version of Scotty's "fake it til you make it" idea.  In a two-part series she actually runs through ten different role-play scenarios including things like a "stripper audition" and even a "naughty schoolgirl". It's amazing how creating a backstory can give you just the jump-start you need to make a scene take off.
It's possible that your partner is talking about something that you're not especially into. It's always ok to say no – consent works on both sides of the dominant/submissive equation. Often, though, we can find a way to wrap our heads around the subject, re-framing it so that we can find something hot or at least fun in the activity. Nayland Blake, for example, explains how he started playing with his partner the Leather Yenta in a role play that he never expected to enjoy. It took patience and a lot of communication, but together they not only got things started but they're still going, years later.
Don't let that moment of terror freeze you. Let it change into excitement, knowing that every single scene started with that same "What do we do now?" moment. The answer will come to you both if you take the time to listen to your own desires.
The only question is, what are you waiting for?
Save