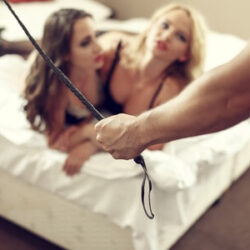 If you're polyamorous, does that mean you're kinky? For a lot of "vanilla" people the entire idea of having more than one sexual partner is way on the edge of adventurous and scandalous behavior. The reality, though, is that there are many different styles of polyamory. It's up to each individual to decide if they feel "kinky" when they choose to have more than one romantic relationship, but there's certainly no requirement that it have anything to do with BDSM.
At the same time, within the kink community there is a common assumption that people will be poly. It stems from the idea that since kinky desires are so specialized and unconventional that there is no way that one person could satisfy them. This kind of thinking creates a weird kind of mirror culture where the monogamous person tends to be in the minority. Mollena Williams, one of the most popular and well-known kink educators, identifies as both kinky and monogamous. She has a series of videos especially for people like her to help them be unashamedly monogamous even when involved with polyamorous people.
As you might expect, the key to it starts with communication, but also with an understanding of the needs of all the parties involved. One great resource for starting that kind of conversation is Makael Newby's clip on Non-Monogamy for the Novice. It can help both identify some of the complexities of multiple relationships such as jealousy and time management as well as reassuring with some of the ways polyamory and monogamy are the same. For example, they're both about reaching out and connecting with people who value and care for each other.
Of course, if you're adding on some level of kink as well, such as a power-exchange relationship, it can help if the poly style that you choose helps reinforce it. For example, Mim Chapman talks about the difference between "Me-Poly" and "We-Poly". The first is about one person who has many different needs that one partner can't satisfy. Dr. Chapman describes this as "having your Kate and Edith too." "We-Poly", on the other hand, has the goal of many people enhancing each others lives in a group.
A common view, especially for people new to kink, is that a power-exchange relationship with a single controlling dominant person and several submissive partners (sometimes referred to as a "harem" or "stable") is the perfect fit for "Me-Poly." The reality is often more complex – the submissive partner could have more than one dominant relationship, for example, to fulfill their needs, or there may be some relationships that, while kinky, are not actually romantic.
The key is to simply make sure that the expectations and needs are all set out as much as possible. Dan and Dawn Williams spell that out literally in their series on building a good foundation of a master/slave relationship. They have a step-by-step process where you both write down your needs, your desires, and your expectations of each other. Having it written down makes it easer to then follow Sinclair Sexsmith's process for creating protocols that work for you. With a little imagination and a lot of communication you can have both a kinky and poly relationship that reinforce each other and still have room to grow.
Of course, when you're mixing kink and poly you are also opening up to opportunities of playing with multiple people in a BDSM context. If you're into rope suspension, for example, you might want to try having more than one person in the ropes and able to play with each other.
You could also keep everyone on the ground and just enjoy some impact play as well. Orpheus Black demonstrates a technique for using two floggers simultaneously on two submissives which takes the idea of "Florentine flogging" to a whole new level. Orpheus talks about how to create a safe and sexy environment while at the same time using your skills to give your partners an amazing experience.
When you come down to it, that's a good recipe whether you're doing kink or polyamory. It is certainly essential when you're combining both. It takes more effort but there can be a beauty in the complexity and the emotional and physical rewards make it worthwhile for many polykinky people.
Save