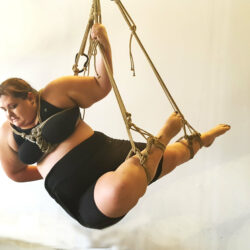 Question: "I feel like I'm seeing a big increase in folks doing self-suspension, but it's still something many people (even in the kink community) don't know a lot about. A major question to start with is simply, why? Why self-suspend instead of tying someone else (or getting tied by someone else)?"
Answer: As with anything in kink, it's important to start with the "why" so I love this question! There are as many answers as there are self-suspenders, but certainly some common themes emerge.
People often think folks self-suspend primarily because there is no one around to tie them (or be tied by them). While this can be part of the reason for some, it's generally a misconception to think of self-tying as a stopgap when someone can't find a partner. Many self-suspenders (including me) often prefer to self-tie, even when there is the option of partnered tying – just as you might sometimes (or always!) prefer masturbation to partnered sex. With self-suspension, you can get exactly the rope you want exactly when you want it!
Other common motivations for self-suspending include using it as a learning tool to build rope skills, enjoying the physical challenge, finding that it creates a unique mental "flow" state, an outlet for exhibitionism and/or performance, and more!
Question: "Are people who self-suspend topping or bottoming?"
Answer: Both, and neither, and also it depends! Sometimes when I self-suspend I'm focused on the experience of bottoming. Those are the times I'm really looking to experience the physical sensation of being in rope, and using self-suspension as a way to facilitate that.
Sometimes when I'm self-suspending I'm much more focused on the experience of tying, for example, learning to tie a specific harness or practicing rope handling skills. Then self-suspension is more like topping, and the fact that I'm also bottoming is kinda incidental.
More commonly, self-suspension is an entirely separate and discreet activity, quite distinct from either topping or bottoming, and something I enjoy entirely for it's own sake. As always, different self-suspenders will have very individual answers to this question!
Question: "There seems to be a distinction between self-bondage and self-suspension. Can you talk a little about that?" 
Answer: A divide between folks who are focused on floorwork vs. focused on suspension certainly exists in partnered bondage, but I think it is especially apparent in self-bondage. I'd observe that self-tying on the ground. when done for it's own sake (vs. practicing or preparing for suspension), tends to be more explicitly sexual, frequently involving genital bondage, or done as part of masturbation. It often involves rather extreme immobilization and sometimes a humiliation angle. On the other hand, self-suspension is often more like training or performing on a trapeze, focused on exploring movement rather than immobility, often with little direct sexual stimulation involved. Obviously there is significant cross-over, and mileage may vary – these are trends, not prescriptions (and certainly not judgements)! 
Question: "Do you think self-suspension is riskier than partnered suspension?"
Answer: The quick answer is no, as long as reasonable precautions (like having a spotter!) are taken. However, the dangers involved in self-bondage are a bit different than for partnered bondage, and there are some unique safety considerations. Even if all possible safety precautions are taken, bondage of any sort is never a risk-free activity! Knowing some of the potential pitfalls can help folks mitigate the dangers and practice in a risk aware manner.
There have been numerous fatalities caused by self-bondage. The overwhelming risk factor in those fatal cases was being alone in bondage, which is why I strongly advocate for always having a spotter. Many of these cases also had an element of autoerotic asphyxiation, which is well outside my acceptable risk profile.
All the basic dangers of partnered bondage (including fainting, fall, rope marks, nerve damage, etc) also apply to self-suspension. Nerve damage is especially important to learn about. I have given myself nerve damage in a hip harness self-suspension – these types of injuries can happen no matter how experienced you are or how many safety measures you have in place. In self-suspension, you can run out of energy or strain yourself trying to untie or transition, deplete grip strength if you become fatigued or distracted, or potentially lose your safety focus if you get too deep into rope space. Many of these risks can be mitigated by having an experienced, knowledgeable spotter who can assist you if needed!
I once asked a self-suspension class to list factors that contribute to making self-suspension in some ways lower risk than partnered suspension. The first answer from an attendee was: "There is only one ego involved!" I found this hilarious as well as true and insightful on a number of levels. Decreasing the amount of ego in a given scene does tend to increase safety! Other factors that can make self-suspension lower risk than partnered suspension include instant feedback, intimate knowledge of your own body (preferences, health factors, etc), a general avoidance of load bearing rope on the highest risk areas (like the upper arms), and dynamic movement that avoids focal compression on any particular spot for too long.
Question: "Is a lot of physical strength necessary to do self-suspension?"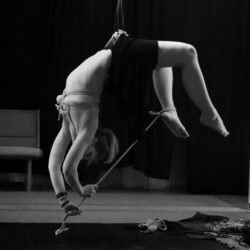 Answer: Self-suspension is not about brute strength! I can't even come close to doing a single pull-up, but I can do lots of dynamic moves in the air. People who have a higher strength-to-weight ratio (meaning they are strong relative to their own body weight – if I can lift 120 pounds and weigh 200 pounds, things will be more difficult than if I can lift 200 pounds and weigh 120 pounds) will have an easier time repositioning and transitioning themselves in the air. A higher strength-to-weight ratio allows some self-suspenders to accomplish through brute force moves that the rest of us have to put more thought and planning into pulling off… but a lot of the time we can accomplish the same maneuvers!
Much can be achieved with body awareness and knowing how to move, balance, and manipulate your center of gravity. I've seen people of all sizes and athletic abilities who were extremely capable and beautiful in the air – and had loads of fun while they were at it!
With that said, tying yourself up and hanging in midair can be quite strenuous! Core strength, flexibility, and general cardiovascular fitness can be a boon for certain types and styles of self-suspension.
Dynamic sequences involving drops and position changes or especially challenging suspensions often require a higher level of athleticism and body awareness. The fitness needed and strain involved in self-suspension are eminently scalable, it is not an all-or-nothing either-you-can-do-it-or-you-can't activity. Just as a skilled rigger can meet at bottom where they are in terms of fitness and body size, so too can a self-suspender adjust their ties to their body and find a level of tying that's comfortable, fun, and as safe as possible for them. No gym membership required!
Shay Tiziano is a vivacious femme switch and prominent self-suspender known for unique, dynamic rigs and prodigious performances. She is based out of San Francisco, where she produces over 60 events a year (including BENT and Twisted Windows). She wrote the self-suspension chapter in Better Bondage for Every Body. You can read lots more about self-suspension on her new web site!