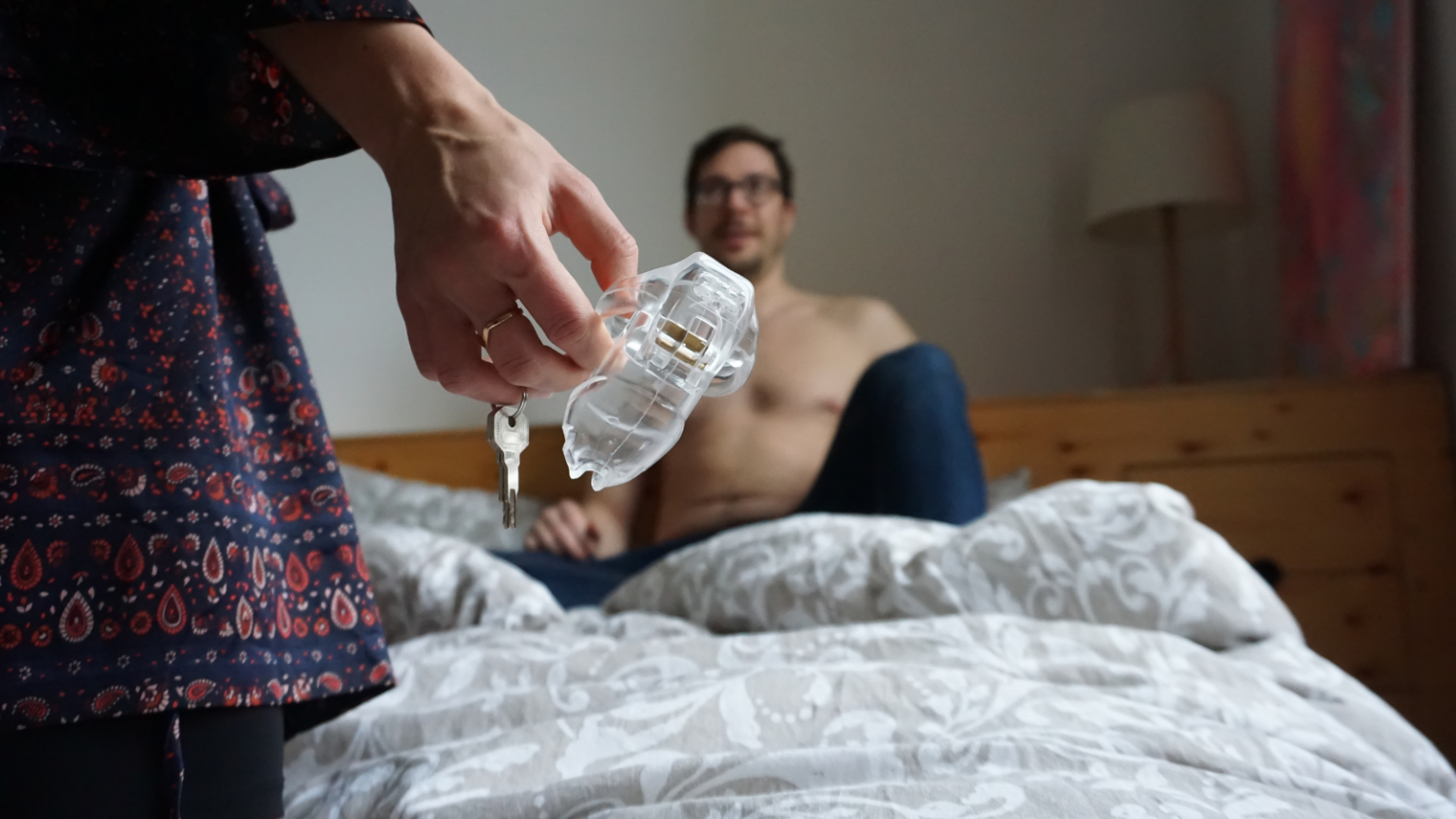 Are you looking for a fun, sexy way to experiment with power exchange in the bedroom? Why not try out orgasm control? It's a very versatile type of play that can range from mild to very intimate and intense.

What is orgasm control?

Orgasm control just simply means that one person is given control over when their partner can cum. This could mean anything from restraining your partner so they can't do anything to get themselves off while you tease them to instituting a protocol where they're not allowed to cum without permission. Besides the sense of power and control this provides, it can be used to enhance the pleasure for both of you.

Personally, I'm a huge fan of having to ask for permission to cum. This makes me feel much more vulnerable and gives my partner a high level of control. It makes an orgasm that much more intense knowing that I can only do it if they allow, or even better, if I'm doing it *for them*.

Requiring someone to ask for permission to cum also allows a very practical level of control. If my partner knows when I'm about to cum, they never have to be unsure if I've gotten off and can choose to use the knowledge that I'm close to their advantage. Knowing I'm ready to cum lets them choose what happens next. They could stop or slow down, teasing and edging me for awhile, so the next orgasm will be even more intense. On the other hand, they could go harder, making that orgasm happen even faster and harder.

If you know someone is about to cum, you could also play up the element of control by ordering them to cum for you, perhaps incorporating things like forced eye contact, dirty talk, or praising them for following your orders. If you would rather have an excuse to "punish" them, you could force them to cum without your permission and then spank them or have them find some sexy way to make it up to you… If you don't like the idea of playing with punishments, you could also make them do something to "earn" their orgasm, whether it's begging, providing some kind of stimulation for you, or maybe even doing something they find a bit embarrassing. Again, that bit of consensual and mutually enjoyable vulnerability can really heighten the intimacy of the experience.
You could also start to edge into the territory of orgasm denial (refusing to allow your partner to cum) or ruined orgasms (causing pain or other distress to prevent the other person from really getting pleasure from their orgasm). These are both things to be sure to negotiate with your partner though. Both can result in an unhappy partner. For example, I made orgasm denial a hard limit because rather than it being a fun thing to play with, I actually can feel angry or resentful of my partner. For folks who have difficulty orgasming, denial or just delaying for too long can feel like their only chance of getting off was missed.
Orgasm control can also be great when you're traveling or in long-distance relationships. Giving your partner rules about when, how, or how many times they can cum lets you stay involved in each other's sexual experiences even when you're not able to physically be together. There are tons of options. You could tell them to think of something specific when they're cumming, give them something to say, share porn with each other to get off to, or even have them record themselves cumming for you.
These are only a few of the possibilities outlined here, but there are many ways orgasm control can fit into your relationship and tailored to your partner(s). There is no right or wrong way to play with it. It is just another way to connect with your partner, and ideally, help you both have happier, more fulfilling sexual lives.
Save