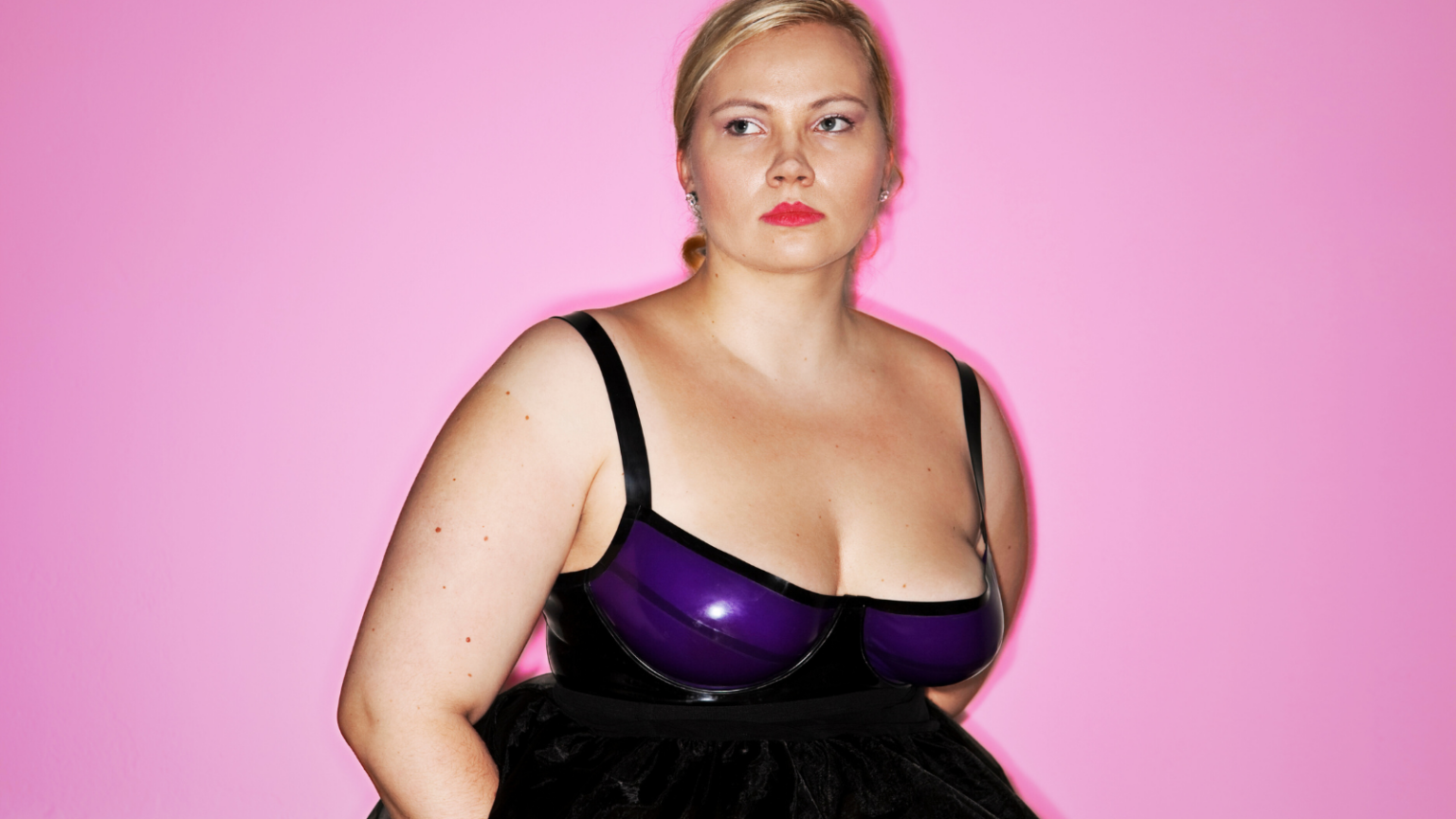 "This feels like sex!" my friend loudly exclaimed in the middle of the store, as she tried on her first latex dress. Several nearby kinky shoppers chuckled and exchanged knowing glances. She was hooked, and she looked amazing, but she had many questions about her newfound fetish.
To help her – and you – get more comfortable with latex, we'll walk you through how to make the most out of choosing, wearing, washing, and storing your latex apparel.
Options abound when it comes to latex shopping.
First, if you are allergic to natural rubber latex, this might not be the fetish for you. While some manufacturers are experimenting with deproteinized latex, which is less allergenic, most latex sheeting used in fetish fashion is not deproteinized. If you have a mild sensitivity, latex that has been chlorinated may work for you. Chlorinated latex is smoother and easier to wear, but can be more difficult to repair.
Choose colors wisely, as light colors of latex stain quite easily and are more challenging to keep tidy. Many metals can stain lighter latex as well, so be mindful to purchase clothing with zippers or snaps that are safe for latex. Body piercing jewelry and glitter often contain metals that stain light latex, too.
Zippers can be your new best friend: they make bathroom breaks in a catsuit much more bearable and can be added to wrists and ankles of tight garments to make dressing less of a wrestling match. And remember that when you measure yourself for your new garment, keep in mind most latex has a few inches of natural stretch, so snug is totally okay.
Dressing in latex is part of the pleasure of wearing it. It feels like a second skin, a sensation unlike anything else. However, because our skin naturally perspires and latex doesn't breathe, you have to protect your skin while wearing rubber clothing. A light dusting of baby powder or an application of silicone-based lubricant does the trick. I personally prefer lube, because it helps condition the latex, feels better, and lasts longer. Having a lover lube you from head to toe feels much sexier than getting doused in a cloud of baby powder!
Never use oil-based products on your latex. Just like latex condoms, latex clothing deteriorates in contact with oil. Putting lube on your skin does as much to protect your skin from the latex as it does to protect the latex from your natural skin oils. It's a win-win, and makes sliding into tight-fitting clothes much easier.
Latex can last for many years. Treat it carefully as you would any delicate clothing, such as fine hosiery.
Sharp objects easily tear rubber, so make sure you remove any jewelry while dressing, and be extra careful if you have long nails. I also suggest putting on lipstick after dressing if you are wearing light rubber; as bright red lipstick stains on your new white latex shirt are tough to remove!
Once you are lubed up and dressed to kill, you may want to shine the outside of your outfit with the same silicone lubricant. Some people prefer matte latex; it's totally a personal preference. I advise against the spray lubricants that are sold in many kink stores. It wastes a lot of expensive product and can turn wood or tile floors into a skating rink, which is super dangerous if you are wearing heels. Putting down a towel to dress and lube up definitely helps. Once silicone lube gets on the floor, it takes many moppings to remove (just ask my slaves).
After you've done all sorts of hot and naughty things in your sexy new latex, what to do with it?
Never dry clean it, and never put it in the dryer, because heat damages latex. Washing your rubber is easy: simply hand wash in a sink or tub full of soapy water. Try to avoid moisturizing soaps that contain oils. Rinse well, and hang to dry, taking care not to use metal hangers. Certain types of latex sheeting can develop spots as they dry, so I tend to towel dry any translucent or metallic colors to prevent spots. If you do get water stains, don't panic. Simply rewash the latex and dry thoroughly.
If the latex has fasteners such as zippers or snaps, make sure they air out for a day or so to fully dry. Storing damp latex can cause mold, and hardware can rust. I often take a q-tip to the back of snaps to dry them out, just to be safe. There are optional products (such as Vivishine) you can use after rinsing that pre-treat and pre-lube the garments for future wear. A few tiny drops of product in a sink full of water are plenty to treat several items of clothing. Some people find this makes the latex too slimy, while others prefer the added ease of dressing.
Some people prefer to store their latex on plastic hangers in the closet, ready to wear. For those of us with limited closet space, latex is perfectly happy tucked in Ziploc bags and stored in bins. Make sure to protect latex from extreme heat (such as attic storage) and from UV light, which can cause white marks to appear on dark latex and breaks down the sheeting. Latex can be stored lightly dusted with powder, to keep it dry and avoid sticking, or simply washed and dried.. Some people store theirs pretreated with silicone products. If you do, avoid over treating areas with trim and applique, as silicone can cause the glue to weaken and trim to lift. If your light garment has metal fasteners, covering the fasteners with tissue paper can protect the light latex from staining.
It all sounds like a lot to remember, but for those of us who love the look and feel of latex fetish wear, the effort is totally worth it.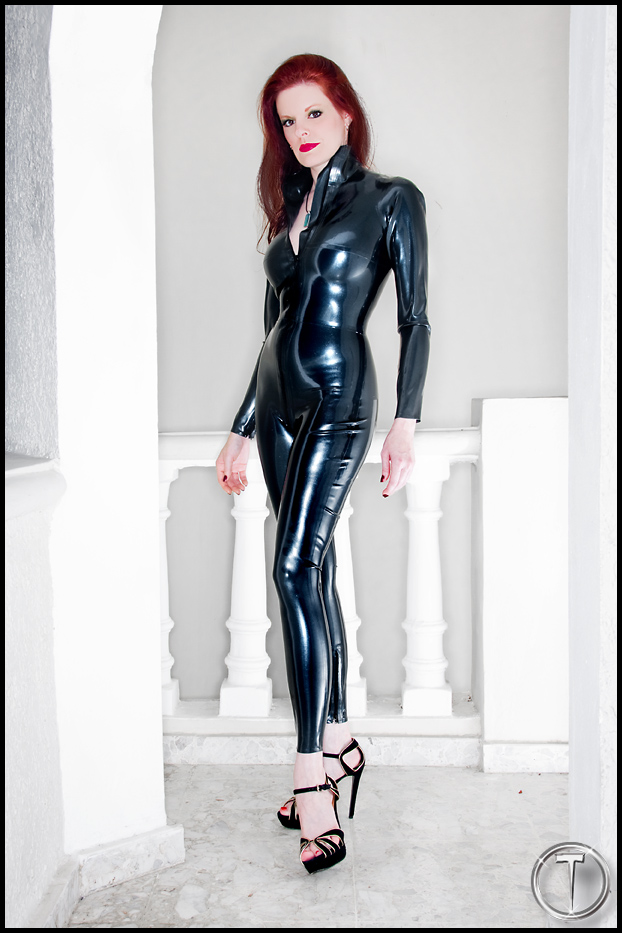 For D/s couples, tending to latex can be a task assigned to an attentive slave, or a reward given after a night of wearing sexy outfits together. Lubing each other's bodies is a great form of foreplay, and nothing compares to the look and feel of skin- tight rubber attire!
Guest Author: Lady Elizabeth has been involved in BDSM her entire adult life, both as a passion and a topic for academic research.  She holds a PhD in linguistic anthropology from an Ivy League university, specializing in gender and sexuality.  A professional dominant since 2000, she particularly enjoys teaching novices about the diverse world of BDSM.