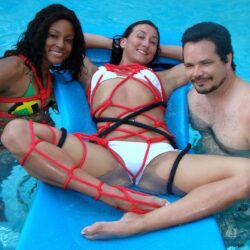 During the warm summer months, your opportunities for kink are suddenly expanded, as outside becomes a play space. Obviously, legal constraints about clothing have to be observed, but there are plenty of kinky things that do not violate the law at all. For example, why not spice up your bikini with a karada harness? Graydancer shows you how in his Water Bondage series. The rope gives all kinds of fun sensation, looks sexy, and is easy to put on and off. It also leaves the hands and feet completely free and doesn't cause any stress to the neck, all of which means you can simply wear it for any other activity, not just in the water. Volleyball in a karada? Why not?
Bondage in a park is not uncommon.  When kinksters go to public areas to experiment with suspension there are techniques that someone might use to get people up and down easily. The key here is that while it's usually legal to do outdoor suspensions, it's sometimes interrupted by unwanted passers-by. If that happens, it's best not to be confrontational. Just have strategies for getting them down safely and quickly.
Another kind of outdoor "practice" session is to head out for a little picnic and hogtie outing using your mobile device to let instructors like Resa Amnesia show you the best way to adjust the harness for the most fun. It's mighty convenient that Kink Academy works on all iOS and Android devices!
Rope is just one of the many toys that are useful in outdoor play. Watching Iris Enchanted talk about her Pervertibles can give you all sorts of ideas. The series covers not just the sensations you'd expect (stingy, thuddy, soft) but also shows how you can integrate some "outdoor" toys like "ooze slime" (available at toy stores) for humiliation and degradation play. This could be pretty extreme, but at the same time, it's something that completely lends itself to the outdoors. Her whole philosophy is that almost anything can be pervertible if you use your imagination.
Of course, when you're outside in the wild, the idea of doing a good old fashioned caning might be appealing. You want to be careful, though, that you know what you're picking out to use as the implement. Poison sumac is not a very fun toy for either the top or bottom if you use it by accident. The Leather Yenta was at the fantastic Dark Odyssey campground and showed how several different kinds of canes can be used to great effect on her bottom's pert ass. He gives good feedback as well, all in the beautiful outdoors.
Venturing outside can also give you the opportunity to try out some new kinks that aren't done very easily indoors. Piss play, for example, has all kinds of possibilities outdoors. Princess Kali explains in her series that the obvious connotation is for humiliation play, but it can go in many other directions such as sensuality, service, and subtle modes of domination. Doing it in a private outdoor location gives you "neutral territory" that is less psychologically weighted when you're experimenting with a kink for the first time. Just make sure you bring along spare clothes in case you need to change!
You could also be like Poetic Desires and decide to indulge in several kinks at once during your outdoor play. In her video series on "the Multi-Scene," she teams up with Graydancer to do boot play, cigar play, rope bondage, rough-body play, and cock worship. Doing a scene that extensive is usually only possible at outdoor kink events . It might be tempting to do it at a regular private-seeming campground, but nothing ruins kinky play quite like being arrested by a park ranger. However, with a little careful planning, you can enjoy all kinds of fun kink along with the beautiful weather and fresh air. Use the outside as another kind of toy, adding a fun and sensual new dimension to your kink!