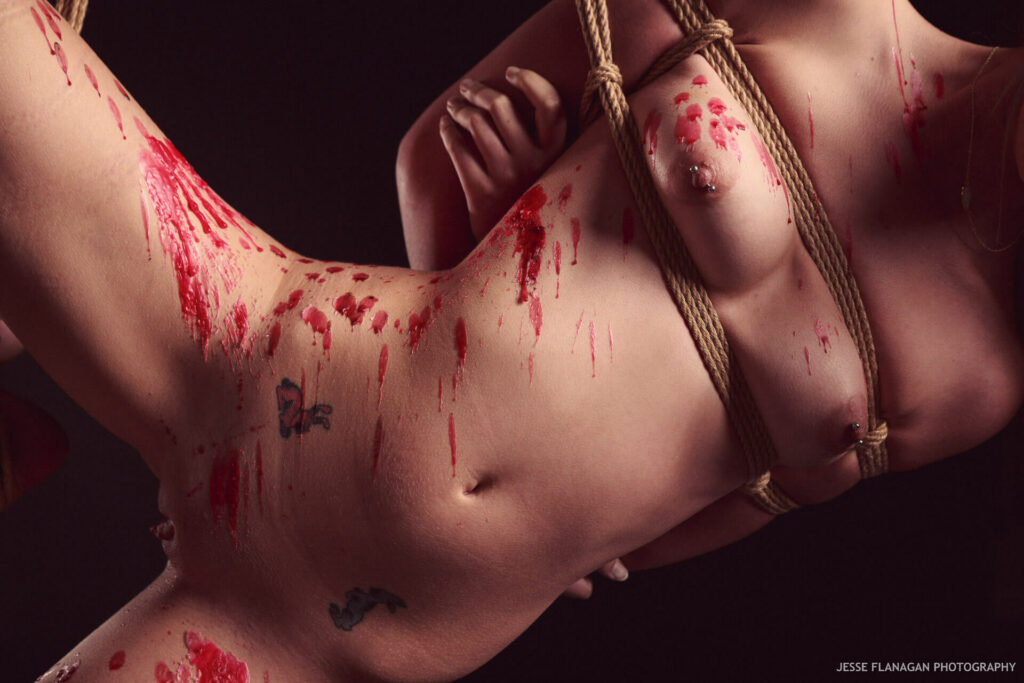 Nothing spells romance like lighting a candle, right? Of course, for some of us, lighting a candle is less about the warm and fuzzy and more about the hot and sharp pleasure of the molten wax dripping onto skin…
Before you just grab some tea lights and matches, however, it's a good idea to take some time and figure out how to make sure your wax play is more about the "ooh! Yes!" And less about the "Ow! Stop!"
Julian gives a great introduction to wax play, starting with safety. Candles are on fire, and not only is candle wax hot enough to burn skin, skin is variable enough to burn differently depending on a whole lot of factors. In other words, just because wax seems cool enough not to burn your skin doesn't mean it's not too hot for your partner. One of the ways to test this is to start with the candle high – two or three feet – above your partner's skin, in a non-sensitive spot (like the palm). Dripping from that height gives the wax time to cool on the way down, and you can then get closer and closer to increase the sensation. Julian also talks about what type of candles to use, but there's another video that gives a broader overview: Lucky Albatross' Sensual Wax Play: What Wax to Use. As part of her very thorough series of this subject, this particular segment breaks down the various do's and don'ts of picking out the candle. For example, while it might sound sexier (or more earth-friendly) to use beeswax candles, they burn at a much higher temperature than regular wax candles. And Lucky also explains how picking out colored candles can be an informed way to vary the sensation for your partner.
In another segment, talking about Advanced Techniques, Lucky Albatross shows a nifty trick to take wax play up a notch. With the help of a créme brulée torch, she turns a "dripping" candle into a waterfall of sensual delight. This is definitely not something to be tried without a bit of practice, but can be a nice addition to a cigar play scene as well since many lighters are just as hot as a torch. You can also see Lucky demonstrate how UV reactive wax and a blacklight can turn wax play into a kind of psychedelic kinky delight.
That is one of the reasons wax play can be so popular; it pairs well with other kinks. For decades the Japanese bondage enthusiasts have combined things like simple partial suspensions with wax play, exposing their partner's body with rope and then either dripping the wax directly or even attaching it to the ropes so that they are "hands-free" to enjoy other pleasures. The sight of red-wax on pale skin is iconic, but American bondage enthusiasts have branched out into many other colors. Companies such as "Painfully KnK" have developed "rigger sticks", for example, candles specifically designed to be used with rope play that burn evenly, have a wax melting point that's perfect for most skin types, and use a wide variety of rich colors that are used to create works of art both visually and sensually.
Alas, every candle eventually goes out…and then you're left with a lot of wax in a lot of places. Fortunately, another couple of wax play enthusiasts, Shay & Stefanos, demonstrate their favorite way of taking wax off of a body : a knife! Of course, it doesn't have to be a sharp knife (though for some, that's part of the kink). A butter knife, held at a 45-degree angle as you scrape along the skin will make the wax "flake" off (though when it comes to hair, it's just a matter of pulling it out, which can be painful in an entirely different way). A trick that sometimes works for getting wax out of rope or other cloth is to iron it through a paper towel – the wax will melt and be absorbed by the towel. Different materials will react differently, though, so do some tests before you dive into the hot wax bath.
Best of all, if you're into candle play, you can have your kinky toys out on display in your home and no one will know the wiser. Meanwhile, the sight of a wick igniting and the hard wax pooling in the candle will be your own secret turn-on.
Make a wish, indeed…