Two New Card Games from the Kink Academy!
Princess Kali, creator of the Kink Academy and author of "Enough to Make You Blush" and "365 Days of Kink", has created two card decks to pull out either just for fun or as a guided path through getting to know your kinky partners.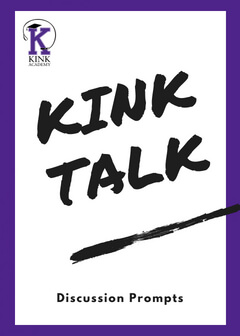 Kink Talk
If you could have any kinky superpower, what would it be?
The fifty-two cards in this deck range from amusing speculation like the above through more deep social and personal issues. Some questions are like secret passages to the deeper desires of your psyche – "What keywords do you use when searching for porn?" for example, or "If you had a dungeon at home, what would it look like?" can reveal a lot about a person. This makes for a great ice-breaker or party game – a variation of "Truth or Dare" where you have to dare to tell the truth! Try putting the deck out on a table at your next munch – see what happens.
Are you in a long-term relationship? Pull out a few cards from the "Kink Talk" deck and watch how it can rekindle and deepen your intimacy and play with your partners. Just getting to know someone? The Kink Talk Deck is like a mutual friend, drawing you both out with questions like "What is one activity that scares you, but you would still like to try?". Honest answers can sometimes be a springboard to collaborating on play – and also helps you find out more about your own kinks.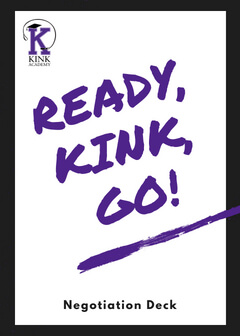 Ready, Kink, Go!
What are your most important questions to ask when you're getting ready for a kinky collaboration with a new partner? In the heat of the moment, it is easy to skip past or (worse) assume some of the essential information you need to know to have a good scene. The Ready, Kink, Go! Deck is has the basics like safer sex practices and aftercare, but goes deeper with questions like "What does it look like when you're having a good time?"
It also has questions that are important but often get overlooked by the most experienced players, such as "Are you in any relationships that are relevant to our play?" And of course the best negotiations are also fun and hot in and of themselves, so there are leading questions like "How do you feel about crying during the scene?" or "Do you have any interest in gags/hoods?" that help both of you visualize just how hot a well-negotiated scene can be.
Stack Your Deck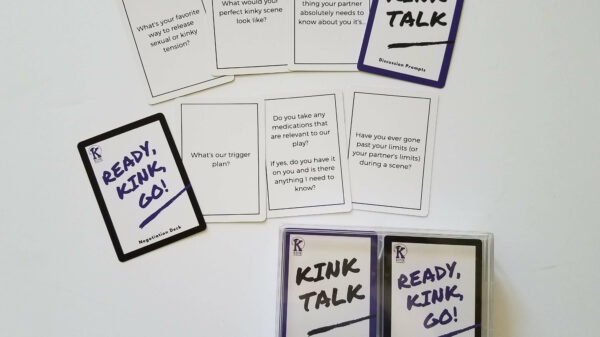 The best part of the Kink and Negotiation decks is that you can customize them by pulling out the questions that most matter to you, that you know get the creative and sexy juices flowing in your brain. They can be carefully arranged in a certain order, or put out in a random order for a discussion that leads to unexpected places. The cards are discreet as well, relying on your sensual imagination to stimulate the talk between you and your partner. Or you can use it for some "self-pleasure" and use the questions for some personal exploration.
Each deck is $22 (or both in a convenient case for $42).
*NO International Shipping, only in Continental US
*Shipping takes 5-12 days