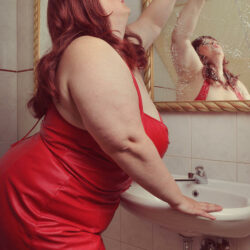 For most of us the idea of doing the dishes is about as far from sexy as sexy can get.

The same goes for giving someone a lift, sweeping the floor, or ironing and laying out someone else's clothes.

And, even in a kink environment, these can seem like a hard sell at times.
This won't always be the case; for some people service-based submission will be intuitively divine, but what do you do if you (or your partner/s) have an interest in domestic servitude but just don't know how to give it that much-needed sexual oomph?
We hope this article will help in that regard.

A Place For Everything…

Perhaps the most crucial element of making domestic service sexy is to figure out what domestic service will be expected from a submissive.

Domestic servitude, as a general definition, is about undertaking any domestic role that one's Dominant sees fit to delegate to their Submissive in order to make their domestic life easier. That covers a lot of ground.

Some Submissives might find organising and laying out a Dominant's wardrobe to their exact specifications to be a dream but cringe at the idea of cleaning their Dominant's car (and not in a good way).

Speak in advance of what chores have the potential to be sexy before considering how to then make them sexy. Groundwork and communication are key.

Body Language & Dialogue

The next most important element of reframing domestic service in a kinky way is making sure that you have a distinct language and way of speaking when it comes to scenes of domestic servitude.

'Can you do the washing up? I can't be bothered' is very different to 'Make sure those dishes are pristine and I might just treat you,' as another example.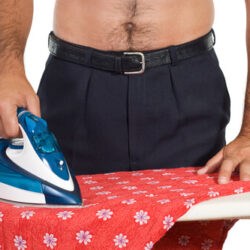 If you have a lexicon of sexually suggestive, humiliation or reward-based phrases to help aid in your venture in to domestic service then things will immediately become easier (and sexier too).

Instil Pride and Dignity into the Actions

A truly professional custodian takes deep pride and an even deeper sense of accomplishment from their work.

Think a high class Butler, a faultless Maitre'd, or an exceptional Concierge.

If left with no frame of reference, watch The Grand Budapest Hotel, not just for an idea of how M. Gustave holds himself in his Hotel, but also to how many 'happy customers' he has as a result.

Foster a similar sense of dignity and pride to the role of domestic service and the role almost gives itself an innate air of palpable (and potentially erotic) importance. Add in a nurturing or reward-based Dominant and things become easily more alluring.

And, finally…

Consider Making Things Sexually Overt

If you've tried domestic service and it's still not sexy enough of its own then there's always sex…or, at least, a sexual element to be added to the mix.
Perhaps the domestic servitude in question must be done while the Submissive is completely naked, save for an apron and the appropriate gloves.

Perhaps it's performed while they wear a chastity device.

Or perhaps it is done while the Dominant in question is happily pleasuring themselves – moaning intermittently, skin strokes subtly cutting any silence, but with the provision that a domestic servant must, to paraphrase Freddie Farrows, 'Hear nothing. See nothing. Only serve.'

Final Housekeeping

Domestic service might tread very closely on the verge of household chores but there is an innate sense of gratification that can come from keeping things in their proper place – especially when being consensually ordered to do so by an ever-vigilant Dominant.

Hopefully this guide will have given you're the fundamentals you need to try and tip-toe just beyond the 'chore' boundary so that, in time, the domestic seems divine.
Emmeline Peaches is an adult product reviewer, sex and wellness writer, and foot & fitness Goddess to willing Submissives. When not writing about toys she is often found working out, drinking loose leaf tea, or judging the current state of humanity. She is a Scorpio.