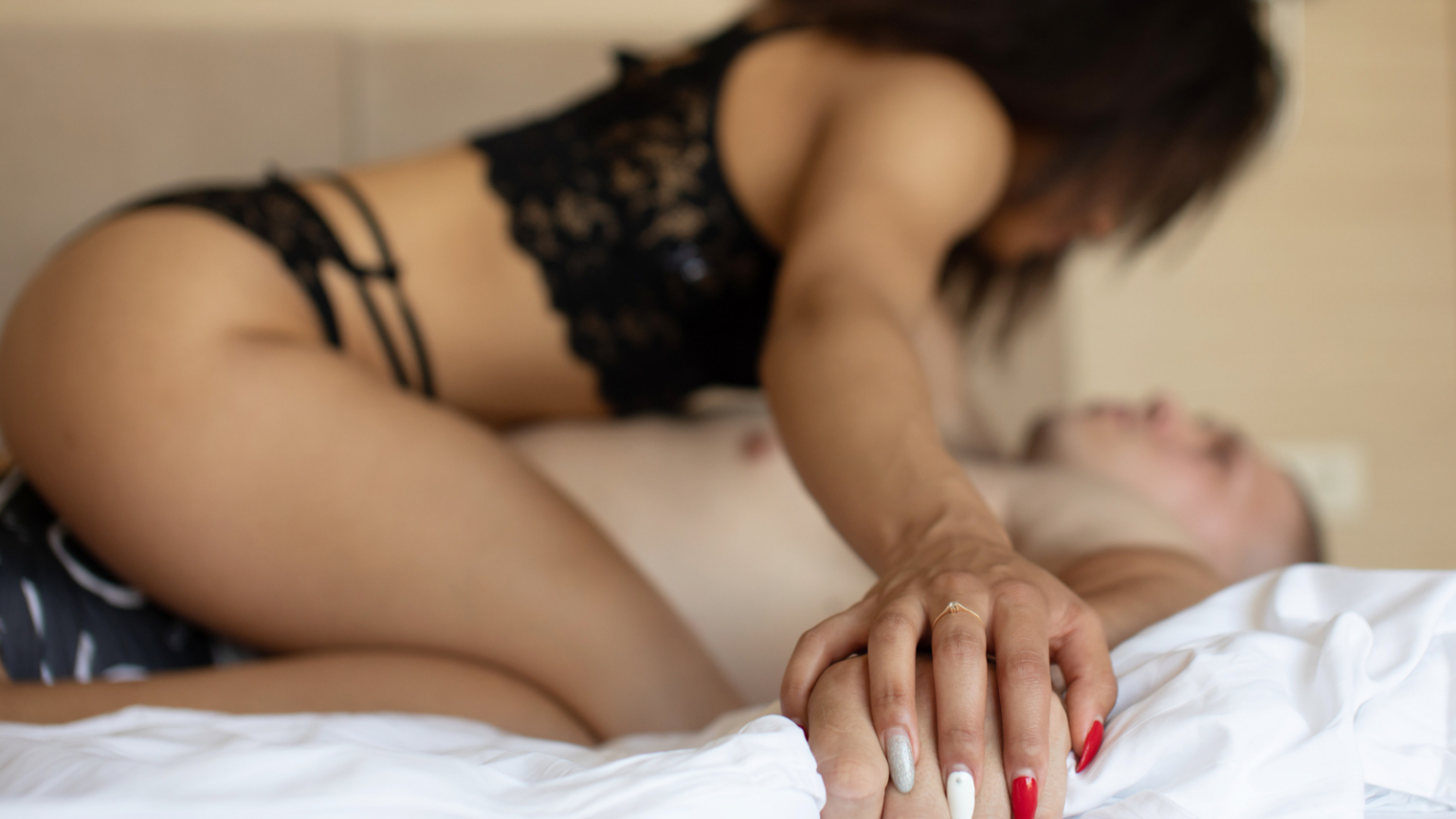 I'm a rape survivor.

I know that's a heavy sentence to open an article about kink with, but please stay with me. I'm a rape survivor who also happens to be kinky, primarily submissive, and into consensual non-consent (hereafter "CNC.") CNC is a type of kinky roleplay in which the submissive partner pretends not to want what's being done to them—they may protest, struggle, try to get away, and even use words like "no" or "stop." You can learn more about the basics here.

In case you're wondering—no, I am not into this type of play because I've suffered sexual violence. I was into it before that happened to me, and I'm still into it now. But how I navigate it has changed and shifted as a result of working around my trauma.

So you probably came here wondering if you can still engage in hot, kinky CNC play if you or your partner is carrying trauma from sexual violence. The good news is that yes, you can! Read on to find out how to navigate this very difficult line safely.

The key word in "consensual non-consent" is consensual.

CNC, like any other kind of play, can only take place with the full and enthusiastic consent of all participants. Otherwise it's not CNC—it's real violence. True consent is freely given and can be freely withdrawn without fear of backlash or repercussions.

I know some people disagree with me, but I am going to take a hard line on this one: You must always, always have a safeword. In other types of kinky play you may be able to rely on taking words like "no" or "stop" at face value, but you cannot do that in CNC. For many submissives, myself included, the fantasy is all about my "no" being ignored. But if no doesn't mean no, then I need to be very sure that my Dominant understands that "red" means no. (Or aardvark or canary or whatever silly word you choose as your safeword!) And I hope I do not need to reiterate that a safeword must be heeded immediately.

Check out this brilliant video for more tips on making consent both meaningful and sexy.

Communication is everything.

You knew I was going to say this, didn't you? But it's true. Communication is important for any kinky activity, but it's vital when trauma is in the picture and when you're playing around in dark, edgy stuff like CNC. This is all standard negotiation, but it's even more important when trauma is involved and there are a few extra considerations to take into account.

You must negotiate a CNC scene fully beforehand, especially if one of you is carrying trauma. You don't have to plan it out blow-by-blow, of course, but you need a framework around which to build. Discuss how you will begin and end the scene, and what aftercare you will both need. Talk about what words are okay to use (I love "slut," for example, but I'm triggered by the word "stupid" when it's used about me). Ask about which body parts are okay to touch and in which ways—someone may have trauma around, for example, throat grabbing or face slapping. Don't assume pain will be part of your scene unless you have agreed that it will be. And, of course, check in about hard limits and how the person is likely to react if they're having a bad time or have been triggered.

Let the survivor lead.

For many survivors of sexual violence, a major part of the sense of violation comes from a profound loss of control. Therefore one of the best gifts you can give them is to put them in the driving seat and allow them to lead—yes, even if they're the submissive! This is about free choice and respecting their needs and wishes.

This obviously means not pushing them into a type of play that they're not ready for. But it also means allowing them to determine their limits for themselves and not trying to police their kinks and desires. You get to decide, of course, if you're willing to engage in a particular type of play with somebody. But it is extremely disempowering for a survivor for another person to try to tell them what is good for them, what they can and can't handle, or what they're "allowed" to want as a survivor of sexual violence.

For me, consensual and joyful kink—including edgy play—has been tremendously healing. If I don't get to engage in the play I want because I was sexually abused, that's another thing my abuser has taken from me. And I will not permit him to take anything else.

For more information about supporting a partner with sexual trauma, check out this video by Ashley Manta.

Remember: kink is not therapy, but it can be therapeutic.

I do not advocate kink in place of therapy and I strongly recommend that everyone who has been assaulted or abused works with a competent professional, if that option is available to you. Kink is not therapy, and your Dom is probably not a trained therapist. (And if they are, they know that mixing that practice with a sexual relationship is profoundly unethical and possibly even illegal.)

However, in certain contexts kink can have therapeutic benefits, and I think it's fine to acknowledge these and work with them. Some people find deep levels of catharsis in replaying what happened to them in the context of a consensual scene, thereby reclaiming the power over the narrative and possibly even "changing the ending." For many people, pleasure and fun are in and of themselves acts of resistance and of reclamation over their bodies after violation.
Amy is a submissive switch, polyamorous pervert and professional sex writer living in the UK. She identifies as queer, femme and an ethical slut, and can usually be spotted sporting kitty ears and drinking coffee. Read more of her work at coffeeandkink.me