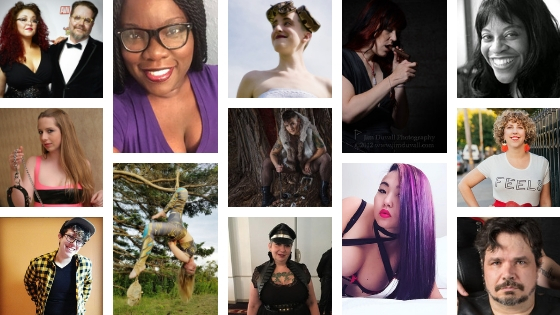 This month marks Kink Academy's eleventh year of bringing explicit adult sex education directly to you. Over a decade ago, Princess Kali committed herself to making this vision a reality, and now, with thousands of posts, hours of video, and more than 150 educators, it's time for…even more great news!
We're about to begin launching several new content series on the Kink Academy.
We've been shooting and editing all over the country, and you can look forward to a new series every couple of weeks well into the new year! We've heard your feedback, and the other good news is that these will not be released episode-by-episode. No, we're doing it Netflix-style, with all the episodes for each new series released at the same time. So you can binge-watch hot educators talking about sexy kinks, demonstrating them and making sure you can enjoy them in the privacy of your own home – or wherever else you want to watch them!
As usual, we're covering a wide range of kinks with great educators from all over North America, with some of our usual suspects along with brand new faces. They will include (but are not limited to) these fantastic people:
Sunny Megatron & Ken Melvoin-Berg: These two hosts of the American Sex Podcast will be sharing their joy with both electrical play – complete with demonstrations that glow in the dark – and also humiliation play. The latter subject can be especially tricky, and is one of Kali's specialties, so you know that if she asked them to talk about it, they must have something worth hearing.
Princess Kali: The founder of the Kink Academy herself is making a special contribution on October 27th to celebrate National Erotic Humiliation Day, with an exclusive set of videos highlighting her expertise and joy in this particular kink.
Shay: This beloved Kink Academy educator is returning with two extensive series about a very popular topic: rope suspension. She covers equipment, safety, several different ways of tying, and of course what to do while your in the air. Shay also focuses one entire video series on self-suspension, which is first for online content.
Marcia Baczynski: With the advent of the #metoo movement, consent is a more important topic than ever in BDSM play. Marcia goes beyond just the basics, including discussing how you can avoid being inadvertently coercive as well as what to do when the consent conversation becomes "awkward." This is essential viewing for any conscientious kinky player.
Eternal Angel: Bringing the kink up from down under, this Australian sex educator and professional dominatrix has only recently finished a U.S. tour where she talked about negotiation and how to do the kinks that really scare you even while they're turning you on. Don't worry if you missed her; she'll be bringing her sexy persona to the Kink Academy site as well.
Leather Yenta: Another popular educator for Kink Academy, the original Leather Yenta brings one of her favorite topics into the spotlight with several clips on spanking. She is a master of both sensual and sadistic impact play, and in these clips she will be showing positions, hand techniques, ways to involve toys, and even spanking all the way to the big O – orgasm!
Naiia & StrangerFriend: You've seen Naiia demonstrate many different aspects of kink and sexuality with Graydancer. In this clip series she goes into her switchy side and shares her love of cigar play as a Leather Woman, topping the delightful StrangerFriend with ash, heat, and more than a little dominance.
Graydancer has been hard at work with events like ROPECRAFT, and will be sharing his experience in creating events, teaching styles, and some nifty rope and dominance tricks he's picked up along the way.
Ruby B Johnson is the founder and organizer of "PolyDallas Millenium", a group that celebrates this alternative relationship style.  They work to create a "sex-positive safe space for those seeking knowledge about ethical nonmonogamy", and we're excited to have her bring that knowledge to the Kink Academy.
Robin Wilson-Beattie believes "that everyone should be able to experience giving and receiving pleasure, regardless of ability." She is nationally known for her advocacy and education "to teach the world to see that a closed mind is the only limiting factor to safe, sane, consensual,  adaptive enjoyable sex."
Nil: This Denver-based educator is well known for combining "woo" and rope bondage, and their classes get rave reviews for their raw power and deep explorations of the feelings that underlie what it is we do.
There will be more coming, of course, and this is just a taste of what's to come. We're excited to add to our already extensive library of information, and we look forward to sharing this new content with all of our thousands of members.
Do you know of an educator you'd like to see on Kink Academy? Let us know – ask them to fill out this form so we have all their info. Don't forget to sign up for our newsletter and follow our twitter, too, so that you can learn about the new clips as they go up.