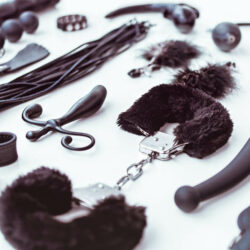 Spring is the season for sex – and for spring cleaning! While you're getting geared up for spring & summer kinky parties, it's the perfect time to go through your toy bags and do a little spring cleaning "spruce up" so that everything is ready for action.
Start by pulling all of your toys out of hiding.
Check everything, initially looking for any damaged toys that you'll need to repair, dispose of, or replace. If the motor is broken on your Hitachi – pitch it out! Ditto for floggers that are falling apart, canes that have splintered, or other toys that aren't in good shape.
Once you've ditched those, take a look at what's left. Are there toys that you never use? If so, are they worth the space they take up? If your answer is "no", it's time for them to move on. If they're new or gently used (and can be sanitized), you can put them aside for your local kink group's toy swap, or hand them down to someone who's building their first toy bag. Older or shabby toys should get thrown away – you can even hold a toy funeral to honor the pleasure they've given you (hey – some of us get VERY attached to our old toys!).
Now that your collection has been sorted, let's give everything a good spring cleaning.
Group your toys by material: floggers, quirts, and other leather toys can be cleaned using saddle soap & leather conditioner; silicone, metal, and glass toys can be washed with soap, then boiled and stored in plastic bags to keep them clean until it's time to play. Latex clothing & toys should be washed using mild soap and water, and stored appropriately. And don't forget your rope! Whether it's acrylic or organic rope, take time to clean it properly and store it neatly so it's ready for your next scene.
Now it's time to reorganize your toys!
If you primarily play in the bedroom, an underbed storage bin gives you accessible storage and doesn't raise eyebrows when the family visits. If you play at parties, a sturdy bag is a great option (you can clip your safety shears and a flashlight to the strap, so that they're always in reach). You may even build different "kits" with toys that you tend to use together; for instance, your leather cuffs and floggers in one kit, and your rope and vibrators in another, so that you don't have to sort through your toys to find the perfect combo.
And finally – if you're like many of us, you may find a toy in your bag that you used to love to use, but have "forgotten" as you've learned new skills. I'd like to invite you to reconsider it – if it gave you joy before, perhaps it's time to take a break from your routine & re-integrate it into your play for some "vintage" fun! The best thing about all this spring cleaning? You now know exactly what you have, and it's ready to use whenever you want!