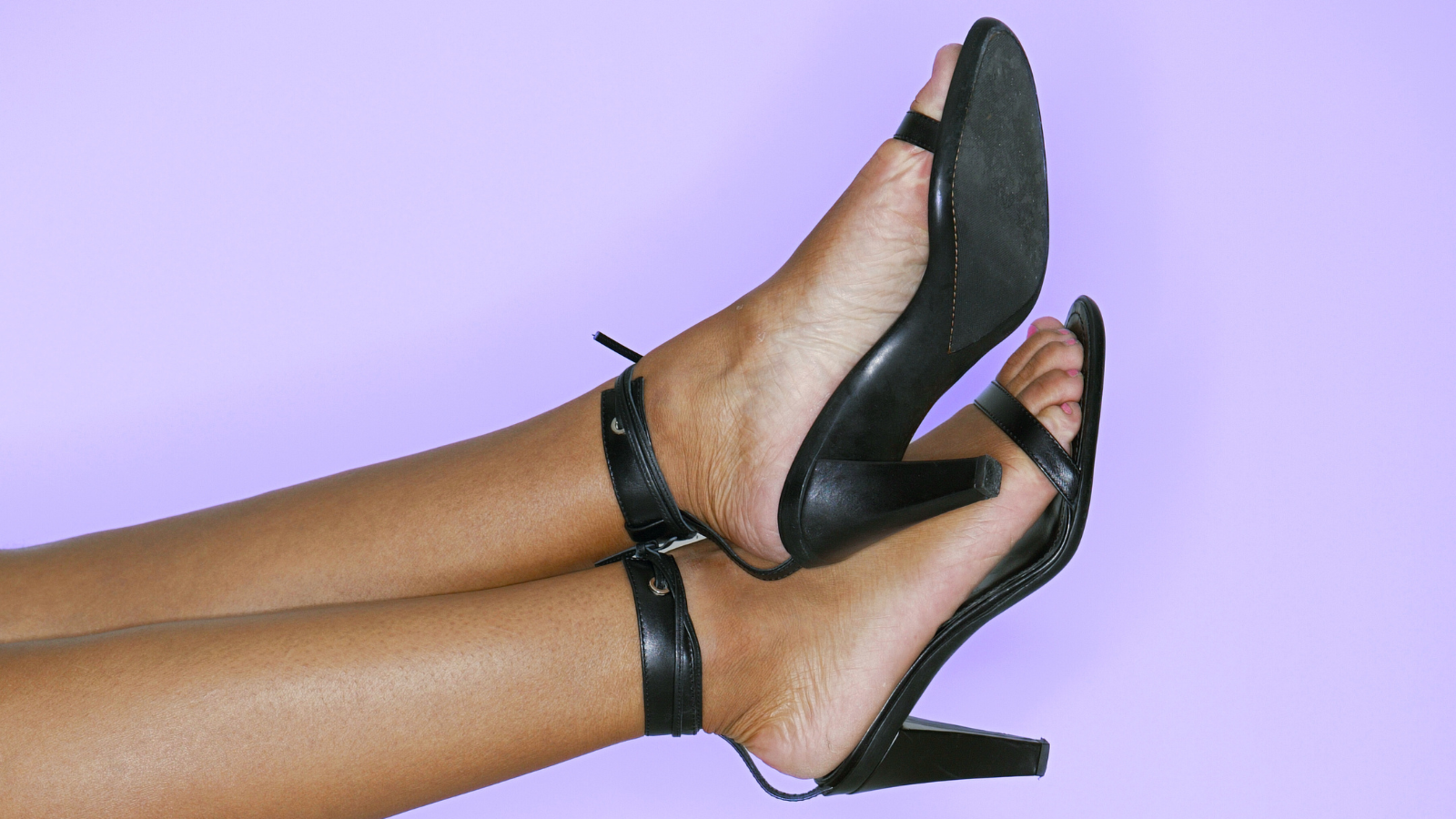 Feet. Glorious, fun, fabulous feet. You like them. Really really like them. Or wonder if you do.

Or maybe you wonder if you are a freak for liking feet. Worry not. There are actually many people out there that feel the same way you do about feet. Allow me to set your mind at ease… feet are actually one of the most common fetishes out there. I, for instance, love me some feet.
Liking someone for the size or shape of their breasts, ass, or genitals is so commonplace nobody thinks twice about it. So it's baffling that when one takes the same degree of infatuation and transfers it to a different body part, such as feet, some want to clutch their pearls in shock. Why is it "acceptable" to be strongly attracted to someone for the impressive slope of their peach-half booty, but "weird" to go below the ankle?
While there is nothing intrinsically odd about being attracted to a fine set of feet, things can go awry if all one cares about is the feet and checks out once they go above the talus. Nobody wants to feel like a fetish delivery system. As long as you do not make people feel as if they are just interchangeable bodies attached to the only part that you are interested in, there is nothing wrong with exploring your foot fetish. The more you are honest about your needs and desires, the better your chances of getting them fulfilled.
When it comes to feet, there are actually a wide range of subsections to the fetish. You could be into some aspects of feet and not into others. All aspects are valid and part of the fun is finding out what works for YOU personally. Experiment and learn what you enjoy!
Massage
Massages are the soft intro for foot fetish. Some people never take their fetish beyond a good lotioned rubdown of some willing feet. If you are dating or interacting with someone with a foot fetish, the bonus you can expect out of the relationship is a set of well moisturized and massaged feet. And at the end of a long day, most of us could appreciate a nice foot massage.
Pedicures
Some people take their appreciation of feet seriously enough that they master giving a good pedicure. Considering how much a pedicure costs and the inconvenience of having to drive to the salon every time you get a chip or want the color changed, having an in-home nail service tech can be quite handy indeed. For some people, it is a specific shade of color on the toenails that is the thrilling part of their fetish; others prefer plain feet with no nail varnish at all. If a specific shade is what floats your boat, becoming skilled at pedicures is a good way to ensure you get the shade that works for you.
Tickling
As a highly ticklish person, I love tickling! The breathless gasping, the uncontrollable squirming, and the overwhelming sensation are delightful for me. People tend to either really love tickling or really hate it. Very few people are neutral on the topic of tickling. Tickling is often a hard limit for many and I find many people that will take a whipping over tickling. Hey, that just means more tickles for me! Be sure to negotiate and be certain that your partner is okay with tickling before attempting it. Surprise tickling can end poorly. I had an acquaintance who ended up with a broken nose after attempting a surprise tickle on an unsuspecting person. If your partner is into tickling, then there are numerous techniques and positions you can get creative with.
Licking, Sucking, and Biting
Taking it up a notch from massages and pedicures is oral interaction. "Shrimping" is a common term for toe sucking. The sensation of having one's toes sucked on can be delightfully intense. Personally, having my toes sucked on can make me orgasm. While this reaction might put me on the more extreme end of the bell curve, I cannot be the only one out there. If you find someone that can orgasm via toe sucking, have fun with that!
A more sadistic oral turn when it comes to feet is biting. Toes are incredibly sensitive and a bite on the toes will most definitely get someone's attention! A slightly softer sadistic style is to bite the bottoms of the feet. While painful, it does not hurt as much as a toe bite.
Bastinado
Bastinado, or impact on the feet, is a torture method that goes back for over a millenia. Feet are simultaneously very tough and tender. Impact play on the soles of one's feet is incredibly painful but very rarely leaves marks. This unique combination meant that it was often used to keep female slaves or prisoners in line when they could not be bruised or marked. It was also frequently used in interrogations to extract information without leaving any visible damage behind. If your foot fetish leans more towards the sadistic, bastinado might be exactly the sort of thing for you to explore. This is not the type of play to be undertaken lightly and I definitely recommend doing some research before trying impact.
Face Smothering
When one loves feet, really LOVES them, having feet become your entire world can be an appealing space to be in. An easy way to create this space is to do some smothering with feet. Simply lie on your back on the ground (with a nice pillow for neck support) while the owner of the feet sits on a chair. Now they can cover your face up with their feet at a leisurely pace and at a level of intensity that works for the both of you. Bearing in mind, if you are putting any sort of weight and pressure on someone's face, you need to be very cautious about cheekbones and noses. The face is fragile and should not have too much weight on it.
When one is doing face smothering, it can easily veer into breath play. Breath play is an extremely advanced level play and should never be undertaken lightly. If you are doing face smothering with feet to the point of limiting or cutting off air flow, a handy internal gauge is to hold your own breath for as long as you are preventing or reducing someone else's air flow. In doing so you will have a fairly good idea of how much air capacity they have left in their lungs.
Smelly and Dirty Feet
Some prefer their feet odor-free and some prefer a nice, ripe, stinky foot. Aroma can really add to the overall foot experience. For those that love the odor, there are a number of ways to build up the desired smell. A time-honored method is to wear sneakers with no socks and work out or go for a run. I am personally a big fan of using plastic bags over my feet and sealing them up before resting my feet near a heater. I am guaranteed to get a nice head of scent worked up in a fairly short period of time.
Dirty feet often have a humiliation and degradation factor. Exploring the humiliation aspect of dirty feet can create a deeply primal headspace. Shoving a dirty foot into someone's face is almost guaranteed to create a reaction and there is very interesting energy to play with there.
Foot jobs/Foot fucking
Foot jobs and foot fucking can be extremely erotic. The sensation of a stocking clad foot running over an erect cock is delightful and personally sends shivers up my spine. If foot jobs are something that you want to explore, bear in mind that feet do not clasp around things as well as hands do. A foot is going to wear out and become tired much quicker than a hand does and there will not be as much pressure. By all means do enjoy a footjob, but be understanding that they tend to be a short-term activity. Lube is definitely your friend when it comes to foot jobs.
If your love of feet is so strong that you are filled with the desire to fuck them, there is actually a toy specifically designed just for you! Presenting the vajankle, for all of your foot fucking needs..If you have $200 to spare and always want your very own willing foot, the vajankle might be exactly what the doctor ordered.
This is by no means a complete list of possible activities. Hopefully this article is a good starting point for you to begin to explore. If feet are something you fancy, forget your fruitless fears, go forth and follow your fetish. There is a whole wide world of foot fun to be had. Try all the things; don't be afraid to get your feet wet!
Rain DeGrey is an international educator, writer, presenter, podcaster, and performer that has been writing articles and teaching classes, focusing on kink, relationships, and sex education, since 2009. Demystifying sexuality and presenting in a clear humorous way are trademarks of her teaching style. She believes strongly in making sex education fun and engaging.

Rain DeGrey spends her time teaching classes, writing articles, her online advice column, producing podcasts, and providing one-on-one coaching to select clients.