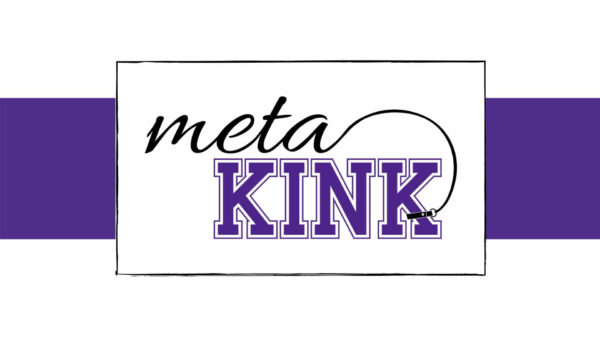 We are delighted to announce an exciting new format of brilliant content coming to KinkAcademy.com in 2020 through our brand new Patreon channel.
Introducing MetaKink
MetaKink is a monthly video discussion hosted by Kink Academy founder Princess Kali, featuring experts on topics in the kink, leather, gender, and relationship fields. 
For years, fascinating freewheeling conversations have been happening organically in between the structured video content, behind the scenes at Kink Academy videos shoots, in between videos, and during set up and break down. These off-the-cuff conversations are exactly what we'll be bringing to MetaKink, as a new way to help our members get inspired and stay informed.
The last Saturday of every month from 10am to 12pm (Pacific), Princess Kali will hosta discussion including an hour and fifteen minutes of one-on-one conversation with a featured guest, going in depth to the theme and sharing their expertise and experiences, followed by a 30-minute live Q&A exclusive for our Patreon supporters.
The week following the live recording, the full one-on-one discussion (without the Q&A portion) will be added to the extensive KinkAcademy.com library for members. 
Committed to diversity
In the past, we've always had to be in the same physical space as our experts to record the structured videos. But the MetaKink series will be recorded by video conference, and one of the best things about this new format is that thanks to modern technology, our guests can be from anywhere in the world!
Kali is especially interested in showcasing marginalized voices, and is looking forward to speaking with educators of color, folks with disabilities and chronic illness, trans and non-binary folks, and those with unique perspectives.
Upcoming Episodes
March 28th – Mental health and sexuality are two taboo topics that are relevant to nearly everyone. JoEllen Notte, author of The Monster Under the Bed: Sex, Depression, and the Conversations We Aren't Having will be joining Kali to discuss the ways that depression and other mental health struggles can impact our body perception, sexual desires, and partners' experience. 
April 25 –The Sex-Ed Industry is booming, but not without some bumps in the road. Cameron Glover, a business coach for sex educators, and the newly appointed Director of Operations for Women of Sex Tech, will join Kali to talk about Sex & Business, including ethical businesses under capitalism, being a sexuality professional and how the sexuality field is the last frontier within the future of work.
Includes access to past episodes too:
+ Our first official live MetaKink interview happens on Leap Year, a special day to mark a special occasion! Aida Manduley, LCSW will be joining Kali to discuss Sex & Social Justice, including why this is such an important intersection of issues at this moment in history, and how community building and activism are critical building blocks in changing the status quo. 
+ Plus Joining bonus! To get MetaKink started and to give our early supporters some #KinkyGoodness to whet their appetites, Princess Kali invited Mollena Williams to be the first guest interview. Watch this previously recorded video (no live Q&A) as soon as you become a Kink Academy Patreon supporter. During this hour-long conversation, they talk about how the kink and leather worlds have changed over the last two decades, misconceptions about "24/7" relationships, how "Pedestal Culture" creates toxic elements in a community, and much more.
Potential topics we'll be covering in 2020:
Long-distance kink relationships

Coming out kinky

What to do when scenes go wrong

Navigating consent

Polyamory and non-monogamy

Disability and kink
When you become a $5/month Kink Academy Supporter on Patreon you'll have access to these special benefits:
Access to the live recording of the monthly MetaKink discussion

Ability to join the live Question and Answer session after the monthly MetaKink discussion

Bonus content including additional videos, downloads, and other fun #KinkyGoodness