Thanks for Your Support
Become a member or log in to watch this video.
---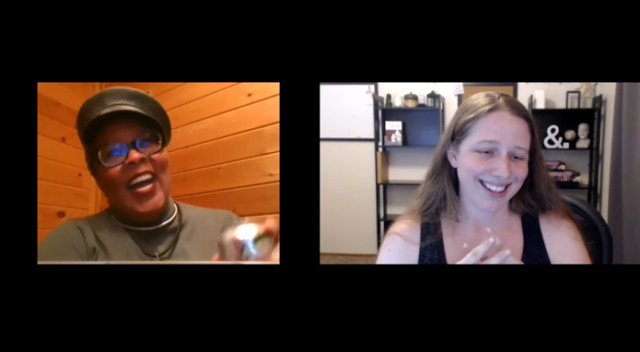 In the debut episode of the Metakink podcast, Princess Kali has a "behind the scenes" talk with International Ms Leather 2010 Mollena Williams. Mollena is a prolific writer, performer, educator, and frequent contributor to the Kink Academy. She also lives in a 24/7 power exchange relationship where she identifies as a slave. 
She talks frankly with Kali about the frustrating experience of seeing so many idealized expectations of what a Master/slave relationship "should" be, and they both discuss how destructive this is to both individuals and relationships. "Not a lot of people are saying build your own shit, do your own thing." A big part of making a relationship like theirs work is what Mollena calls "glorious reality adaptation": understanding that getting what you want might not look or feel like what you imagined.
They talk about how "pedestal people" in the kink community have a vested interest in putting on a show of what D/s should look like — both in material ideas like "earned leather" and in concepts like the "total submissive", the "infallible dominant", or ignoring the reality of switching roles.
"It's not that high protocol is meaningless, it's just not the end-all of commitment…finding the way that works for you is the purpose."
"Topping from the bottom" is a particularly harmful phrase that Mollena feels is too often "weaponized against subs expressing their boundaries" by dominants. They discuss the way communication between a bottom and a top is not only necessary but beneficial. "Kink is a team sport!" Kali says, and Mollena explains the difference between saying something intended to take control away versus providing information that "adds more avenues of control."
"It is hard to find love, because we are not taught to communicate in ways that are practical," says Kali. This makes finding the right kinky partner even more difficult. Mollena explains that trying to match some external ideal usually simply sets you up for failure, and "not many people fetishize never being enough." She explains that the real question you need to ask is: "Are you being honest about what your wants and needs are? And are you really ready to have them met?"
Finally Mollena shares the inspirational story of her own work establishing her self-identity as a slave. and how she had literally given up ever finding the right Master just before he appeared. She talks about how her own understanding of her kink has changed now that she's in a 24/7 relationship, such as finding out that service alone can be sexually satisfying. She closes by reminding submissives that simply "being present is valuable and fulfills a service…if your dominant doesn't see that, you need to reflect on what that says about them."
Throughout the discussion there are many more valuable insights from two of the most experienced power exchange educators in the world. Listen to the debut episode, and subscribe in your podcast client to get Metakink every month!
Join the monthly live MetaKink discussion plus Q&A by becoming a $5 supporter on Patreon