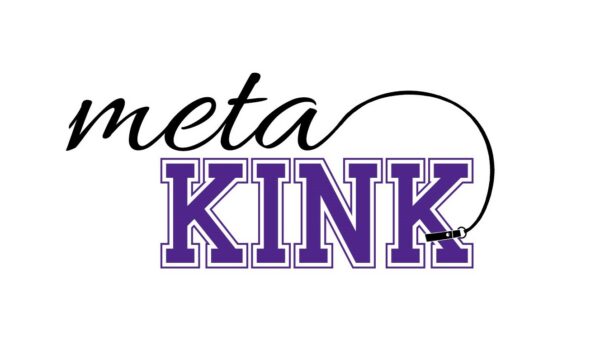 When I launched KinkAcademy.com in 2007, there were three principles that were my top priorities.
To create a library of vetted information on the topics of kink, sex, gender, and relationships that would be available to anyone with internet access

To keep the cost as low as possible while still paying educators

To offer community support in the way of funds and donations
Over the years, those principles have been fulfilled in a variety of ways, and MetaKink is a new way to bring all three together.
Introducing: MetaKink!
MetaKink is a monthly live video discussion that features in-depth conversations with thought-leaders, experts, and those with under-platformed perspectives covering topics that go beyond "sex positivity" 101. Following the discussion, we'll open things up for a live Q&A session where YOU can get your questions answered by those in the know.
Since January 2020, I've had the pleasure of interviewing a handful of brilliant experts on such important issues as mental health, activism, long-term D/s relationships, the evolution of the sex eduction industry, and more. Going forward, we have even more thought-provoking topics such as the changing face of leather contests, the nuance of gender identity, and whether kink is a sexual orientation.
I believe in spreading awareness and education, and I know that money makes a tangible difference to making change. 
Starting in July 2020, we're keeping all the awesome discussions, but making a few logistical changes:
The monthly live discussion will now be open for anyone to join, free of charge.

We love having a lively chat box and want to make these conversations available to as many folks as possible.

Access to all previous recording discussions will ONLY be found here on Patreon (not on KinkAcademy.com) with access available for only $5 per month for all current recordings.
100% of the proceeds from the Kink Academy MetaKink Patreon will be donated to a black-led social justice organization, to be chosen each month. There will be full transparency, with the monthly income now set to be viewed publicly, with a screenshot of the donation posted publicly as well.
The Kink Academy motto has always been, "Be Accepted!" and I invite you to find your community here. My mission has always been to provide accessible, playful, vetted information so anyone, anywhere, can enjoy a more informed experience of creative sexuality.
By becoming and remaining a MetaKink supporter here on Patreon, you help contribute to crucial causes, all while gaining access to even more kinky goodness.
To all current and future patrons: THANK YOU! With your support, I can continue to expand these offerings and create even more #KinkyGoodness to help all sexual adventurers on their journey, and that includes YOU!
July Donation Recipient:
National Queer and Trans Therapists of Color Network
National Queer and Trans Therapists of Color Network (NQTTCN) is a healing justice organization committed to transforming mental health for queer and trans people of color (QTPoC).
We envision a world where all people have access to healing resources rooted in social justice and liberation to recover from trauma, violence, and systemic oppression. We specifically acknowledge the harm and violence perpetuated by the medical-industrial complex and actively work to both intervene directly on this system as well as create new systems of care for our communities.
August Donation Recipient:
#YouAreEssential is a social impact campaign & national relief fund that awards grants to grassroots organizations and mutual aid networks working directly with vulnerable communities disproportionately impacted by the COVID-19 pandemic. We aim to inspire cross-cultural, collaborative efforts that yield abundant resources, resilience, and reignite hope in a time of despair. 
Started by Ashlee Marie Preston and Revolve Impact, funds raised will help combat food insecurity, housing instability, and barriers to access encountered by the elderly, disabled, immunocompromised, and the deeply marginalized.
Contributions to #YouAreEssential are tax-deductible.
September Donation Recipient:
Disability Justice Culture Club (DJCC)
Oakland based disability justice collective using the 10 principles of disability justice to guide their work of mutual aid to elders and BIPOC trans and queer disabled people, and the Power To Live campaign when the power is shut off to limit wild fires, they are setting up resilience hubs with generators for disabled people in the bay area.  Bianca has been working with this organization to help members strategize since the death of core member Stacey Park Milbern.