Welcome to the Kink Academy 2021 Holiday Gift Guide! We scoured the internet for kink and BDSM items that excite us. Here's what we found.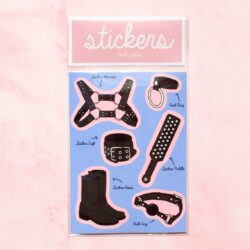 Leather Gear Stickers
These delightfully illustrated leather gear stickers are perfect for adding a little flair to a phone case, laptop, or secret smutty notebook. Who doesn't love sexy stationary?
Toronto-based illustrator John Jeffries of mypinkyourpink also makes lots of fantastic queer and body positive art prints, pins, and magnets.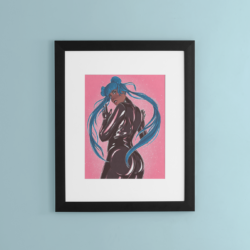 Latex Pin-Up Art Print
$20-30
This gorgeous print is one of Chicago-based illustrator Lex Artis' many erotic illustrations. Lex's other pieces touch on various themes, including bondage, queer sex, fantasy creatures, and more. Love the latex, but looking for something naughtier? Check out this Demon Girl in Latex print!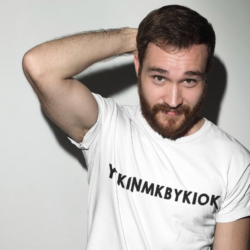 Your Kink Is Not My Kink But Your Kink Is Okay T-Shirt
This kink-acceptance-promoting T-shirt is available in any color you could possibly want, and you can even get the text in glitter or glow in the dark if you so desire. Order early to make sure you get it in time for gift-giving.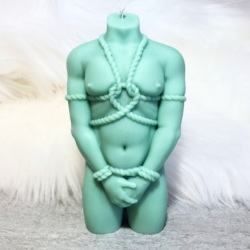 Bondage Candle
$19
This bondage candle is perfect for bringing a wax play scene to the next level. It can also make a great statement piece on a bookshelf next to your favorite kinky books or as a centerpiece on your dinner table for a date night in.
Jessica LeighAnn of Nemesis Boutique makes all of their candles by hand using natural soy wax. They make a variety of rope bondage candles featuring various genders and body types. Looking for a candle in a particular color or scent? You can customize your candle by choosing from over two dozen wax colors and scents!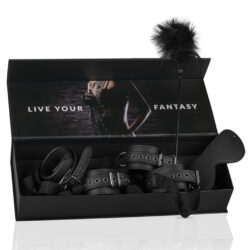 6 Piece Beginners Bondage Set
$109.99
Looking to purchase some new toys or bondage gear? Satin Kiss is a Black woman-owned sexual pleasure and wellness website with a wide selection of sex toys, kink gear, and lingerie.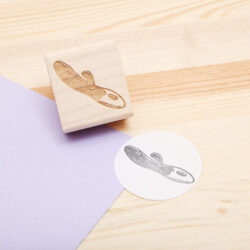 Magic Rabbit Vibrator Rubber Stamp
$10
Looking for the perfect gift for the smutty crafter in your life? Look no further!
Nothing says "masturbation is normal and there's nothing wrong with enjoying the sensual pleasures that the body has to offer" like covering all of your possessions with cute little stamped dildos.
Crass Stamps makes all sorts of adorably sexy stamps, including a very cute butt plug, little swimming sperm, a vulva, a penis, birth control, and more.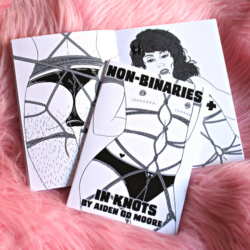 Non-Binaries In Knots Zine
$8.39
This beautifully illustrated zine is a celebration of the many different kinky folks that exist within the non-binary umbrella. It was created by queer non-binary artist Aiden GD Moore, whose other kinky zines include Girls in Garters and Boys in Bondage. Aiden also makes kinky and gender affirming art prints, pins, stickers, and apparel.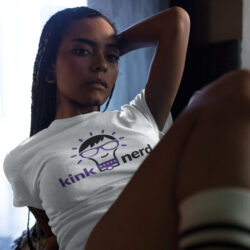 Kink Nerd T-Shirt
$26
Plugging our own product in our gift guide? No, we're not above it! Especially since we have lots of items that make fantastic gifts, if we do say so ourselves.
Our Kink Nerd shirt makes a great gift for the kinkster who is out and proud and ready to share their truest kinky self with the world — or the kinkster who wants the perfect attire to wear to their local munch or fetish night.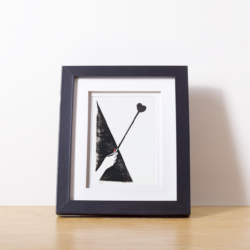 Femdom Block Print
$15
Artist Mae of Maenad Press makes these tastefully suggestive block prints by hand in Washington state. The classic black and white color scheme will look great with nearly any decor, and the traditional block print technique creates a personal, artisan feel. Mae's other works depict all sorts of fetish-related themes, including dominatrixes, bondage, high heels, and more.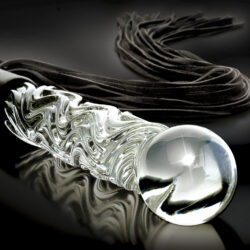 Hand Blown Glass Handled Whip
$54.99
This gorgeous whip features a hand blown glass handle that doubles as a glass dildo for vaginal or anal play. Heat or cool the handle if you want to add some temperature into the mix. Satin Kiss is a Black woman-owned website that promotes sexual wellness as an important part of overall health and wellness.
https://www.satinkiss.me/about-1/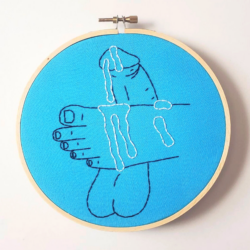 Foot Job Embroidery Hoop
$40
This pleasantly tactile erotic embroidery hoop has an unabashed "This is my home and I get to put whatever the fuck I want up on the wall" vibe. While it would make a lovely gift for any foot enthusiast, the ideal recipient is a foot enthusiast with a keen appreciation for the cozier things in life.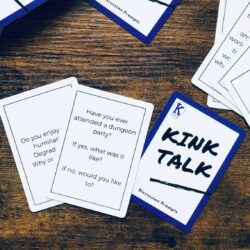 Kink Talk Card Game
$20
Give the gift of titillating conversation with our Kink Talk card deck! It features fifty-two discussion prompts designed to break the ice, deepen connections, and bring a fresh perspective to your kinky communication. This card deck is great for using at a party, munch, or with new and long-term partners alike.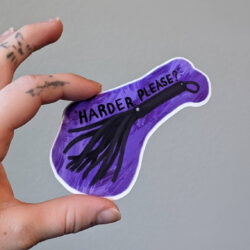 Harder Please Sticker
$3.00
It's a cute little hand-illustrated flogger on a sticker with a titillating sentiment. Slip it into a holiday card for a fun little gift without having to pay extra for postage.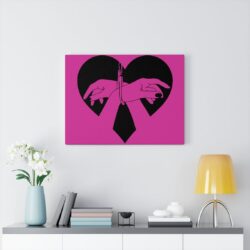 Erotic Tied Hands BDSM Canvas Print
$20.00 and up
Want to help set the mood in the bedroom, dungeon, or other play space? This attractive bondage art print is just the thing. Consider pairing it with the matching Erotic Facesitting canvas print by the same maker.
https://www.etsy.com/listing/1036525367/erotic-facesitting-canvas-wraps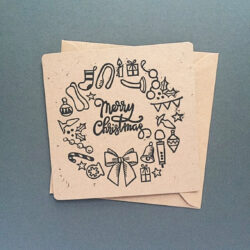 Kinky Christmas Cards
$5.50
This is a beautiful, hand carved stamp Christmas card with a spicy twist. The artist also offers a "kinkybread man" card and a "jingle balls" card, so you have something for the whole family!
https://www.etsy.com/listing/1125448747/kinky-christmas-card-kinkybread-man
https://www.etsy.com/listing/899600541/rude-christmas-card-jingle-balls-linocut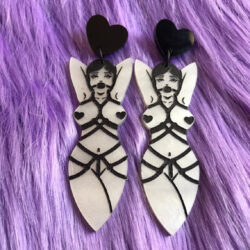 Bondage Dangling Earrings
$30.00
These beautiful bondage earrings are not only delightful to look at — they're also lightweight and comfortable to wear. Plus, they are available in a variety of colors and shapes.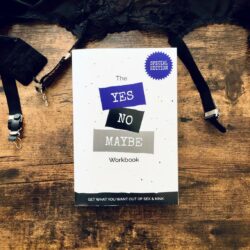 The Yes, No, Maybe Workbook — Special Edition
$50.00
This full-color special edition workbook from Kink Academy was specially designed to help you get what you want out of sex and kink. The Yes, No, Maybe Workbook takes you beyond the simple yes, no, maybe checklists and gives you room to record the deeper nuances of your erotic desires, limits, and fantasies. Gifting this to a play partner is a great way to start some very interesting conversations…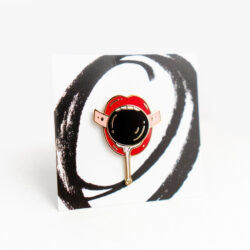 Ball Gag Enamel Pin
$12.00
This ball gag pin is a great way to celebrate kinky desires while adding some flair to any outfit! Buy one for yourself and one for a friend if you want to have kinky friendship pins.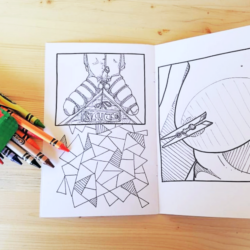 Her Dirty Dishes Kinky Coloring Book
$8.00
For the kinkster in your life who could use some incentive to sit down and relax every once in awhile: The kinky coloring book! Pair with 100% pure wax crayons if you'd like to incorporate some wax play into your gift.
https://earthhero.com/products/home/honeysticks-thin-beeswax-crayons-8pk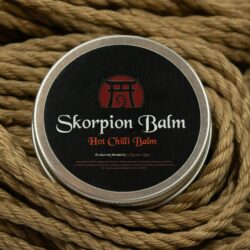 Skorpion Chilli Balm – Shibari & Bondage Aftercare
$8.34
This small-batch muscle rub and pain reliever has an added kick. It's great for using during aftercare or in the midst of a scene. Plus, it's made of all natural ingredients.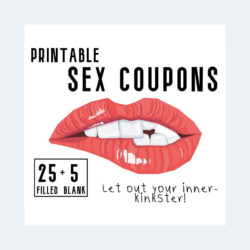 Printable Sex Coupons for Kink
$4.99
Need a last minute gift? Look no further than these kinky sex coupons. You print them yourself so there's no need to wait for delivery. Plus, if you have multiple kinksters on your shopping list, you can print this multiple times for multiple recipients!
Looking for something for your little? They also have this Printable Aftercare Worksheet for Littles.
https://www.etsy.com/listing/686282702/submissive-girlfriend-gift-bdsm-little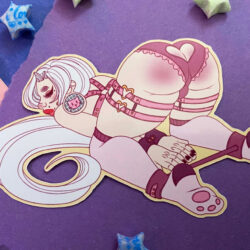 Femboy Sub Sticker
$4.00
This adorable illustrated femboy sub sticker would look great on a laptop, phone case, water bottle, or other sticker-able surface. Who could resist those little pink paws?
Bonus Round!
Homoerotic Kink Tattoo Flash Art Print
Wishing all the best to you and yours this holiday season, w
ith love from your friends at Kink Academy.