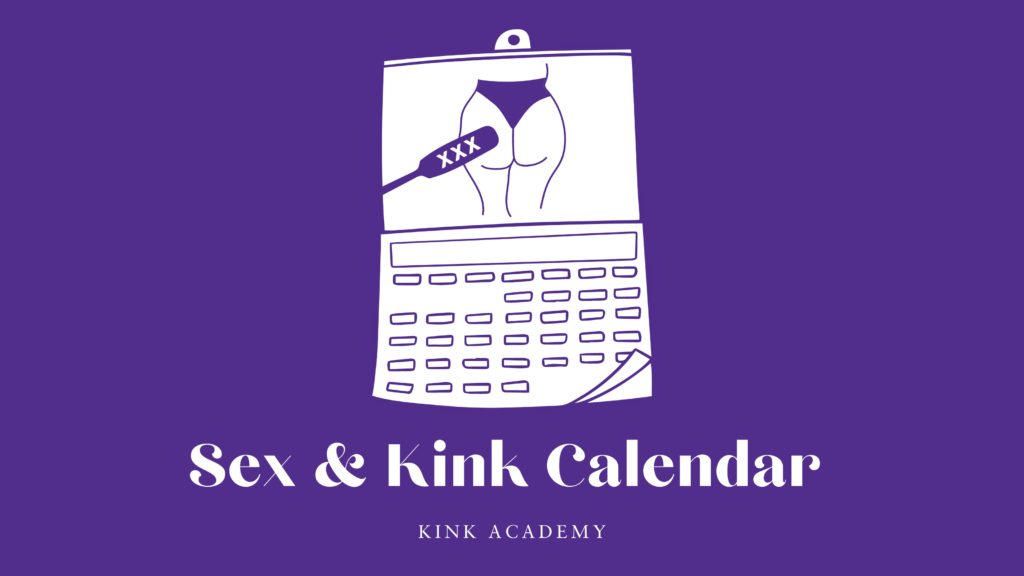 Now you can celebrate sex and kink all year round! Here's our calendar of annual sex- and kink-related observances so you will always have something to look forward to. Some of these aim to bring awareness to important issues, while others are just for fun — because who doesn't want a little extra fun in their lives?
January
Self-Love Month

Shower Together Day – January 13th

International Fetish Day – Third Friday of the year
February
Safer Sex Awareness Month

Valentine's Day – February 14th

National Condom Week – Same week as Valentine's Day

International Flirting Week – Second full week of February
March
International Sex Worker Rights Day – March 3rd

Threesome Day – March 3rd

National Restock Your Lube Day – March 5th
April
Anal Sex Day – April 18th

National Lingerie Day – April 24th
May
Masturbation Month

Outdoor Intercourse Day – May 8th

Pansexual & Panromantic Awareness Day – May 24th
June
LGBTQ+ Pride Month

National Adult Sex-Ed Month

69 Day (aka National Sex Educator Appreciation Day) – June 9th

No Panty Day – June 22nd
July
Tickling Month

International Kissing Day – July 6th

National Nude Day – July 14th

Orgasm Day – July 31st

BDSM Day – July 24th

Handjob Day – July 21st
August
Anal August

Safer Sex on Campus Month

International Day of the Female Orgasm – August 8th

International Swingers Day – August 13th
September
Bisexuality Visibility Month

International Fetish Day – September 4th

World Sexual Health Day – September 4th

National Read a Book Day – September 6th (If you've read any of our books, you'll understand why we're including this one ;))
October
National Kink Month

Kink Day – October 6th

National Fisting Day  – October 21st

Love Your Body Day – October 20th

National Erotic Humiliation Day – October 22nd (Founded by our very own Princess Kali!)
November
National Sex Toy Day – November 4th

Polyamory Day – November 23rd

Spanksgiving – Saturday after Thanksgiving
December
Pansexual Pride Day – December 8th
Do you have any favorite sexy holidays? Comment below!
Make sure to follow us on
Instagram
and
Twitter
to see how we're celebrating all of the kinky and sexy days, weeks, and months of the year!