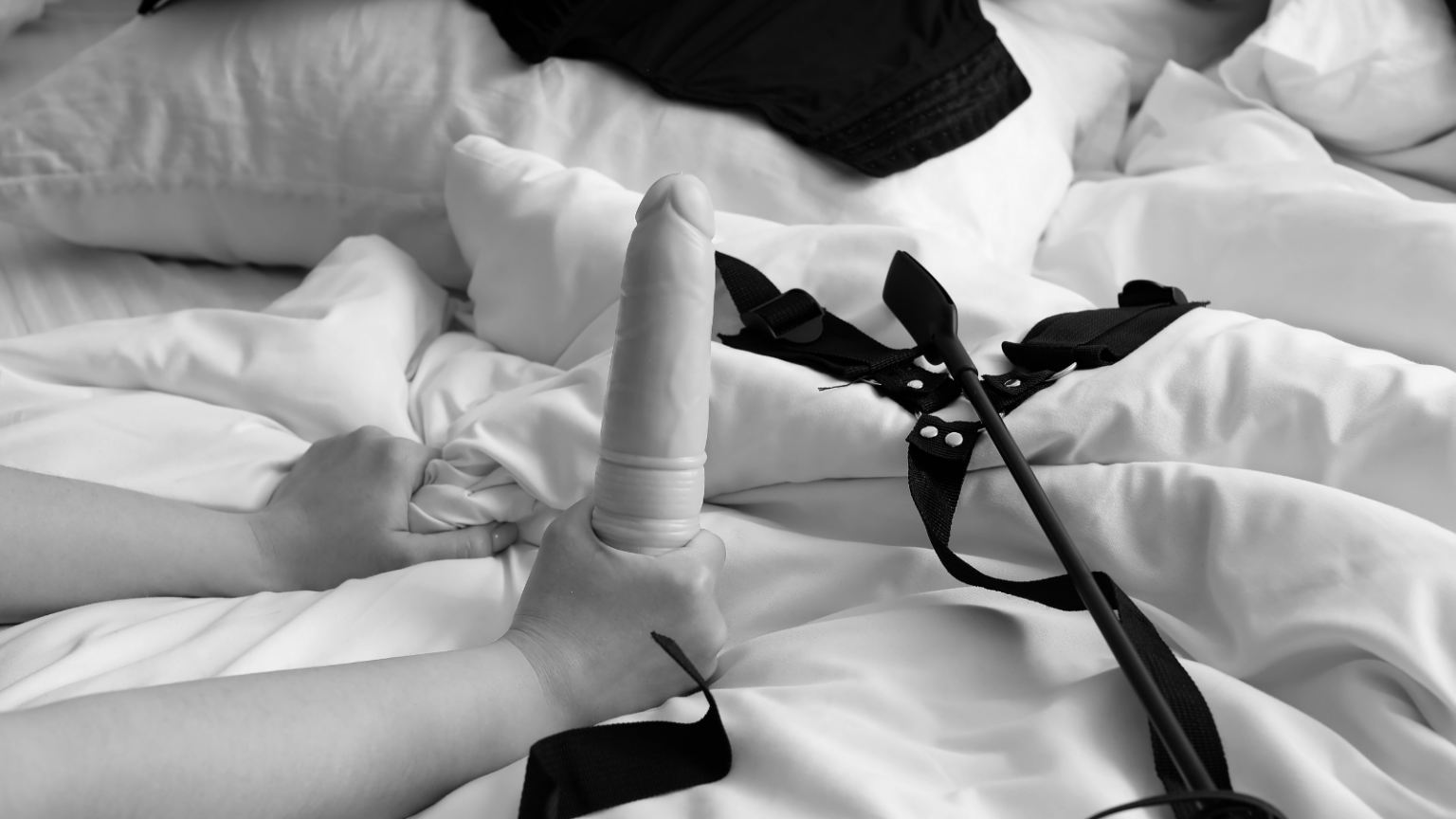 While many folks only think of strap-ons as a means to an end (a rear end, that is), they can be so much more than just a tool. For a person with a vulva, strap-ons can be a fun and sexy way to play with gender and the boundaries between your physical body and creative extensions to it. Even for people who have penises, strap-ons can open up a world of unexpected possibilities. Here are a few ways you can take your strap-on play to the next level.
Let's Go Shopping – for Strap-Ons!
Shopping for strap-on harnesses and dildos with a playmate can be a wonderfully sexy adventure, especially if you live near a sex-positive store with knowledgeable staff. Hold hands with your partner as the salesperson tells you about the various features of harnesses. Use your fingers to feel and caress the different shapes and textures of the various dildos. Try the harnesses on over your clothes, put in your favorite dildo in the store, and show it off to your partner. All of this can be a delightful turn-on as you tease each other with the possibilities. It will also have you itching to get back to your bedrooms to play with your new toys.
To maximize your future pleasure, take the time to find a harness that can adjust firmly to your body and creates a secure base for a dildo]. Your partner should be able to grab the dildo in your harness and move your body around with it – if it has too much wiggle room, it will greatly limit the kinds of things you can do with it. In general, more straps and connections points make for a better, more adjustable fits, but it's critical to try a few to see what works best for your body. Keep in mind that a great harness doesn't have to be expensive – if you're crafty and patient, you can even make one out of bondage rope.
The dildo is a more flexible choice, as most will work well with any harness as long as they have a flared base. Choose silicone dildos if you can, as they are non-porous and thus easier to clean and care for; they're a little bit more expensive but well worth it. Also, especially if it's your first dildo, and extra especially if it's for anal play, don't let your eyes get too big for your head – it can be tempting to get something tantalizingly huge, but back at home it can be really frustrating (and painful) when you're not able to play in the ways you'd imagined. Do also take some time to learn how to properly clean your toys; that will ensure that you play safely with them for many years.
Why, This Old Thing?
One of the easiest ways to lean into gender play with strap-ons is to just wear them around the house when you're not having sex; this is particularly fun if you and your partner like to spend casual time together naked or nearly naked. Walk out of the bedroom with your appendage swinging in front of you and a big smile on your face. Try drawing on stubble or other makeup to enhance your gender play. Come up behind your naked partner as they're making breakfast and let them feel your member up against their thighs and bottom. From my own experiences, I can say it's both incredibly erotic to see your partner combining masculine and feminine features in this way, and also incredibly heartwarming to see their gender euphoria at feeling a completely different part of themselves come to life.
This kind of play also has the positive side effect of making the strap-on feel more like a natural extension of your body and less foreign when you are using it for penetration; this can make strap-on sex feel much more comfortable and natural as time goes on.
What a Lovely Strap-On You Have!
Even in the bedroom, there is so much more you can do than basic penetration. Try treating your partner's strap-on in all the ways that you would a biocock –and then some. Compliment your partner on its size, shape, color, and how it feels in your hand. Ask them if you can stroke it for them. Put some lube in your hand and gently caress the entire length of it; encourage your partner to fuck your hand with their strap-on. Ask your partner if you can go down on their member, and hear them groan with delight as they watch you slip your lovely lips around their silicone shaft. If one of you has a biocock, try holding your cocks and/or tips together and stroking each others' cocks with your hands.
While this kind of play won't physically stimulate your partner to the point of orgasm, psychologically it can be incredibly powerful. I've had partners tell me it has made them feel fully embodied with their member, as though the touch of my lips made the multicolored silicone turn into flesh and blood. It's an incredibly sexy experience for both partners, and whether it's foreplay or the main course, it can bring a whole new dimension to your strap-on adventures.
Have Penis, Will Strap-On
Whenever I talk to people with biococks about wearing strap-ons, their first reaction is often something like, "Why would I wear a strap-on – I already have a penis!" It turns out strap-ons can open up some very interesting and sexy possibilities for penis-owners. There are some logistics to work through  – with some harnesses you can just tuck your biocock out of the way, but you can also use an athletic cup to protect your biological bits while you put on the strap-on.
So what are all these new possibilities that come with putting on a strap-on? First of all, it means you can go all night without any pharmaceutical assistance. Second, it can keep you from getting distracted by your own pleasure, allowing you to really focus on what your partner wants and needs, for as long as they might need it. Finally, it gives you the opportunity to try on all kinds of different shapes and sizes – see what it might be like to have a much smaller or much bigger cock, a double cock, or even an alien dragon cock. It can be a fun and sexy challenge to see how you would work with a different shape than you're used to, and how you can use it to pleasure your partner.
Final Thoughts
This is just a small sampling of the ways you can expand your strap-on play to explore gender and embodiment. There is no end to the possibilities; as long as you keep it respectful and joyful you'll find that there is a whole universe of sexy fun you can explore. Finally, if there are particular explorations you've tried that you think other readers would appreciate, please drop me a line and let me know; I'd love to hear about them and share them in a future article.
Sumu (Su) Tasib is an author and scientist living in Seattle, Washington. "A Boy Named Su" is their first book, a collection of non-fiction stories and essays about their journey with genderqueerness. Su also hosts the Queer Kahani podcast, a series of bite-sized queer stories and discussions. They are currently working on a set of short stories, the first of which, "Through the Walls," was selected for inclusion in the 2022 Seattle Erotic Arts Festival (SEAF) and appears in the SEAF Literary Art Anthology 2022. Su uses he/they pronouns and can be reached at [email protected] .