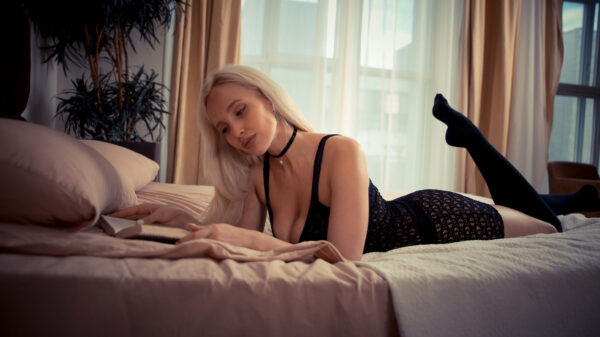 It's a great big kinky world out there with lots of winding roads to explore … which can admittedly be a little daunting for someone new to BDSM and kink when you don't know where to start or who you can safely listen to for ideas and advice.
The good news is that you're on the right track here at Kink Academy!
Another route that I'd like to propose is one that is very near and dear to my heart, dating back to even decades prior to when I started writing my own kinky stories – that being exploring kink through the written word of EROTICA.
I fell in love with kink by reading about people tying each other up and teasing and torturing them to their orgasmic delight, and as much as porn has become more visual than ever these days, there's something to be said for curling up with a good, naughty book either by yourself or with a partner to share in a few fantasies together and even use them as a gateway to exploring some of your very own.
Everybody knows that reading is sexy, so why not incorporate some provocative prose into your sex life, too?!
Reading Erotica Can Help You to Better Understand What You Like
Figuring out what you're actually into with kink takes time, through trying new things and seeing different fetishes that pique your interest, and one good way to learn about a lot of different varieties of kink is by reading erotic stories.
Of course, no different from watching traditional porn that may be BDSM-oriented, you need to be smart about the erotica you read because you wouldn't try to suspend your partner from the ceiling without knowing anything about rope bondage and proper circulation and how to do so safely and sanely…
…BUT…
…reading a hot story about Shibari and suspension may very well be what sparks your interest in rope bondage, leading you to learn more about how to explore it safely through any number of great books and instructive videos like the ones found on this site!
Reading Erotica Can Help You Share Fantasies With Your Partner
Just like it can be hard figuring out what we like ourselves, taking the next step and sharing those unconventional ideas with a partner can be an arduous task even in the strongest relationships…
One fun option is to find a story that you really enjoy and read it out loud to them.
Help to set the mood by lighting some candles and pouring them a glass of wine, or even consider running them a bubble bath and kneel alongside the tub while they relax if it suits the theme of your favorite tale. Then allow them to just sit back and listen to the words that turn you on, and see what doors open from there – a conversation piece, a little sexy playtime, or even just another step forward into understanding a deeply personal fantasy that you struggle to explain with your own words.
Let your favorite author do the talking for you and see where the story takes you!
Reading Erotica Can Give You Ideas to Incorporate Into Your Own Scenes
Again, it's always important to keep principals like Safe, Sane, and Consensual (SSC) and Risk Aware Consensual Kink (RACK) in the forefront of our minds whenever we're practicing kink and in particular when we're taking notes from others, but with that in mind, erotic stories can be a great source of inspiration whether you're working on developing your persona as a budding dominant, searching for ways to deepen your own submission, or even brainstorming for your next kinky toy purchase!
One of my all-time favorite compliments as an erotic author was a reader sharing with me that they had invested in an expensive, leather bondage hood as a result of reading about it in one of my bondage stories … how cool is that?!
Erotica can be great for figuring out what to say as a domme or how to act as a sub, what kinds of predicaments might be fun to safely explore, or even new roleplaying ideas that you otherwise may have never thought of yourself. The Perils of Batgirl, anyone???
So Where to Begin…
While there are plenty of places to buy erotica online, including on Amazon itself, you can also find free stories at a number of sites while you're sampling the waters and figuring out what types of authors and stories that you'd like to further explore…
Fiction may not be a replacement for reality and erotica is no exception, but for helping to bridge the gap and allowing another path for people to learn and explore their kinky desires, reading erotica can be a fun and creative way to stretch your imagination and dive a little deeper into your favorite perversions, or even help you to discover a new one that you didn't know existed!
KinkyWriter specializes in BDSM and fetish erotica, writing stories about fantasies of female domination and bondage, chastity, cuckolding, and countless other kinks! You can find their latest erotic stories at KinkyWriter.com and Amazon.com.