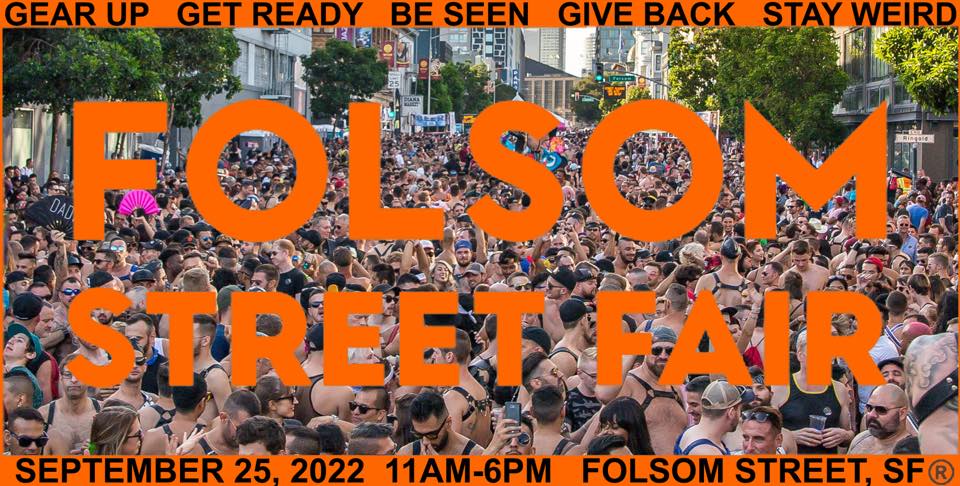 The Folsom Street Fair (FSF) is the ultimate BDSM holiday, often gathering over 400,000 kinky folks to 13 city blocks of San Francisco's SOMA neighborhood for a glorious day of flogging, tying, spanking, and slutting their stuff outside on the city streets. From the Folsom Street Events website: "The only in San Francisco event returns to the streets to blow your mind once again! The world's largest event centering kink/leather/alternative sexualities, Folsom Street Fair has something for every consenting adult. Four hot and amazing community stages with every kind of performance, vendors and artists with amazing handmade products, and connection with community that you can't get anywhere else." If you'd like some fair history, this article by Broke Ass Stuart gives some great background!
After a virtual fair in 2020, the 2021 "MEGAHOOD" event introduced multiple featured stages (rather than a single main stage). This was such a success that it will continue in 2022, as well as ongoing COVID and mpox precautions that include COVID vaccine checks at the gate, hand sanitizer stations, on-site Department of Public Health vaccines and testing, and much more – details here.
There's a lot to know about the fair itself – and I'll get there! – but like many holidays, the run-up is a huge part of the fun. The days and weeks before the Fair have lots of amazing opportunities. For broader kink event listings, check out the calendar at Erobay; this page by AndyMatic gives a great event primer, as well! If you want to mix some vanilla sightseeing and events with your Folsom fun, the calendar at FunCheap is surprisingly good. For example, apparently there is a festival called Cat Extravaganza the same weekend as Folsom – who knew? Also popular in San Francisco is the Bloom Community app, an inclusive social and dating app built to help people meet at events – check out their Folsom calendar to get you started!
If you fancy some kink education to kick off Folsom month, opportunities abound! Wicked Grounds features an amazing mix of in-person and online education – check out the full list here! If you're looking for rope-focused events, check out the schedule at VoxBody Studios.
Looking to socialize? Wicked Grounds is right on the edge of the Folsom Street Fair event area and has numerous social events filling their calendar in the weeks leading up to the fair (as well as being open the day itself, of course)! You can also drop in during their normal hours to caffeinate, have your human pup's beverage of choice served in a dog bowl, stock up your toybag, order a full meal, take a class, and meet other kinky folks…all in one place!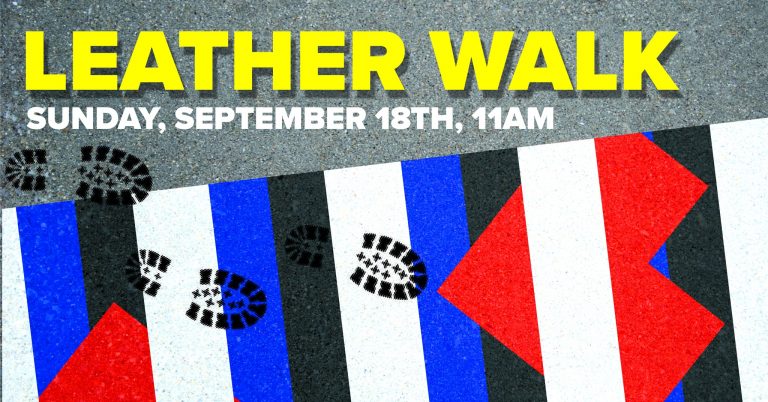 If you're in town the weekend before the Folsom Street Fair, you can catch Leather Alliance Weekend on Sept 15th – 18th, including the Mr San Francisco Leather contest, San Francisco Bootblack contest, and introducing the inaugural Mx San Francisco Leather contest. On September 18th, LeatherWalk by the Leather & LGBTQ Cultural District returns as the traditional launch to San Francisco's Leather Week. This walk starts at City Hall, pauses at favorite neighborhood spots and watering holes, and culminates with the Leather Pride Fest at Eagle Plaza.
Looking to shop before hitting up the vendors at the Fair itself? Options include Mr. S Leather, Leather Etc, and Good Vibrations. Sept 10th is SOMA Second Saturday, a collaboration of art, craft, leather, kink, community and fun. Located at Eagle Plaza, it's the perfect place to get a new toy or a beautiful piece of art, meet folks from local orgs and clubs, and enjoy an afternoon of outdoor fun!
The Wednesday before Folsom (and every Wednesday!), join the party with Play-X-Land at the Cat Club, located less than a block from Wicked Grounds. Featuring dark tunes, sultry dancing, and an introductory dungeon space for many levels of play, this nightclub and bar has dance platforms and two full bars! The dungeon gets busy, so be sure to check in with the Dungeon Monitor (DM) if you'd like to play, and keep it PG-13 because there are liquor laws to follow (and lots of time to get XXX later). Another Wednesday option is Dirty Alley at Powerhouse, produced by Mr. S Leather.
If you're looking for play parties, there are September events (and classes) at Transform 1060 in San Francisco. Mission Control and Bonobo Network are amazing membership organizations also hosting events across the weekend – see their websites for details on joining (Mission Control offers a trial membership).
The Friday of Folsom weekend is when events really kick into gear! Options include Brüt at Great Northern, Prime at Club 6, Stank at Powerhouse, and Prowl at the Eagle. These are primarily men's events – there is a great write-up here. As that excellent guide by AndyMatic states, you can go to those events as a straight person, just know that: "Most of the events I've detailed in this guide are intended for and produced primarily by gay men seeking to meet and dance and do whatever with other gay men. You might not be the target audience for many of these partes. It's our space – it's great you feel safe here, too – but we built this.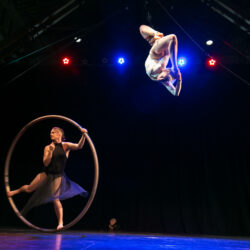 The day before the fair, don't miss Twisted Windows, which features exquisitely erotic, sensually subversive, and particularly perilous queer performance art. For 2022, Twisted Windows is back at SOMArts, a spacious art and cultural space right in San Francisco's Leather and LGBTQ Cultural District. Find out why Mir, owner of Wicked Grounds, said this event is "like going to the ballet, for kinksters!" If a dance party is more your style, check out Masteurdome – Tom of Finland at the Regency Ballroom, with DJ sets by house legends PAGANO and KARSTEN SOLLORS.
Of course Sunday is the Folsom Street Fair main event! Even if you were up late partying on Saturday, it behooves you to arrive at the fair early. Earlier in the day tends to be less crowded, and also cooler. Weather can change quickly, so remember to bring layers. Parking around the fair is quite challenging – if you don't mind walking 5+ blocks, you may be able to find a free street spot on the Brannan St side of the fair. Avoid getting stuck in congested traffic by not taking your car too close to the closed streets – if you get within a couple blocks, turn around. Taking the BART is a better bet than driving. The Civic Center stop is only a few blocks away, just exit and walk south toward the numbered streets.
Remember that there are multiple entrances to the Fair, and the major ones on Folsom St (especially at 8th and Folsom) can have longer lines. If you go a couple blocks along the outer edges of the fair, you can usually avoid the lines and just walk into the smaller side entrances! There is an optional donation requested at the entry – Folsom Street Events is a 501(c)3 non-profit arts and culture organization that unites the leather, kink, and alt sex communities with safe, consent-focused spaces for self expression and exciting entertainment – they very deeply appreciate your donations!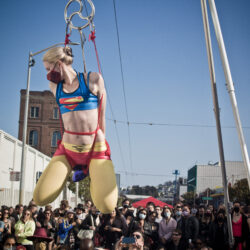 Once you're at the fair, apply (and re-apply) lots of sunscreen and remember to hydrate! In addition to the vendors and exhibitors, there are multiple performance, music, and dance areas to check out. There will be a detailed map and schedules on GayCities.com, with QR codes around the fair. Be sure to stop by the KinkPOC Bay Area and Twisted Windows Bondage Stage, featuring captivating scenes, demos, performance art, and education – the schedule will be posted here. Other stages include a DJ stage with GoGos, the Venus Playground stage, and a drag and burlesque performance stage. Take it all in, be present in the moment, and enjoy this incomparable event.
Of course, the party doesn't stop when the fair closes at 6pm – Sunday evening options include Folsom Sunday at Oasis, Rated X at City Nights, NSA Underwear Party at Club OMG, Real Bad XXXIII at 1015 Folsom, Hot Tea at Audio, and many more! There is a fantastic and comprehensive write-up of these events at AndyMatic.
Staying in town after the Fair and need some aftercare? On Thursday, Sept 29th, Om Nom Nom Non-Binary, a performance troupe run completely by gender non-conforming and genderqueer folk, is hosting a night of werido queerdo burlesque, drag, sideshow and of course KINK at Armando's – tickets are available here!
Shay Tiziano (she/her or they/them) is a dynamic bondage performer and renowned self-suspender known for their unique, dynamic performances and friendly, attainable, and risk-awareness focused approach to kink education. She is the author of Tying & Flying, the first-ever book about self-suspension, and Creating Captivating Classes, a guide for kink and sexuality educators. Based in San Francisco, Shay has over a decade of experience presenting across the US and internationally. She has produced events and showcases including acclaimed bondage and fetish performance event Twisted Windows, BENT, the Bay Area's biggest dungeon party, the Seattle Erotic Art Festival Bondage & Aerial stage, Self-Suspension Open Space, Rope Lab, Friction, and bondage and performances stages at the Folsom Street Fair and San Francisco Pride's Leather Alley.