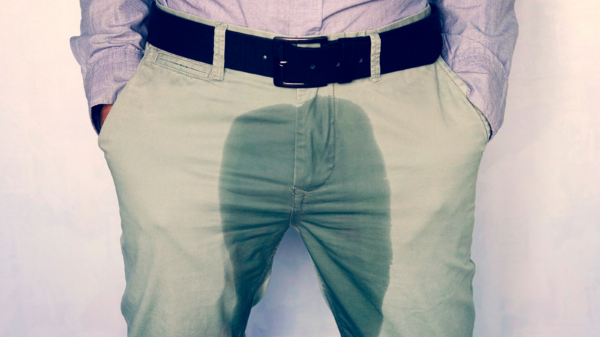 You've been drinking water and fluids all day, chugging down coffee at lunch and tea in the afternoon. Your bladder slowly fills, and on the ride home, you can feel the water sloshing around inside of you. As soon as you are inside of your house, you run to the bathroom, hop in the tub, and squirm until you can't hold on any longer. Pee pours out of you, running down your legs. You love the warmth, the mess, and the naughtiness. You breathe a sigh of relief.
Pee play can be an incredibly erotic component to your kink practice. Whether you're exploring peeing on a partner or wetting your own pants, you may be drawn to pee play for several reasons. Perhaps you enjoy the feeling of a full bladder, or you crave feeling messy and naughty. Perhaps you want to taunt or care for someone as they pee on themselves. Perhaps you enjoy drinking someone's piss as a form of submission, or peeing yourself is a part of your ABDL play. No matter why you enjoy it, pee play can be erotic, humiliating, silly, sexy, and so much more. So let's drink some water, and dive into the puddle of fun that is this kinky practice.
Types of Pee Play
Golden Showers: Golden showers generally involve one or more partners peeing on an object, another person or persons, or in any place that is not a toilet. Golden showers may be appealing because the practice is humiliating, messy, submissive, dominating, or something else. Golden showers may involve drinking someone's piss or having someone drink your piss.
Omorashi or Desperate Wetting: Omorashi involves becoming desperate and "accidentally" wetting yourself, whether naked or clothed. Wetting oneself can feel erotic, taboo, humiliating, playful, and so much more, and doing so can be a form of submission or even brattiness.
Diaper Play: Diaper play involves wetting in a diaper. You may find this appealing due to the sensation of wearing a wet diaper, as part of ABDL play, or for many other reasons.
Bladder Control: Bladder control involves a person(s) controlling someone else's bladder(s), deciding when, where, and/or how the other person uses the bathroom. You can incorporate bladder control into D/s and other power exchange dynamics.
Drinking Pee: Whether you drink pee directly from another's body, or drink pee from a receptacle that someone has peed into, drinking pee can be a form of control, humiliation, playfulness, and/or eroticism.
Peeing During Sex: Whatever "sex" means to you, peeing during sex can be an erotic and intimate experience. You may be interested in exploring peeing in or on someone, or having someone pee in or on you.
and so much more! Like other forms of play, as long as you have had safety and consent conversations with your partner(s), piss play is as vast as the warm, wet ocean.
Preparing Your Body
For many of us, not peeing in a toilet can be challenging. We have literally been trained to pee in a toilet, and it may take some training to pee elsewhere. You may find it helpful to practice on your own first. Take time to hydrate and drink fluids. When you feel like you need to use the toilet, you can stand or sit in a bathtub or shower. Practice taking deep breaths and relaxing your body. Perhaps bring a book or other form of entertainment with you so you can take as long as you need to pee. You might find it helpful to pee in the toilet with underwear or clothes on, giving you a chance to gradually practice peeing in a different way than you've been taught.
Practicing pee play on your own may reduce performance pressure, allowing you to learn how your body feels when you are close to peeing. You can also learn the forms and types of piss play that feel erotic to you through some solo practice.
Some people enjoy peeing when erect or aroused, which can be additionally challenging. Similar to above, practicing becoming aroused and peeing when you are alone and relaxed may make it easier to do so when you are with a partner or partners.
Setting Up Your Play Area
As the name suggests, pee play can be incredibly messy. Picking the right spot and using the right tools can make your clean up much easier. To start, it is often easiest to pick a tiled or non-carpeted area for your pee play. Bathrooms, kitchens, garages, and other non-carpeted areas are great places to start.
You might also invest in some easy-to-pee-on materials. Tarps, waterproof blankets, and bed protectors are great tools for pee play. Bed protectors allow for fun bed wetting scenes with easier clean up. Waterproof blankets and tarps can also expand the places where you can do pee play and easily clean up.
If you do get some fluids on furniture or carpet, put baking soda over the spot and allow the baking soda to absorb the smells and fluids over the next 24 hours. You can then vacuum the baking soda to finish cleaning up.
Safety
As with any other form of fluid play, you should talk with your play partner(s) about STIs, the risks associated with sharing fluids, and whether or not you're fluid bonded. Fluid bonded partners share fluids, including pee, without protective barriers. Before peeing on someone or having someone pee on you, you want to make sure that all parties have consented to sharing fluids without barriers. Swapping pee involves swapping bacteria and germs and could cause illness or infection. Being aware of the risks, taking appropriate precautions (such as not peeing on open cuts), and getting enthusiastic consent from everyone involved is very important.
If you are doing desperation play, holding your bladder can also come with risks. Doing so can cause urinary tract infections, weakened bladder muscles, and discomfort that lasts beyond the scene. It may be beneficial to start with smaller holds and to space out your holds, in order to give your bladder a break after play.
Planning A Pee Play Scene
After discussing safety, talk to your play partner(s) about what they hope to feel during the scene. Do they hope to feel humiliated, playful, messy, submissive, or any other number of feelings? Explore the options for pee play and discuss which activities might elicit the desired emotions. You can also combine pee play with other forms of kink, intimacy, or sex. For example, you may explore rope bondage during a pee play scene. (Tip: Nylon rope is easy to wash after a pee play scene.)
When discussing aftercare, consider when and how clean-up will occur. Will cuddling or other forms of aftercare occur before or after clean-up? Will you or your partner(s) shower right after the scene? How can you incorporate aftercare into clean-up, such as by praising your partner while also getting things into the laundry?
Time to Get Wet and Wild!
Now that we've explored some of the basic components of pee play, I want to leave you with a few reflection questions to kick off your piss play practice:
What forms of pee play are intriguing to you?
What feelings or mindsets do you hope to experience during pee play?
What might you need to do, set up, buy, or practice before trying pee play in a scene?
What safety considerations do you want to keep in mind?
How might you begin incorporating pee play into your kink scene?
After reflecting, drink some water, hydrate, and get ready for some messy fun!
Casper Reynolds is a kink & sexuality educator, sex worker, & writer. As an educator, they teach about the intersections of gender, asexuality, queerness, kink, sex work, and magic. Outside of their education work, Casper manages their fetish porn brand, Little Mx. Goth, in addition to writing queer horror fiction. You can find Casper at littlemxgoth.com, on Instagram (@LittleMxGoth), or on Twitter (@LittleMxGoth).