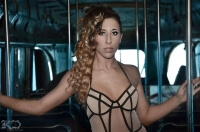 Business/Group
Sex Worker, Activist, Burlesque(er) Performer, Blogger, Fierce Femme Tour de Force
A queer poly switch with a contagious laugh, Andre Shakti goes by many names, all near and dear to her heart. A shameless sexual deviant since childhood, her formal sex work career was conceived in an East Coast strip club in 2007. She soon thereafter expanded her repertoire as a prominent neo-burlesque performer, producer, and go-go dancer as "Roma Mafia". She spent two years with the fantastically freaky troupe Sticky Buns Burlesque, and founded the quarterly Baltimore burlesque revue "Best of Burlesque(er)." After obtaining her degree, Andre traveled extensively, bent on acquiring knowledge. She dabbled in HIV risk assessment and harm reduction education, created a website to begin documenting her sordid exploits, and honed her passion for providing comprehensive, inclusive, pleasure-driven sexual health information. Having recently moved to the epicenter of all that is good and unholy, the Bay Area, she now is employed independently, consciously, and authentically. A cam girl and queer feminist porn performer, you can still find her killer dance moves gracing local stages, and she regularly teaches workshops at a variety of both kinky and vanilla events and venues. She strives to continue to de-stigmatize sex workers, their clients, and their partners, as well as find new and exciting ways to get paid for taking her clothes off.
Specialties
Workshops that Andre is available to facilitate include:
1. "Love the Whore You're With" (how to be a better partner/ally to sex workers)
2. "Strip Like You Mean It" (introduction to pole dancing - an intermediate class is also available)
3. "Erotic Dance For Beginners" (introductory lapdancing class with optional striptease element)
4. "Boudoir Basics" (a DIY guide to orchestrating your first sexy photoshoot)
Experience
Education:
Towson University (January 2010)
Bachelor of Science, cum laude
Psychology, specialization in LGBT Studies
Work Experience:
Feelmore510 (May 2013-present)
Retail Salesperson/Event Coordinator
Freelance Vinyasa Yoga Instructor (September 2011-present)
Insured 200-hour RYT
Sugar (November 2009-June 2011)
Educator/Sales Representative
Internships and Trainings:
"Connect2Protect," University of Maryland, Medical Center (May - August 2009)
Youth & Adolescent Department Internship
Acted as Program Coordinator for Project TYGER, an HIV Prevention Program that caters to transgender youth aged 16-24. Provided community outreach, educational material development and networking with like organizations in and around Baltimore, Maryland.
Towson University (January - May 2009)
Center for Student Diversity Internship
Charged with expanding and coordinating university-wide LGBT Mentorship Program.
San Francisco State University, National Sexuality Resource Center (June - July 2008)
Sexuality, Education and Politics Seminar
Attended month-long intensive on sexuality topics, including: the intersection of disability and sexuality, sexual regimes, panics and culture wars, queer body dissatisfaction and how to create comprehensive, sex-positive sexual education programs for youth.
Towson University (September - December 2007)
Teacher's Assistant
LGBT 101 Course
Volunteer Experience:
Equality Maryland (May 2010 – September 2011)
Promotes legislative initiatives on state, county and municipal levels to secure and protect the rights of LGBT Marylanders.
TransUnited (June 2009 – September 2011)
Provides outreach, education and resource referral efforts to protect and enhance the lives of Baltimore's transgender population.
Baltimore Needle Exchange (May - September 2009)
Provided HIV prevention, substance abuse treatment and risk reduction in