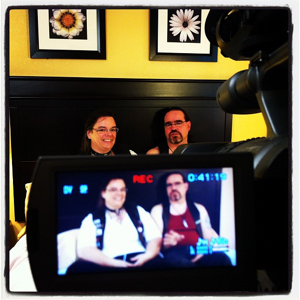 Passionate Educators
Business/Group
Erotic Awakening
Dan and dawn are a lifestyle couple since 2001 and have presented at over 100 events around North America. They are the authors of Living M/s: A book for Masters, slaves, and Their Relationships as well as creators of the wildly popular Kink Starter cards! They also co-producer two unique events, Power eXchange Summit and Beyond The Love.
They are also the co-hosts of the Erotic Awakening internet radio show, an educational podcast that explores "all things erotic"; co-directors of the Columbus Space, an alternative community center; 2016 MAsT International Member's Choice Presenter of the Year Award winner; Great Lakes region Master & slave title holders (2010); creators of the Scarlet Sanctuary and Path of the Qadishti (sacred sexuality spaces); featured educators on both Kink Academy and Creative Sexuality; and mentioned in a number of books, articles, and other media.
"They move between clear and simple presentation of facts and information to personal stories of their fascinating experiences together, energizing their audiences with the ease and grace of people that enjoy what they are doing"
Thay Dan (pronounced "tie") is also an ordained novice monk in a Zen tradition.
dawn is also a Qadishtu (pronounced kadishtu) priestess and is ordained and licensed clergy in the state of Ohio.
Specialties
Power Exchange(20+ years); Polyamory (20+ years); Sensual BDSM; relationship growth
Certifications & Degrees
MAsT Member's Choice Presenter of the Year Award 2016
Great Lakes Master & slave 2010
PRSCO 2010 Presenter of the Year Award
Experience
Over 1000 classes taught at over 100 events in polyamory, BDSM, alternative relationships, sacred sexuality, and simply fun kink.