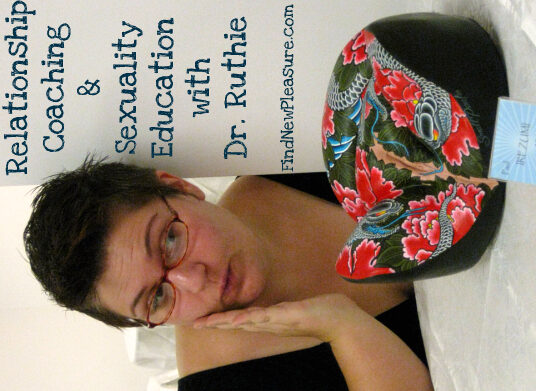 relationship coach and sexuality educator
Business/Group
Exploring Intimacy
Dr. Ruthie comes to us from Washington, DC., a city synonymous with power and excitement. As a sexuality educator and relationship coach she helps her clients to achieve high levels intimacy and pleasure, something that every one of us deserves in our lives and relationships. She offers regular pleasure workshops around the DC area, as well as specialized coaching with clients all over the world. Carrying a Ph.D. in Family development, with specializations in Family Therapy and Qualitative Research, as well as a Masters in Social Work and Family Therapy, she style includes a strong emphasis on relational dynamics, self care, and systemic well-being. When she isn't spreading the word about pleasure and sexual well-being or teaching graduate students, she enjoys traveling, vegetarian dining, romping with her pets and spouse, and snuggling in for a good nap.
Specialties
In addition to her general training as a sexuality educator and
relationship expert, Dr. Ruthie is proud to offer several specialities
including coaching and workshops in the areas of:
- recovery from intimate partner violence of all types
- sex & disability
- diverse genders and sexualities
- exploration of fantasies, kink and open relationships
- female pleasure
Experience
In addition to her work as a sexuality educator and relationship
coach, Dr. Ruthie is also graduate faculty for student-therapists as
the masters level, and offers courses on teaching skills to her
doctoral students. Dr. Ruth Neustifter has presented at national and
international conferences on her research and practice throughout
North and Central America as well as in Europe. She is also published
in academic journals including The Journal of Feminist Family Therapy
and the Electronic Journal of Human Sexuality and is an Assistant
Editor for the Qualitative Report. She maintains membership in
several professional associations, including: The International
Association for the Study of Women's Sexual Health; The Society for
the Scientific Study of Human Sexuality; The American Association of
Sexuality Educators, Counselors and Therapists; and The American
Association of Family and Consumer Sciences. Her volunteer activities
include writing for the Sexpert Advice column at Scarleteen.com .