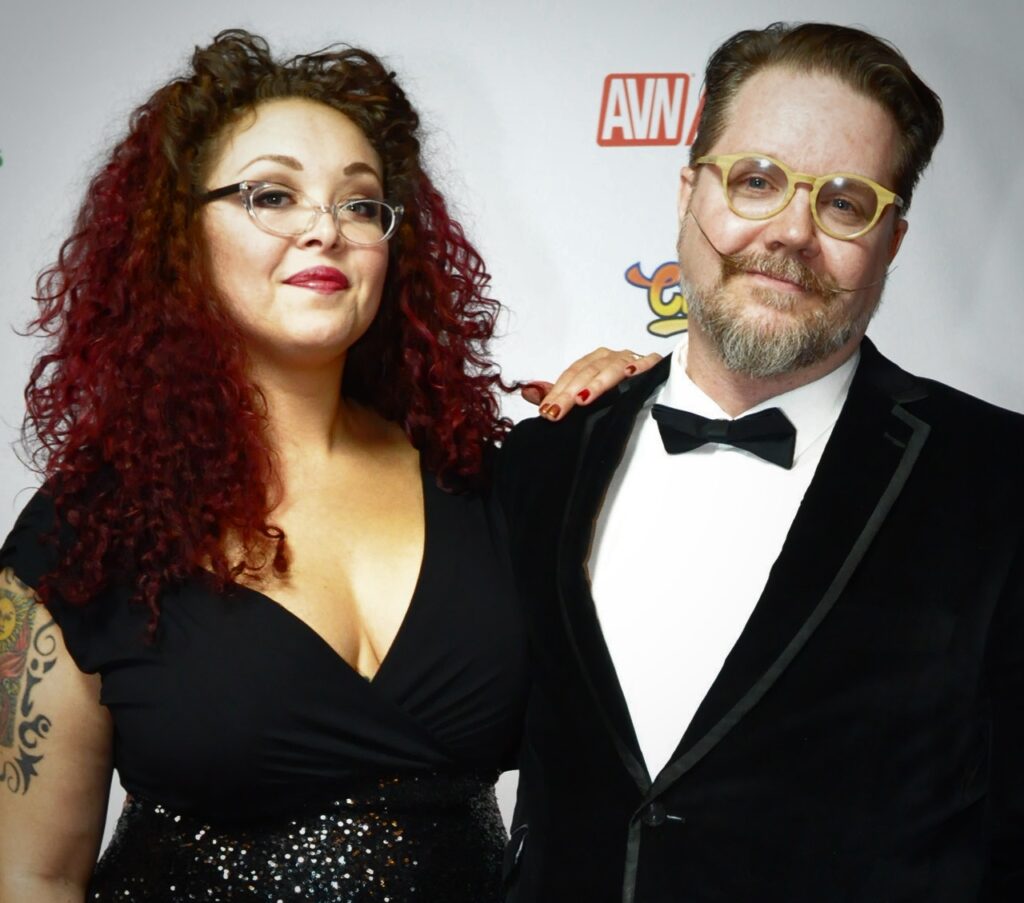 Pleasure Advocates & Ambassadors of Fuck
Business/Group
Sex with Sunny Megatron TV Show (Showtime), American Sex Podcast, Outside The Box with Sunny Megatron Web Series
Superheroes of sex ed, Ken Melvoin-Berg & Sunny Megatron are partners in every sense of the word. In addition to co-creating and co-producing Showtime's "Sex with Sunny Megatron," they initially gained recognition writing and teaching about everyone's favorite subject, SEX. In their sell out workshops their unique brand of "edutainment" plus combined 30+ years of sexuality teaching experience puts students at ease. Each session seamlessly combines their humorous lecturing style, interactive exercises, and the latest sexuality research.
Sunny hosts their Showtime original television series, "Sex with Sunny Megatron," taking viewers on a journey into the world of adult play, as everyday people expose their deepest and most intimate fantasies. Always honest, funny, and sex-positive, the show provides an interesting, fresh twist on sexual exploration.
Their latest endeavor is their hit podcast called American Sex that features an eclectic mix of guests from all walks of life. American Sex podcast is available on most major podcasting platforms.
On a more personal note, this dynamic duo are married to each other, parents, ethically non-monogamous, and lifestyle BDSM enthusiasts.
Specialties
Introduction to BDSM
Humor in Sex & Kink
Humiliation
Interrogation
Electric Play
Mind-fucks & Psychological D/s
Sex Toys & Tools
Prostate Play
G-spot & Squirting
Oral & Hand Sex Technique
Kinky Networking/Navigating Sexual Sub-Communities
Couples Play/Communication
Experience
Tulip Toy Gallery – Chicago, IL
G Boutique – Chicago, IL
David Geffen School of Medicine, UCLA – Los Angeles, CA
Stockroom – Los Angeles, CA
University of Pennsylvania – Philadelphia, PA
Playground Conference (Keynote) – Toronto, ON
Continuum – Chicago, IL
Kinky Kollege – Chicago, IL
AVN – Las Vegas, NV
Elmwood Park Public Library – Elmwood Park, IL
Early to Bed – Chicago, IL
The Studio – Chicago, IL
Good Gyrrl Studio/Meow University – Chicago, IL
Hustler Hollywood – Los Angeles, CA
Northwestern University – Chicago, IL
COPE – Columbus, OH
Dark Odyssey Fusion – Northern Maryland
GRALE/Grand Rapids Alternative Lifestyle Enrichment – Grand Rapids, MI
Dawn Serra's Explore More Summit – Online 2016-18
Winter Wickedness – Columbus, OH
Taboo Tabou – Chicago, IL
Galleria Domain 2 – Chicago, IL
Tool Shed – Milwaukee, WI
Beat Me In St. Louis – St. Louis, MO
University of Tennessee Sex Week – Knoxville, TN
KDM – Cleveland, OH
Sex Down South (Keynote) – Atlanta, GA
Castle Megastore – Tacoma, WA & Phoenix, AZ
Club Ascension - Detroit, MI
Rochester Erotic Arts Festival – Rochester NY
"O Awards" Best in Pleasure Products Awards Show, Host 2017 (Sunny Megatron) – Las Vegas, NV