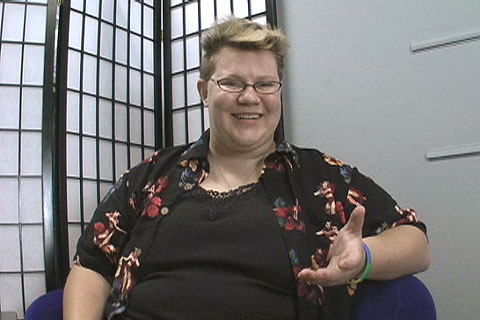 Mary Kay is a genderfluid (bio-female), omni(bi)sexual, polyamorous kinkster sexual educator technically from (The People's Republic of) Takoma Park, Maryland, but it's the city of Toronto that has her heart. She's been studying human sexuality for 8 years now, and her last job of 2 years was at Lambda Rising GLBT bookstore, which helped her in her studies of sexual orientation and gender identity. Her passion is sexual education & liberation, helping people from all walks of life to live happier, healthier lives via increased pleasure, sexual and otherwise. She's also, incidentally (or not), a geek, a fangirl, a Mac lover, a mass transit fan, a typography nerd and a pet owner.
Specialties
fat fetishes, "exotic" or "rare" fetishes, the intersection of geek & kink & sex, gender & orientation, role play. Presenting kink, fetish and other topics to people outside the "alternative sexuality" community or those just starting on their journey. And when presenting to kinksters, presenting on topics that others rarely present on. I have a tendency to do kink different from those around me and the things I present on tend to reflect that.
Experience
A lot of my experience has been non-standard or informal, due to my emphasis on presenting outside the alternative sexuality community. Presented at/for The Fifth HOPE (panel facilitator), HOPE #6, The Last HOPE, Frolicon 2009, TESFest2009 (panelist), The Society, MOB New England. Appeared on Kinky Sex Radio podcast. Did a 5 hour long interview for someone's thesis on feederism. Hours and hours of informal one-on-one & small group education.